Top 10 Antivirus of Year 2011 For Windows [Review]
With the number of cyber crimes constantly on the rise, it has become mandatory to arm your PCs and laptops with the best antivirus software available in the market. A lot of research has been going on in this area, and now we have a choice of upgraded antivirus tools to counter the menace that infests our computers. Here is a list of top 10 antivirus software tools that are available today.
1. BitDefender Antivirus Plus 2012
BitDefender Antivirus plus 2012 is a power packed antivirus tool that is very effective towards all sorts of spyware, viruses, phishing and identity thefts. It has incorporated innovative features such as social networking safeguards and a trouble free autopilot. Also known as the Essential Silent Security Antivirus, it works quietly but effectively in the background. It even gives advance warning of risky websites and gives you full protection towards your privacy.
2. Kaspersky Antivirus 2011
This time tested antivirus software is definitely one of the best choices to protect your PCs and laptops from any kind of threat from viruses, worms, spyware, malware, Trojans, bota and rootkits. This tool has a host of advanced new features to protect you from the old as well as new threats. You can get real time protection against all kinds of spyware and scan your computer for vulnerability. In addition, it also does an email and website scan for malicious content. There is nonstop digital identity protection in Kaspersky 2011. The tool is easy to use and takes minimal space.
3. Norton Antivirus 2011
With a new approach to online security, the latest version of Norton Antivirus 2011, gives you a whole new treasure chest of options to combat viruses and spyware. Each of its features is comprehensive while working together at the same time to give you maximum protection. Norton Antivirus 2011 also supports all browsers such as Chrome, Opera, Safari and others. It has multiple overlapping layers of protection to ward off the strongest of viruses and online threats.
4. ESET NOD32 Antivirus 4
This is a very powerful and proactive antivirus tool that protects your PC from online threats. It comes with a ThreatSense technology which can sniff out the most dangerous and unfamiliar threats. It works quietly in the background so that you can keep working uninterrupted.
5. TrendMicro Titanium Antivirus
This antivirus boasts of a new cloud based technology, that dives you an effective protection against online threats even before they enter your PCs. The new version is better and more powerful against all sorts of viruses and spyware.
6. McAfee Antivirus Plus 2011
This antivirus tool not only protects your PC against powerful viruses, but it also boosts up your system's performance and efficiency with its new toolbar known as SiteAdvisor. It also contains a compact two-way firewall to give an added protection against online scams, shared emails, and messages and malicious downloads.
7. Panda Antivirus Pro 2011
The Panda Antivirus 2011 comes with a myriad of security features to help you ward off the most potent of viruses, malware, software and the newer unidentified threats. It is an easy-to-use software tool that is simple and fast.
8. Avast! Pro Antivirus
This award winning antivirus tool is known for its dependable protection against malware and viruses. It is a deadly combination of all the efficient tools that help you ward off the lurking threats to your PC from cyber attacks. It has an IM Shield incorporated within and also a unique defensive feature to protect threats from P2P file sharing programs.
9. Spyware Doctor with Antivirus 2011
This amazing antivirus software program is extremely efficient in combating the threats from viruses and spyware. It has a feature called IntelliGuard that monitors and restricts any risky malware. It gives you real time protection against threats from your browser, emails, downloaded files and cookies and harmful websites.
10. CA Antivirus
This compact and efficient antivirus tool claims to give wholesome protection for PDAs, servers and business PCs. The malicious threats are nipped in the bud i.e. even before they can enter your PCs. This tool is available as a part of the CA Threat manager or an independent tool. It enables you to manage various client environments from one remote console that is web-based.
Download
---
Your responsibility towards your PC or laptop doesn't end with maintaining it dust-free and well serviced, a good antivirus is a must to protect the entire content on your device. The antivirus is also important for your own safety while managing your tasks online or offline.

Smallest Antivirus to Automatically Remove Autorun.inf Virus from USB Flash Drives
Autorun.inf is not very harmful but still the most annoying virus of all which travels through flash drives. There's a nifty tool designed specifically for this purpose – to remove Autorun.inf Virus from USB drive!
This virus automatically executes itself as soon as the infected flash drive is inserted into a system. When user double clicks the infected drive, autorun.inf with associated (hidden) .bat files infects all the partition of the system and autorun.inf is copied to all the drives.
Although this can be prevented through standard antivirus software but there's a dedicated antivirus made specially to remove autorun viruses called Autorun Virus Remover.
Autorun Virus Remover provides protection against any malicious programs trying to attack via USB drive. When a USB device is inserted into your computer, Autorun Virus Remover will automatically scan it, block and delete autorun virus, trojans, and malicious code. Also, it can detect and remove USB virus such as autorun.inf virus in your computer.
Remove Autorun.inf Virus with Autorun Virus Remover can also remove the autorun virus due to which you can't open your hard disk and USB drive (Pen drive, Memory card) by double clicking. Autorun Virus Remover USB antivirus software to permanently protect offline computer against any USB virus without the need for signature updates. This light and easy to use solution is compatible with all version of Windows and doesn't slow down your computer at all.
Snappy: All in One Driver Installer For All Your System Drivers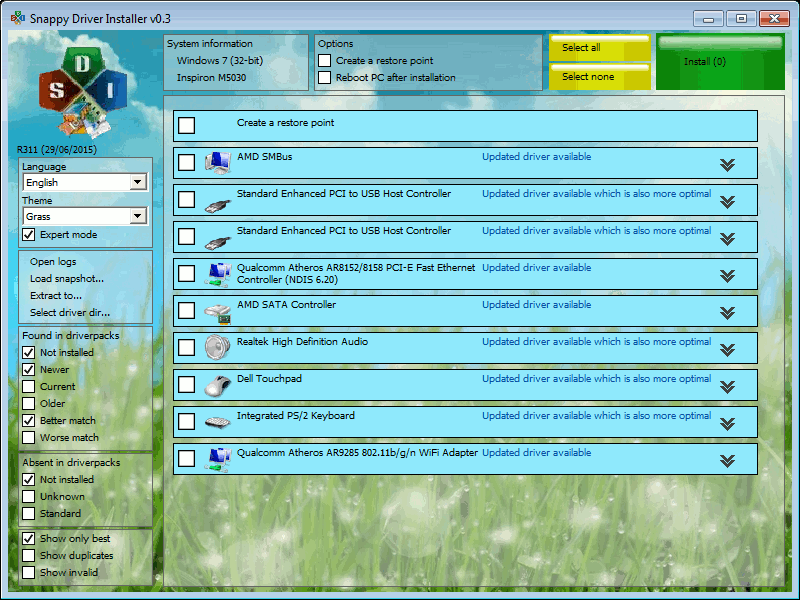 Snappy system driver installer is a freeware for Windows which is an All in One Driver Installer and can be used as a complete solution to install all types of drivers on your system. There are two main sources which are supported by the program namely driver packs and local folders. The program is capable enough to pick the drivers automatically from the folder where you kept them and bring it to use at any given time.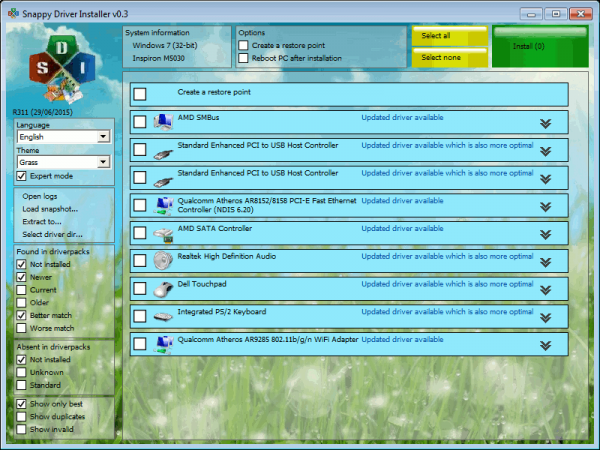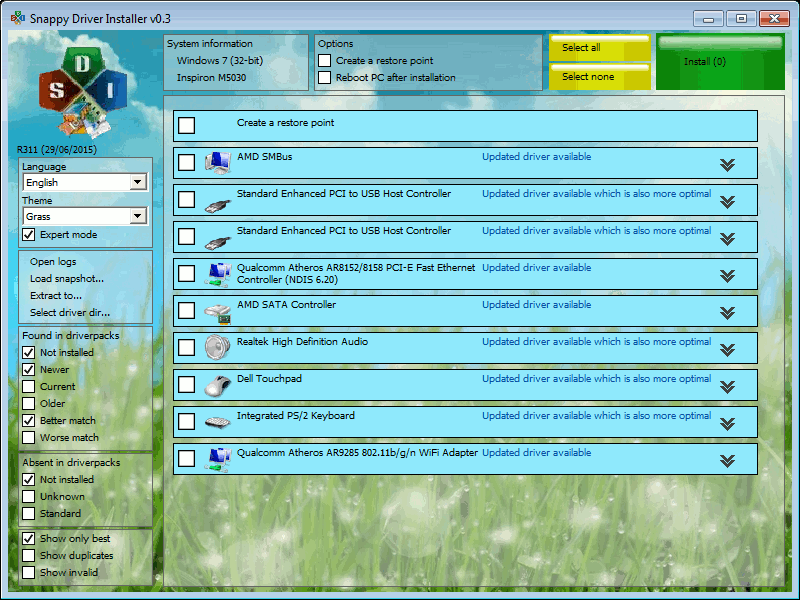 The computers who have a weak or unreliable internet connection can avail the services of this program as it can install all the drivers without it. To start installing drivers on your computer, go to the updates option which can be found on the top and download the index file by checking on the option 'Check only needed for this PC' and then click on accept. This index file will add all the relevant information to the software. The program then works by checking for all the missing drivers and updates for the already-installed programs on the system.
You are also free to download all the driver packs, however, which is not recommended by the experts. You only need to do this if you need to create a completely portable version of a particular program on the computer which, by default, includes all the drivers. There is one thing to note that you will have to download nearly 9 GB of data in that case.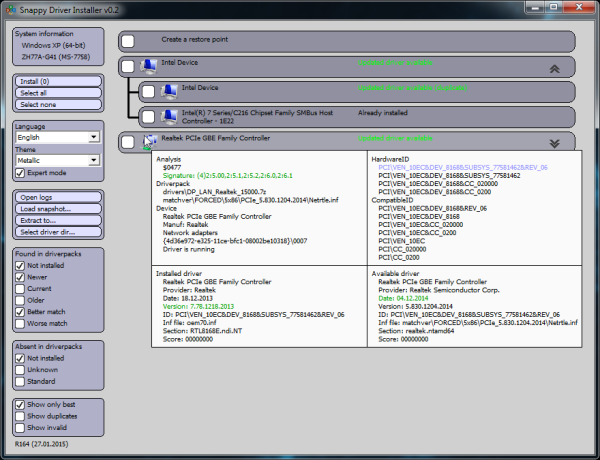 As soon as you are done downloading, the main interface of the program will show the updated driver information afterward. You can also enable the expert mode present on your left where you will be able to use filters to customize the selected option. You are also free to disable the updates which you think are, in no way, better than the ones already installed.
Before selecting the drivers which need to be updated, hover on each device to get information about each device's already installed driver and the update the program wants to install. The information may consist of the update's version, device's manufacturer's name, hardware IDs, etc. It is quite beneficial to give some time to these facts as there may be some updates which are not suitable for the device or are falsely identified. Once you are done with all these important steps, the Snappy Driver Installer will start downloading the selected driver updates for your system, installing afterward.
Easiest Way to Recover Deleted Photos and Text Messages From Phone For FREE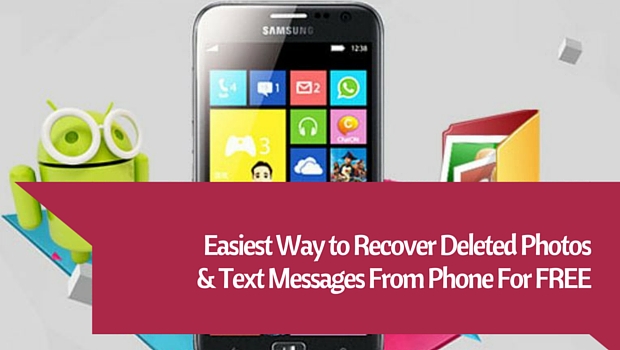 Recover deleted photos from phone easily with the world's number one android file recovery software named Wondershare Dr.Fone. It is a tool which is used worldwide for recovering files and data from android tablets and phones. The tool is capable of retrieving audio files, Whatsapp messages, videos, call history, contacts, photos, text messages and a lot more that you lost accidentally or due to the ROM flashing or OS crash. The tool supports about 200 android devices and many android versions.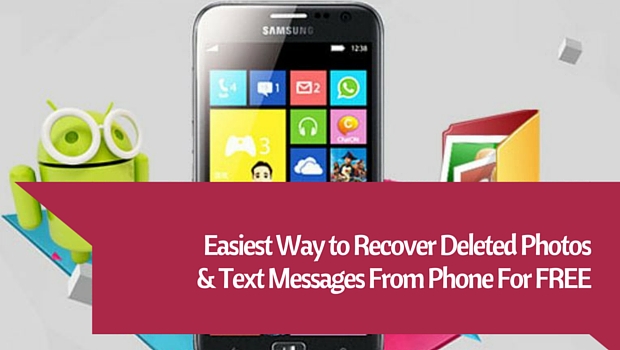 How To Recover Deleted Photos From Phone And Other Data
Dr. Fone is very beneficial in recovering files on android devices and can retrieve deleted text messages too. However, if the tool is not dealt properly, the software will not be able to recover all the files properly. Before beginning the process of recovery, the following tips should be considered to increase the success rate positively.
First of all, if you find out that some of the files have gone missing on the phone or a list of data is deleted accidentally from the phone, stop using the device instantly. In android or other OS, the data is actually not blown away but is kept in the phone to be rewritten by some other files. For this particular reason, if the device is kept working on, that data gets overwritten by the recent changes in the phone and ultimately, disappears forever.
Secondly, look for a computer as soon as possible and start the process of recovery. Don't forget, the sooner it is, the better it is. Download the recovery software by Wondershare i.e. Dr. Fone for android. For further information, follow the following downloading process.
How To Download
There are more than one way to download Wondershare on your phone. You can either go to the product page to find the app link or simply click the download option on the top of the page to get Dr.Fone on your phone. Once downloaded, your phone will offer an installation package. The download button is also featured in the bottom of the page.
How To Install
Once you have downloaded, search for the installation package on your system. Double tap on the .exe file to run the setup and click on the install option to start the recovery process. The installation process will take approximately a few minutes. Once there, the Start Now option should be clicked to launch the software.