Laptop, Netbook or Desktop? Tips To Decide Which One To Choose For Your Needs
If you want to buy a computer you will be having options of desktop PC, Laptop or Notebook. Which one to choose will depend on your needs and, of course, your budget.
A desktop PC is one that will remain on a desk in your office or bedroom. It will come with separate parts, usually a tower, which contains the brains of the barebones pc as well as the DVD drive. It will usually come with a monitor, keyboard and mouse.

Where as, a laptop or netbook is an all-in-one device that is also portable. It can be carried with you from room to room, between home and work, or used while on the road during travelling. Laptops have a battery that can last anywhere ranging from 1.5 hours to 4 hours, depending on the type of application you run on it. Laptops have a built-in monitor, a built-in keyboard and a built-in mouse which can very in size depending upon the model.
Why go for a Netbook?
Although normally people don't segregate laptop and netbooks but technically both are different terms. Netbook is much smaller and lighter than laptop. It is designed for lightweight normal office tasks and not for heavy usage like gaming and other multimedia usages. If size and weight is the most premium aspect for you, Netbook is the right answer.
Why go for a Laptop?
Netbooks may be much lighter and smaller than laptops but they are restricted in functionalities as well, e.g. If you want to run heavy applications then netbook would not be the ideal option (effort are being taken to make netbook much efficent), So if you want a computer that can run heavy applications and can be used anywhere (like in home and office etc), then you need a laptop. Also, you may choose to buy a laptop if you desire to have luxury to roam when using your computer at home. A fully charged laptop can give you a few hours of use and will let you work from your living room, bedroom or even your backyard. On the other hand, a desktop PC will restrict you to working from the location where the PC is installed.
Why go for a Desktop?
While laptops have clear benefits in terms of weight, mobility, and equipment, desktop computers are superior when it comes to the ability to upgrade. Installing multiple hard drives or optical drives is no problem. Even replacing defective parts or upgrading hardware is much more simply achieved with a desktop computer than with a netbook or a laptop.
If you want a computer that can store a huge amount of music files or a computer that will let you play games, then a desktop PC is the correct choice. A powerful desktop PC is normally less expensive than a powerful netbook or laptop with similar specifications, and a desktop PC also has an advantage in that it can be easily expanded if your needs change (you can add more storage, RAM or a better graphics card at a later date).
So What will you choose? We hope that the above information will help you in deciding what will be the right choice for you.

Make Perfect Visual Identities On Mobile With Logo Maker App!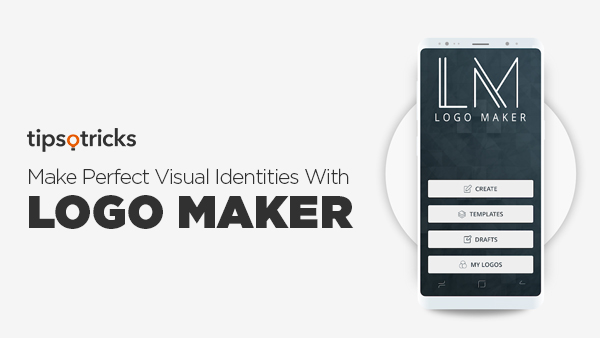 Are you amid those who are looking for a perfect logo creator?
Be glad! Logo Maker App has heard you.
You don't need to be a professional designer to make logos here. This perfect logo designing software gives you the ease of making attention-grabbing logos within minute.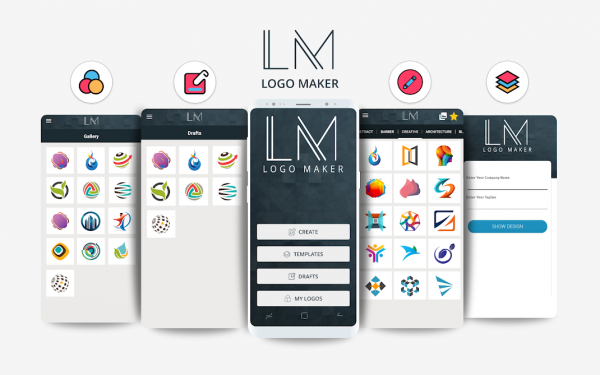 Making perfect logos weren't easy before. Well, we are aware that there are multiple logo generators, but choosing the right one is the real deal. Do you want to create a perfect brand identity? If yes, then this logo creator will let you do it. Just a bunch of questions related to your business and you are good to go. It will generate a perfect visual identity for you.
Golden snitch of customization
It's a double-trouble when you are not allowed to customize your logo according to your preferences. Sigh of relief! This fantastic app lets you customize the logos as per your wish. There are thousands of features you can play around with. Choose amazing fonts from the incredible font library, add vibrancy to your logo, give it a color you want, within few seconds, the logo will be in your bucket.
Who needs a logo designer when you have a perfect logo creator app? We are not the advocates of this logo generator, but yes those who have used it are the real backers.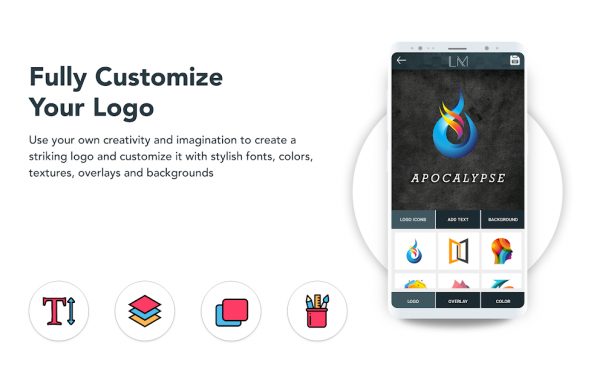 Hold on! The story doesn't end here. You are in to know more about it…
Imagine, how amazing it would be if an online logo maker app lets you play around with maximum features? Your search ends here, "Logo Maker App" lets you do it all.
Don't miss to give the second gaze to its features:
Some features
Be it a business logo, fashion logo, wordmark or anything else; you will get it all here.
It offers you a bundle of shapes that can be used in your logo.
You have the liberty to choose from a wide variety of backgrounds.
It lets you resize the text and shapes as per your wish
Many logo generators claim to provide you with the high-quality logos, but few actually do. Your expectations won't end in vain this time because this logo generator doesn't claim much, its features speak for itself.
Keep that creative juice flowing as it will help you in giving life to the visual identities that are worth a stare.
You don't need to pay a single penny
How can we forget mentioning the foremost part! There are no hidden curtains; you can download it for free on your Android & iOS devices.
Some awesome things are hard to come by. Be happy that you found one in the form of "Download Logo Maker – Pro Logo Creator"
EaseUS Free Data Recovery Software Wizard 11 [Review]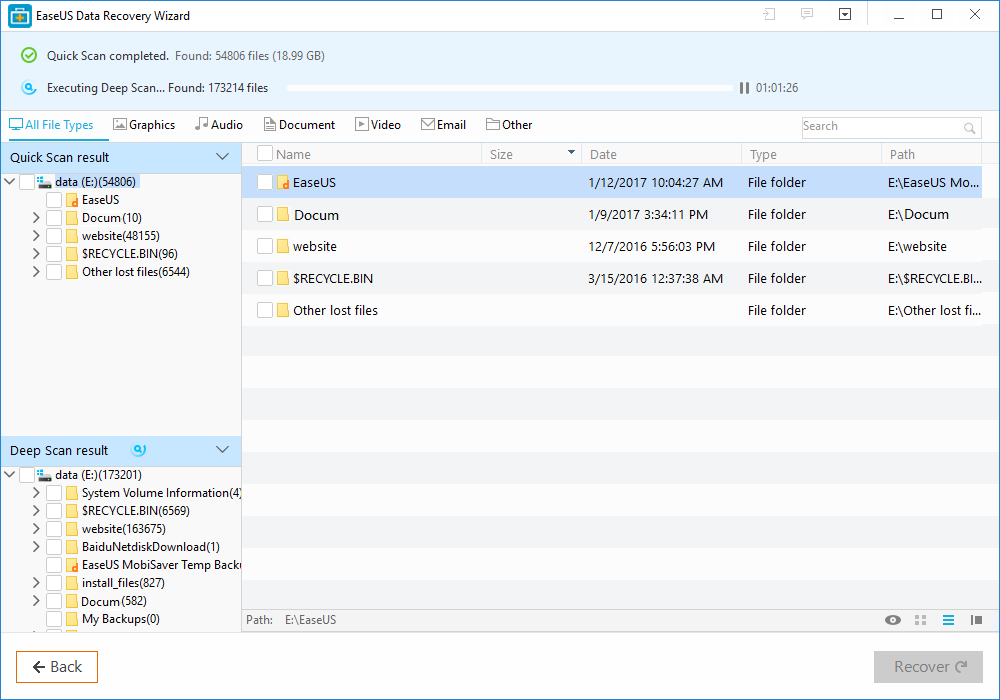 Losing valuable data and important documents are probably the biggest blow for computer users. If you have accidentally deleted something from your system? If you have got your pen drive corrupted? Or if system breakdown and viruses have taken away some of your precious files? Don't regret or feel sick for any tragedy with your data. There are thousands of online data recovery tools which can help you to recover your lost data. EaseUS Data Recovery Wizard version is one of those efficient data recovery software. Let's review this free data recovery software and know how it is different from other data recovery tools.
EaseUS Free Data Recovery Software Wizard Version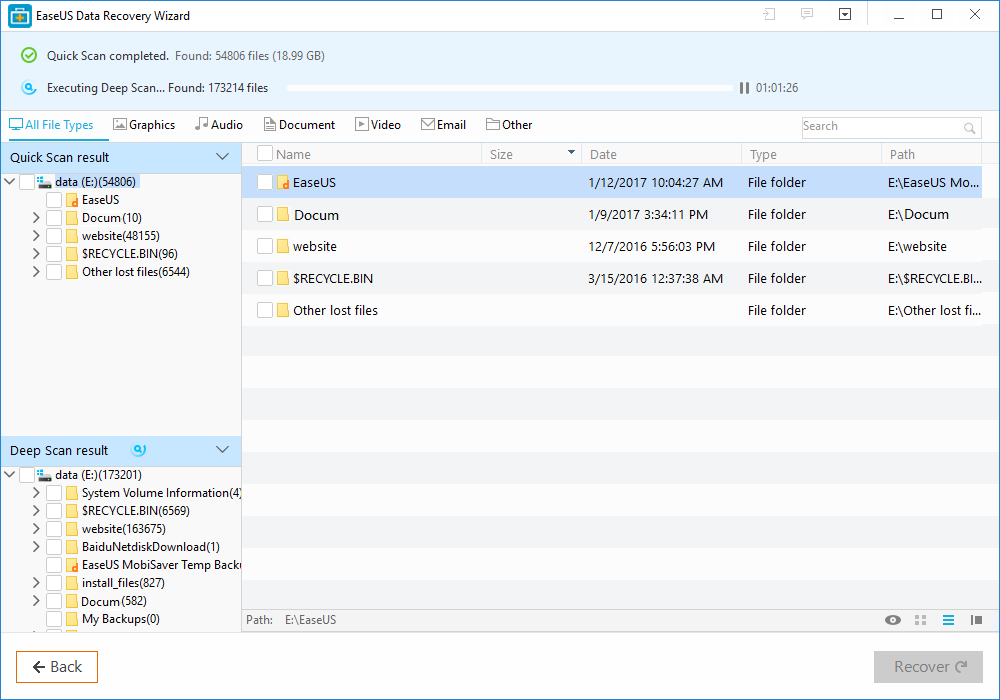 EaseUS Data Recovery Wizard is a useful tool for data recovery, backup, and hard drive management. It is an impressive free data recovery software to recover deleted, formatted data easily and quickly. This software is suitable for window users and allows them to restore crucial data lost through sudden deletion, formatting and virus attack. It is flexible and time-saving. This software makes you clear about all recoverable data through preview before recovery. It enables you to get lost files back fast with remarkable recovery quality. It also offers basic quick scanning and further deep scanning allow users to track down lost data, deleted documents, photos, and media thoroughly.
It is different from other data recovery software. Total new interface with simple steps to recovery, improved scanning process which enables the user to find data more efficiently make it different from other data recovery software. Moreover filter function optimization after scanning for easy recovery and support for Turkish and Arabic are most significant features of this software.
It also allows the user to recover data from any scenario. This software allows recovery from simple deleting, partition loss of the hardware, virus attack and faulty operations of the drive to even complicated formatted hard drive. You would be able to recover all of the lost files with exact file name and folder path.  It supports all types of hardware, and it also supports hard drive with up to 8 TB storage space and allows you to recover all kinds of file formats. Moreover, this data recovery software is also supported by all versions of Windows and Mac.
In a nutshell, it can be said that EaseUS Data Recovery Wizard is an advanced recovery software. It is free data recovery which is easy to use.
Benefits Of Choosing Free Data Recovery Software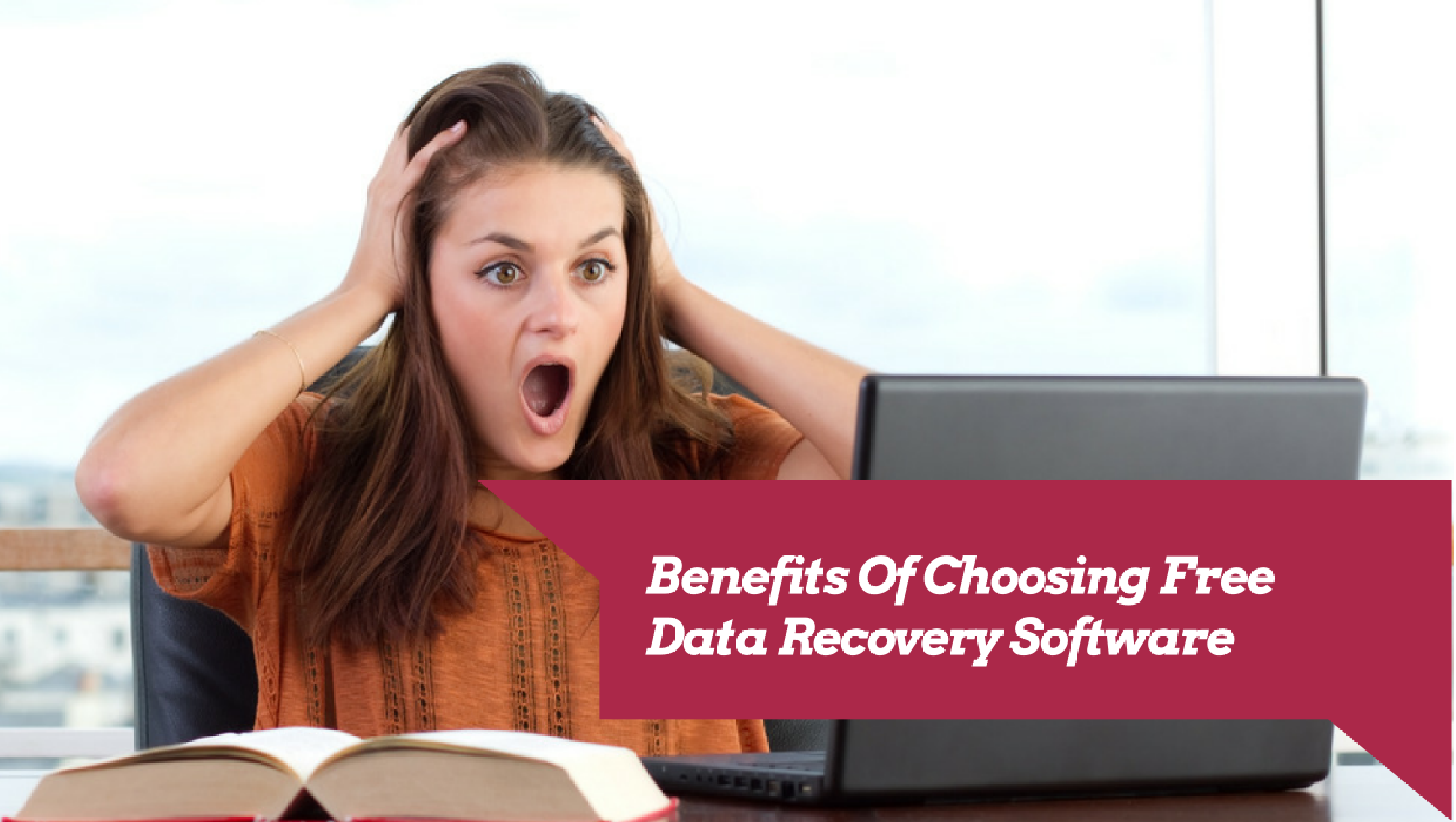 Data loss is a very common problem these days. Users who are accustomed to store a lot of data at different locations often end up losing some of it. Data loss can happen for many reasons. For instance, a hardware malfunction due to a power outage, an old and malfunctioning hard drive or deletion by mistake. In all cases, your data pays the biggest price. Instead of working on making a copy, using a data recovery software would be the ideal thing to do.
Data Recovery Software
EaseUS is among the most reliable and functional free data recovery software available in the market today. Here is more on how EaseUS can help you recover your precious data.
Unique Features
EaseUs is a nifty little software that combines precise algorithms with speed and ease of use. As a result, this data recovery software will recover any file from your drive. The data recovery software has many interesting aspects. For example, it can even recover lost or deleted files from damaged and repartitioned drives. The interface is very easy to use, so much so that even a novice user can run and recover data from it.
The user interface is pleasant and elaborate, which makes it even easier to use it. Another novel feature of EaseUS data recovery tool can recover any file or document from different drives. For instance, it can recover files from a flash drive, music players such as iPod, virus or malware attacks, hard, hard disk partitions, crashing the operating system and memory cards.
Getting Started
To recover your lost or deleted files, you need to install the EaseUS data recovery software on your system. You can choose to install it on any partition. The software will take approximately 18 megabytes of hard drive space and about 1 minute to install. Once done, the program will show a pop-up menu with instructions on how to use the software. Recovering data is very easy, just let the software scan your drive for any deleted files. Afterward, the software will show a complete scan report indicating any lost data from all partitions. Your hidden data will be displayed on the list. Just click on the archive, and mention the partition you want it to be restored. The software will scan the drive and recover the lost file in less than a minute.
Important Note:
Close all programs and try not to touch the mouse while your software is running. Doing so may interrupt the scanning process that might result in improper scanning which may not allow the software to recover your document correctly. Repeated interruptions might even damage your lost file. To avoid this situation, let the software scan all the drives and all the process to complete. Also, turn off any antivirus or malware protection programs while running the software. These programs may cause interference in the scanning process.
Regarding overall performance, unique features and ease of use, the EaseUS data recovery software has no analogs in the market.