Bitdefender Internet Security 2014 Review – Features That Make it the Best!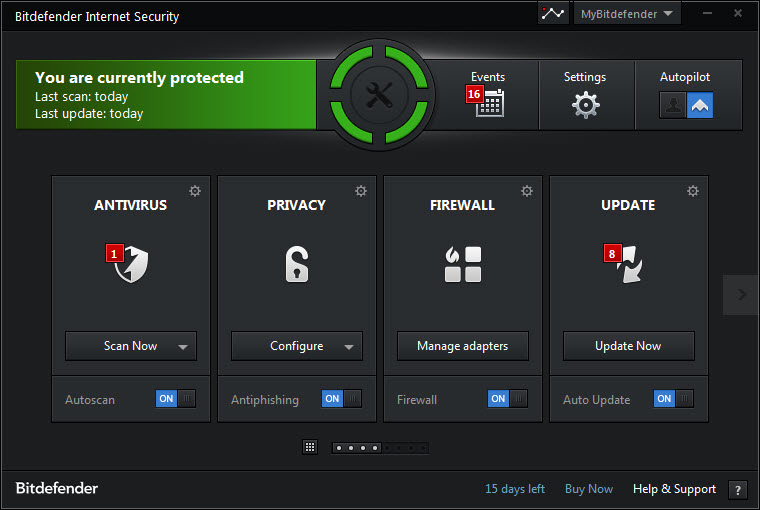 Antivirus security is a must have for today's challenging internet world. Virus attacks are not the only threat these days, there are spams, hacking attempts, data theft and much more to take care of. Instead of a Standalone Antivirus solution, people prefer Internet security suite for complete security solution. It works more than a simple antivirus protection by offering more security features.
Bitdefender Antivirus offers some of the best Internet security solutions out there. This company's products provide protection measures and extraordinary features that make them excellent security solutions. It is the most effective and silent security you can find. The Auto Pilot mode of Bitdefender makes it unique from its competitors. Bitdefender understands that people don't want to see annoying prompts and popups about every activity and suspicious system behaviors. It takes decisions on its own, silently and intelligently. Bitdefender Internet Security is rated as # 1 / Gold Performer by TopTenREVIEWS.com.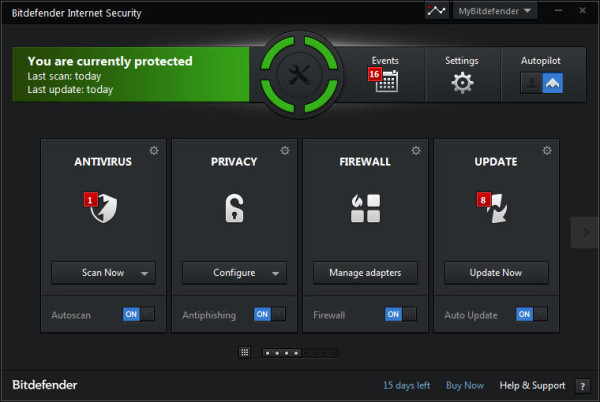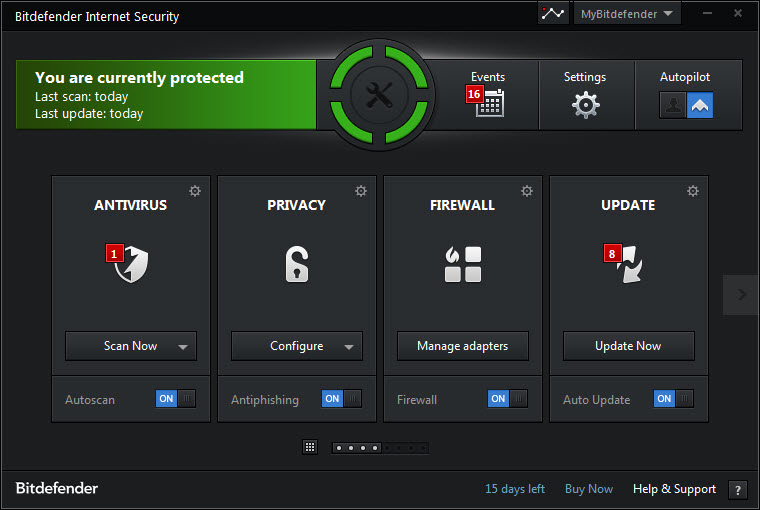 Once the security suite is installed, you'll notice a small desktop widget showing the scanning activity and firewall status. You can get a quick glance of security status through the widget. The overall interface is always been user-friendly of Bitdefender. Version 2014 is one step ahead of all, divided into clean four sections you can get to particular feature or settings in few clicks. Important events and messages are shown on top so you can see what's wrong is detected by Bitdefender.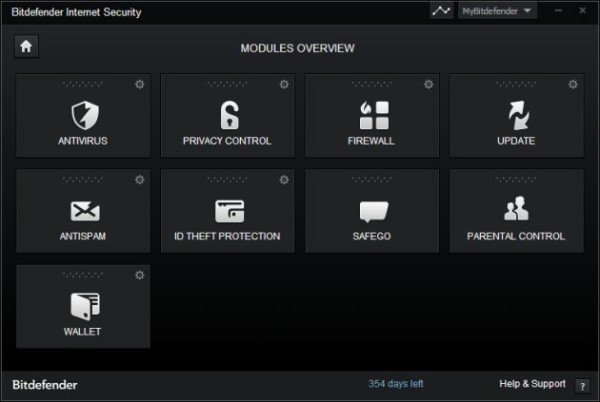 The by default autopilot usually takes care of everything so you have to worry about nothing. Even if you are a pro and want to tweak the settings a bit you can go to the settings and the change the protection mode to Permissive, Normal or Aggressive mode. Permissive is the strictest of all three and usually costs more system resources.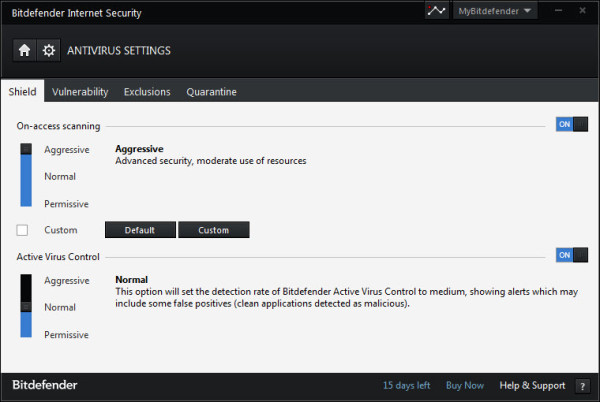 Now let's take a look of the features that makes it the champion among all security solutions.
Bitdefender Internet Security 2014 is a feature-rich suite that offers everything that you need to protect a computer.
Auto-Pilot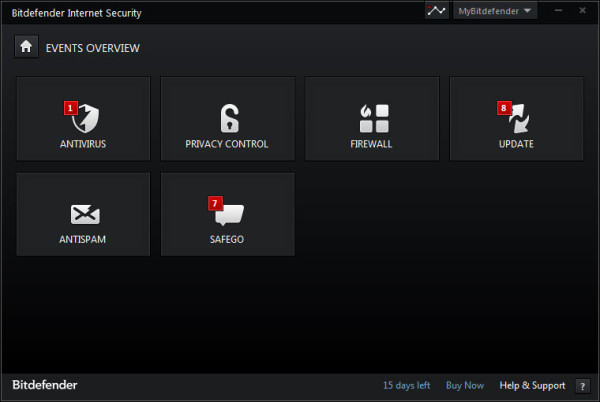 Auto-Pilot – the most amazing feature which makes it the favorite. Auto Pilot mode is designed so you don't have to face those alerts, popups and annoying prompts against every activity. It generates a weekly report for you with links and suggestion of problems reported.
Firewall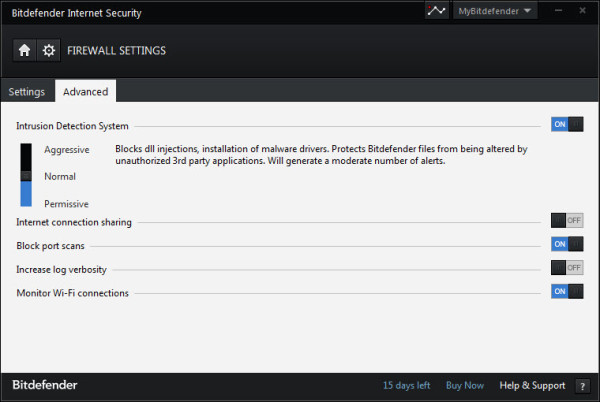 Firewall of Bitdefender is reported with the most positive results in blocking the intrusion attempts on a computer. If you have the Auto-pilot enabled you won't be disturbed by popups. Firewall tracks the programs using internet connections and connected computer(s) trying to access your files. If you specifically want to allow or disallow any program to use online resources you can the settings to paranoid mode.
Wallet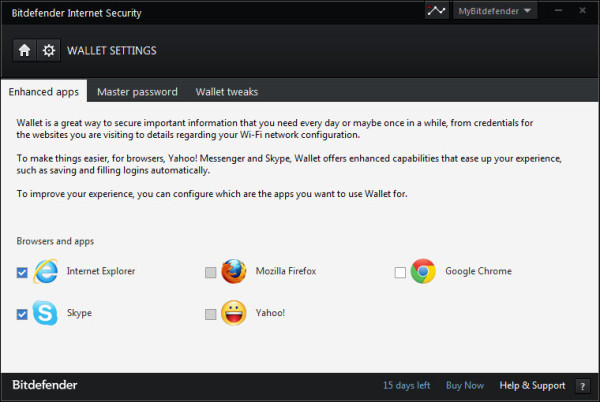 The all new Wallet feature is a built-in password management module of the security suite. It tracks the login forms you fill out while browsing and asks you to save the password in Bitdefender's secure wallet. Once the passwords are saved it fills out the information for you automatically when the site is revisited.
Safepay
For secure site, like your online bank accounts, Bitdefender offers Safepay as secure connection to login the site in the most secure manner. With SafePay on, a hack proof built-in browser of Bitdefender is opened through which you can login to the site securely.
SafeGo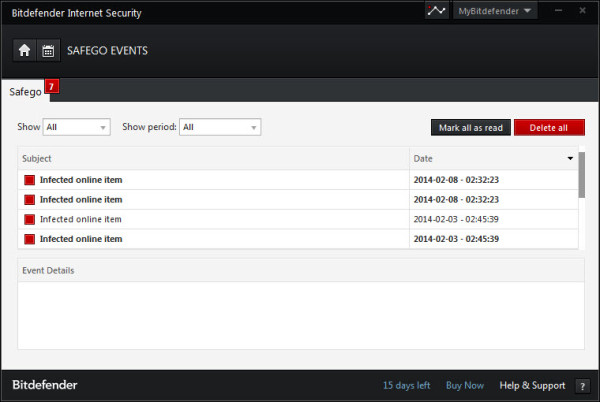 Another new feature, Safego secures your social networking profiles. We all know the vulnerabilities on social networking sites trying to spread spam or malicious links. Bitdefender Safego scans all those links and alerts you if they're bad to click.

Antispam
The most effective Antispam solution in the world is built into the Bitdefender Internet Security 2014. It filters POP3 incoming emails and integrates seamlessly with Outlook, Thunderbird and Windows Mail. It automatically scans all incoming emails and if found as a spam it silently moves those to the junk or spam folder.
Parental Control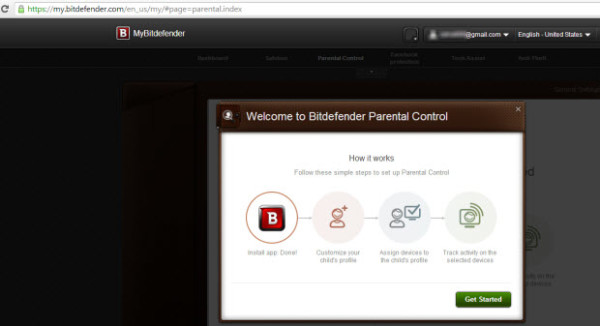 The web-based parental control is a gift from Bitdefender to the parents and all other security suite users. It manages multiple devices including the (Android) smartphones. You can view the dashboard showing all connected devices.
For each of your child device, you can define the name, age and gender and categorize the allowed or blocked sites according to individual profiles.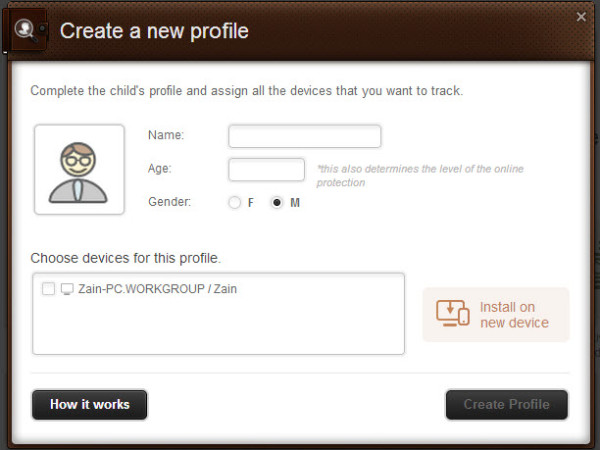 PROS:
Bitdefender Internet Security promises and fulfills everything that's committed. The perfect security solution for all sorts of security concerns. The super intelligent Auto-pilot feature is a great peace of mind that you should try if you haven't experienced how smart a security suite can be.
CONS:
The default firewall settings, sometimes omits few protections. Overall performance is still questionable for low-end systems. For a badly infected system, installation requires more efforts and users might face some difficulties while installing on an effected device. The password management of Wallet feature is impressive but still offers basic features like hundreds of other password management tools.
CONCLUSION
Bitdefender Internet Security 2014 protects you from all possible vulnerabilities and viruses protecting all malware entry points.  It keeps you safe in doing online money transactions, protects from suspicious intrusions, data theft or hacking attempts. It keeps you completely safe while browsing Facebook and Twitter from clicking those bad spammy links. The auto pilot feature is the biggest peace of mind that reduces the user interaction to a great extent.

Make Perfect Visual Identities On Mobile With Logo Maker App!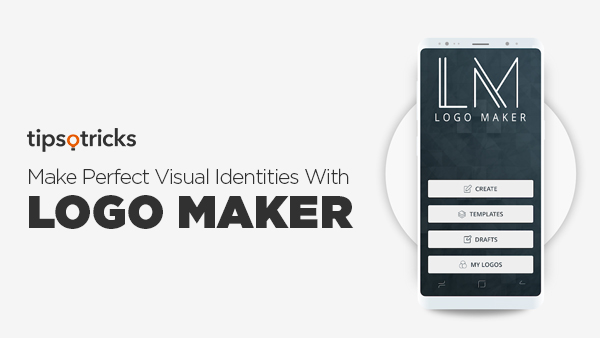 Are you amid those who are looking for a perfect logo creator?
Be glad! Logo Maker App has heard you.
You don't need to be a professional designer to make logos here. This perfect logo designing software gives you the ease of making attention-grabbing logos within minute.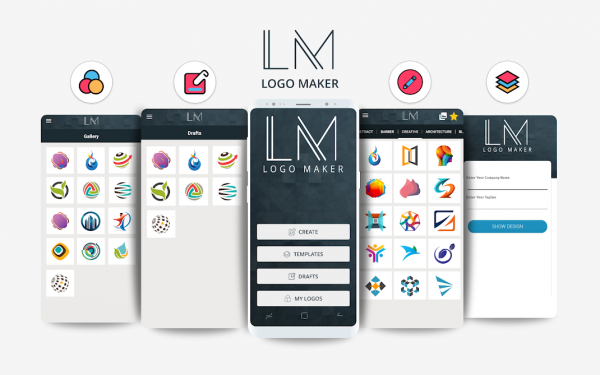 Making perfect logos weren't easy before. Well, we are aware that there are multiple logo generators, but choosing the right one is the real deal. Do you want to create a perfect brand identity? If yes, then this logo creator will let you do it. Just a bunch of questions related to your business and you are good to go. It will generate a perfect visual identity for you.
Golden snitch of customization
It's a double-trouble when you are not allowed to customize your logo according to your preferences. Sigh of relief! This fantastic app lets you customize the logos as per your wish. There are thousands of features you can play around with. Choose amazing fonts from the incredible font library, add vibrancy to your logo, give it a color you want, within few seconds, the logo will be in your bucket.
Who needs a logo designer when you have a perfect logo creator app? We are not the advocates of this logo generator, but yes those who have used it are the real backers.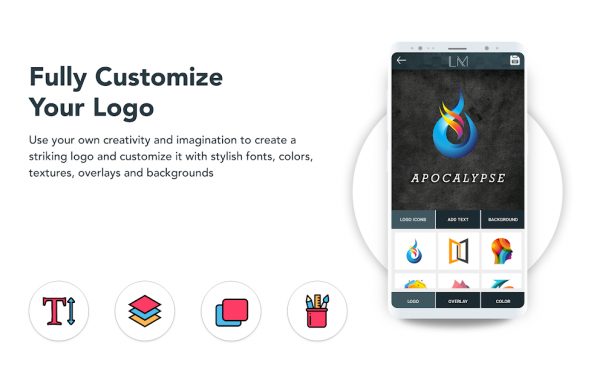 Hold on! The story doesn't end here. You are in to know more about it…
Imagine, how amazing it would be if an online logo maker app lets you play around with maximum features? Your search ends here, "Logo Maker App" lets you do it all.
Don't miss to give the second gaze to its features:
Some features
Be it a business logo, fashion logo, wordmark or anything else; you will get it all here.
It offers you a bundle of shapes that can be used in your logo.
You have the liberty to choose from a wide variety of backgrounds.
It lets you resize the text and shapes as per your wish
Many logo generators claim to provide you with the high-quality logos, but few actually do. Your expectations won't end in vain this time because this logo generator doesn't claim much, its features speak for itself.
Keep that creative juice flowing as it will help you in giving life to the visual identities that are worth a stare.
You don't need to pay a single penny
How can we forget mentioning the foremost part! There are no hidden curtains; you can download it for free on your Android & iOS devices.
Some awesome things are hard to come by. Be happy that you found one in the form of "Download Logo Maker – Pro Logo Creator"
EaseUS Free Data Recovery Software Wizard 11 [Review]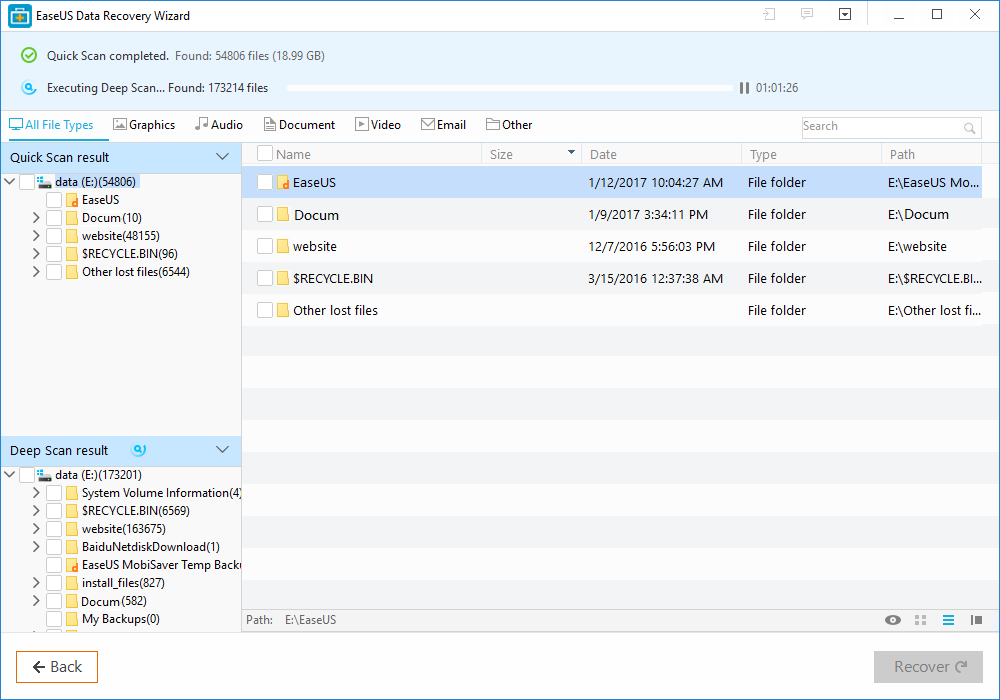 Losing valuable data and important documents are probably the biggest blow for computer users. If you have accidentally deleted something from your system? If you have got your pen drive corrupted? Or if system breakdown and viruses have taken away some of your precious files? Don't regret or feel sick for any tragedy with your data. There are thousands of online data recovery tools which can help you to recover your lost data. EaseUS Data Recovery Wizard version is one of those efficient data recovery software. Let's review this free data recovery software and know how it is different from other data recovery tools.
EaseUS Free Data Recovery Software Wizard Version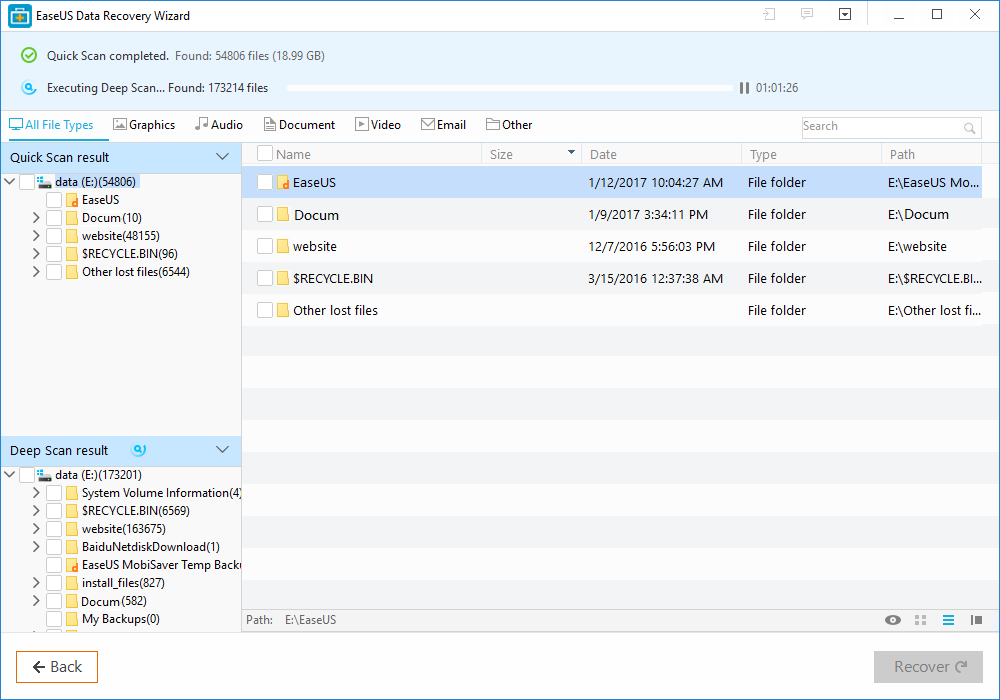 EaseUS Data Recovery Wizard is a useful tool for data recovery, backup, and hard drive management. It is an impressive free data recovery software to recover deleted, formatted data easily and quickly. This software is suitable for window users and allows them to restore crucial data lost through sudden deletion, formatting and virus attack. It is flexible and time-saving. This software makes you clear about all recoverable data through preview before recovery. It enables you to get lost files back fast with remarkable recovery quality. It also offers basic quick scanning and further deep scanning allow users to track down lost data, deleted documents, photos, and media thoroughly.
It is different from other data recovery software. Total new interface with simple steps to recovery, improved scanning process which enables the user to find data more efficiently make it different from other data recovery software. Moreover filter function optimization after scanning for easy recovery and support for Turkish and Arabic are most significant features of this software.
It also allows the user to recover data from any scenario. This software allows recovery from simple deleting, partition loss of the hardware, virus attack and faulty operations of the drive to even complicated formatted hard drive. You would be able to recover all of the lost files with exact file name and folder path.  It supports all types of hardware, and it also supports hard drive with up to 8 TB storage space and allows you to recover all kinds of file formats. Moreover, this data recovery software is also supported by all versions of Windows and Mac.
In a nutshell, it can be said that EaseUS Data Recovery Wizard is an advanced recovery software. It is free data recovery which is easy to use.
Benefits Of Choosing Free Data Recovery Software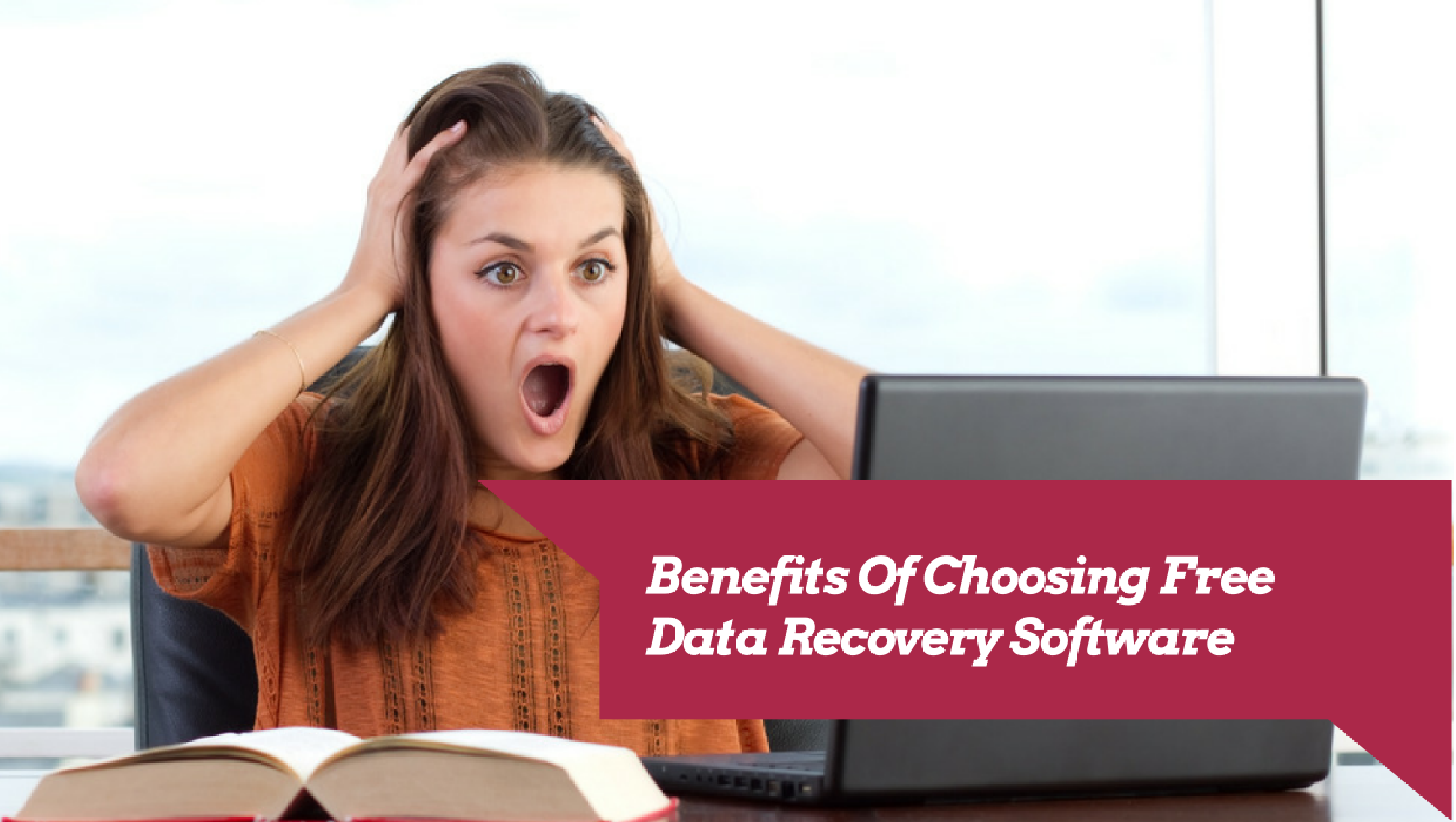 Data loss is a very common problem these days. Users who are accustomed to store a lot of data at different locations often end up losing some of it. Data loss can happen for many reasons. For instance, a hardware malfunction due to a power outage, an old and malfunctioning hard drive or deletion by mistake. In all cases, your data pays the biggest price. Instead of working on making a copy, using a data recovery software would be the ideal thing to do.
Data Recovery Software
EaseUS is among the most reliable and functional free data recovery software available in the market today. Here is more on how EaseUS can help you recover your precious data.
Unique Features
EaseUs is a nifty little software that combines precise algorithms with speed and ease of use. As a result, this data recovery software will recover any file from your drive. The data recovery software has many interesting aspects. For example, it can even recover lost or deleted files from damaged and repartitioned drives. The interface is very easy to use, so much so that even a novice user can run and recover data from it.
The user interface is pleasant and elaborate, which makes it even easier to use it. Another novel feature of EaseUS data recovery tool can recover any file or document from different drives. For instance, it can recover files from a flash drive, music players such as iPod, virus or malware attacks, hard, hard disk partitions, crashing the operating system and memory cards.
Getting Started
To recover your lost or deleted files, you need to install the EaseUS data recovery software on your system. You can choose to install it on any partition. The software will take approximately 18 megabytes of hard drive space and about 1 minute to install. Once done, the program will show a pop-up menu with instructions on how to use the software. Recovering data is very easy, just let the software scan your drive for any deleted files. Afterward, the software will show a complete scan report indicating any lost data from all partitions. Your hidden data will be displayed on the list. Just click on the archive, and mention the partition you want it to be restored. The software will scan the drive and recover the lost file in less than a minute.
Important Note:
Close all programs and try not to touch the mouse while your software is running. Doing so may interrupt the scanning process that might result in improper scanning which may not allow the software to recover your document correctly. Repeated interruptions might even damage your lost file. To avoid this situation, let the software scan all the drives and all the process to complete. Also, turn off any antivirus or malware protection programs while running the software. These programs may cause interference in the scanning process.
Regarding overall performance, unique features and ease of use, the EaseUS data recovery software has no analogs in the market.