Get FREE License of PDF to Word Converter Instantly
AnyBizSoft PDF to Word Converter is an efficient application to convert Adobe PDF files to well-formatted Microsoft Word documents. You can use the tool even without installing Microsoft Word. The original text, layouts, images, tables and hyperlinks can be exactly retained in the generated Word documents. Modifying or reusing the contents becomes easy after converting PDF to Word.
It can even convert PDF file which was restricted by author to prevent others from copying, editing or even printing.
With this PDF to Word Converter, conversion becomes a matter of single click. Just Right-click the PDF file and click Convert with AnyBizSoft PDF to Word on the shortcut menu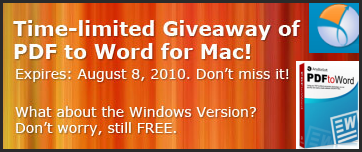 AnyBizSoft is currently giving away FREE licenses of PDF to Word Converter of both Windows and new MAC version to everyone who joins there Facebook Fanpage at:
http://www.facebook.com/AnyBizSoft?v=app_6009294086
Just Like the page and enter your details in the fields given, you'll immediately receive an email containing license code for the software.
Visit Official Website for more details.

Premium Web UI kits from Pixelkit – Membership Giveaway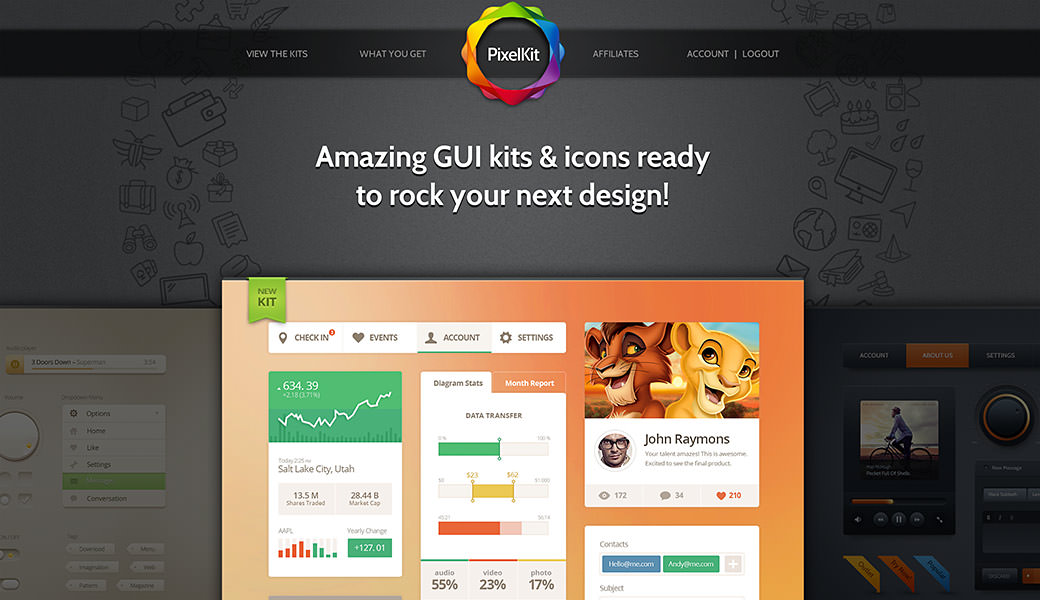 Web designers have been waiting for a long time, and now a decent UI kit solution is finally available. This solution is called PixelKit. This library is perfect for web designers and includes a variety of high quality UI kits.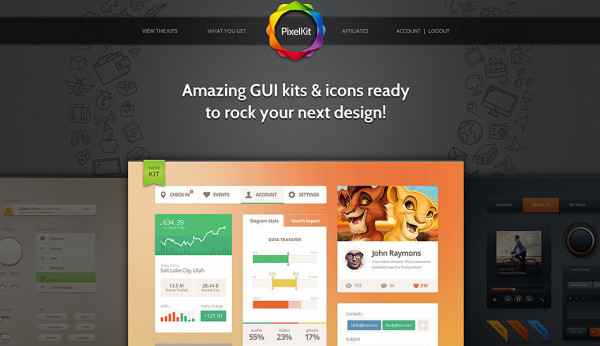 What Is the Prize?
Three Membership Accounts from PixelKit. Three different people will be lucky enough to receive a full free year membership account from PixelKit. Just what benefits will you gain from winning? Consider these. They are only the beginning of what you can enjoy from the prize.
With PixelKit, you can finish so many of your web design projects much more quickly. Additionally, each project you complete will be clean and cohesive because you don't have to spend any time searching out decent UK kits. Just spend some time checking out the product and you will see the advantages you can gain.
Entering Is Easy
It only takes few steps to put your name in for a chance to win.
Use the widget below to enter the giveaway:
a Rafflecopter giveaway

If you win, then you have access to many different icon sets and UI kits, like these:
Metro Vibes – Metro UI Kit
This UI kit is metro and modern for a professional website that needs a smooth and contemporary feel. Works well for websites or applications.
Tasty Bites – Food Icon Set
If you are working on a restaurant website, then these yummy icons can help you. They are perfect for food or drinks.
City Break – Hotel UI Kit
A hotel UI kit that will help you create cool designs and web layouts aimed at hotels, B&B's, vacation websites and other similar ventures. The modern look and the wide variety of elements specifically designed for this hotel niche will get you everything you need at the length of a simple click.
Vintage iOS – iPhone UI Kit
An iPhone UI kit ready to help you create the next big thing when it comes to mobile applications. It has all the elements you will ever need in order to create any page for your first million dollar iOS application.
Arctic Sunset – Clean UI Kit
When you need to please corporate clients, this UI kit offers a clean, professional look. It will present a website or app in a contemporary style.
5 O'clock Shades – App Icons
This icon set is a combination of the modern flat style with a more detailed approach, giving the icons a cool and modern vibe.
Modern Touch – Flat UI Kit
Not only it's eye candy but using this flat UI kit will guarantee your website to be functional as well. The right typography balance of weight and positioning as well as the paddings, margins and colors will bring an exquisite feel to your website with a distinctive focus on content.
Get the Official Free License of avast! Internet Security For 3 Years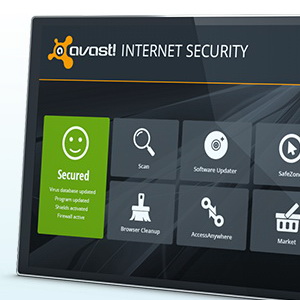 Having over 150 million registered users worldwide, avast! is one of the most famous security software & solution providers. Unfortunately, apart from the avast! Free Antivirus, most of its products are not free. However, avast! is promoting its products right now and offering Free License of avast! Internet Security which covers most of the features a normal user needs: antivirus scanning, secure Internet surfing, shopping & banking, data & identity protecting and more.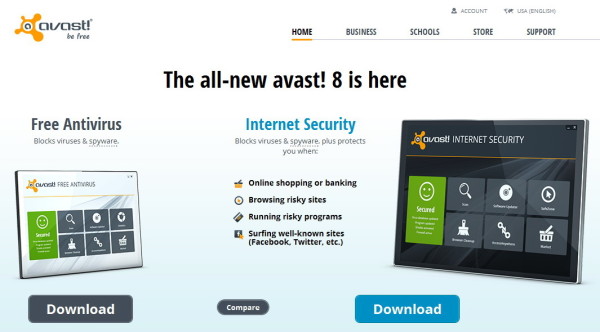 Have a look of how to get this gift!
Free License of avast! Internet Security
On avast! homepage, you can see the link 'ACCOUNT' on the top of the right side. Click it and log in the website if you are already a registered avast! user, otherwise you must create an account or sign in with Facebook to save your time.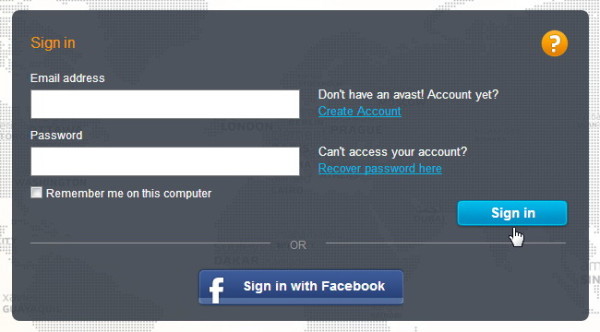 After signing in, you will see your account overview. Now click the button 'Recommendations' and you will be led to the page 'Recommend avast! and get Internet Security for FREE'.

Click the Facebook, twitter and Google+ button to share your personal promo link generated by the website with your friends or click Email button to send an invitation email asking everyone you know to install avast! Free Antivirus.

You can also click the 'Link' button, copy the unique URL and post it anywhere you can.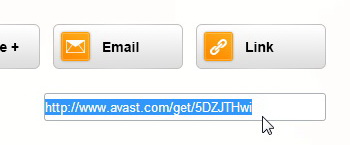 Once seven of your friends (or any other people) install an avast! Free Antivirus program via your link, the 'Download free license' button under the invitation status bar in your account page will gradually turn in to clickable. Click it and you will get a 1 year free license of avast! Internet Security for 1 PC which is priced at $49.99. Likewise, 14 persons' installation brings you 2 years free license and 21 times of installation brings you 3 years one.

In this way, you will save 49.99–99.99 dollars!
When you get a free license, follow the tutorials on the webpage showing you how to use it if you already have avast! Free version on your computer. If you do not have, download a package of avast! Internet security and insert the license when the program asks you to do so.
Visit avast! homepage and get your free license now!
Since we do not know when this promotion will end, it is better to join it as quickly as possible.
Or you can post your personal promo URL in the comment below to ask others who see this article visit it.
ScreenCamera.Net – The Ultimate Video Studio in Real-time for FREE [GIVEAWAY]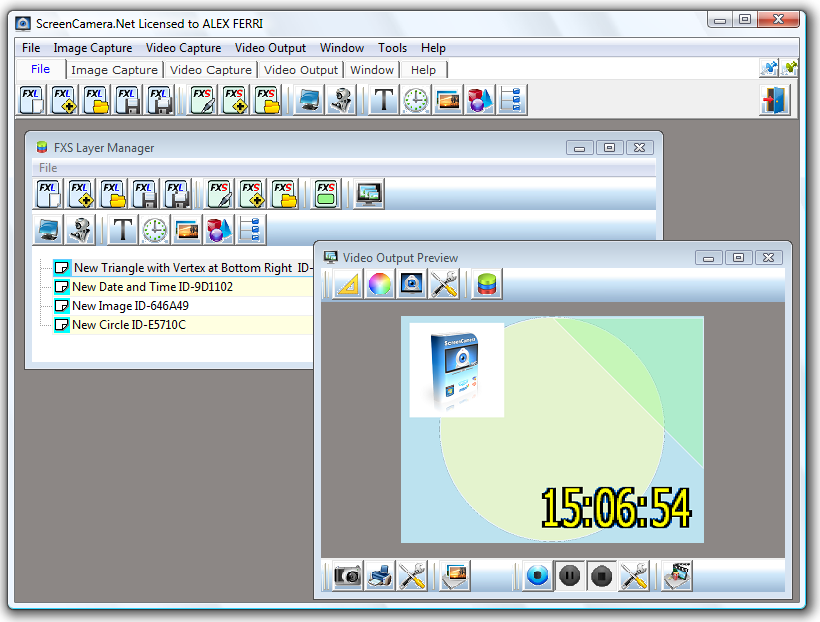 PCWinSoft is giving out free copies of ScreenCamera.Net, the real-time video studio and virtual camera software. ScreenCamera.Net costs $99.95 but in here you grab it for FREE, no gimmicks. Don't miss out on this opportunity of having the pleasure to save $99.95 and simultaneously win a fun to play virtual camera.
Features of ScreenCamera.Net
1. Object-oriented Cam
ScreenCamera.Net is a video studio in real-time built upon a layer-by-layer object-oriented frame-by-frame technology proprietary of PCWinSoft.It works similarly to Adobe Photoshop when it comes to the layer-by-layer architecture and it works similarly to Adobe Flash when it comes to frame-by-frame animation architecture.
2. Act Like Canvas
The first thing you gain when you install ScreenCamera.Net is a new video camera on your system: You can think of this virtual camera to be like a blank canvas for you to play with by adding and removing objects that sit on top of each other on layers.
The objects supported by ScreenCamera.Net are: Desktop capture from any available monitor, webcam capture, one or many, movie files of any extension, audio tracks of any extension, IP cameras, TV tuner card video, video device attached to TV tuner video via S-Video, Composite or HDMI, image files of any extension including PNG, text stamps, date-and-time stamps, ellipses, rectangles and triangles.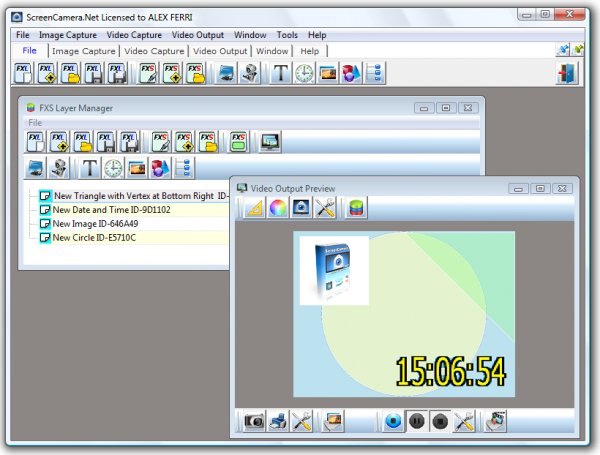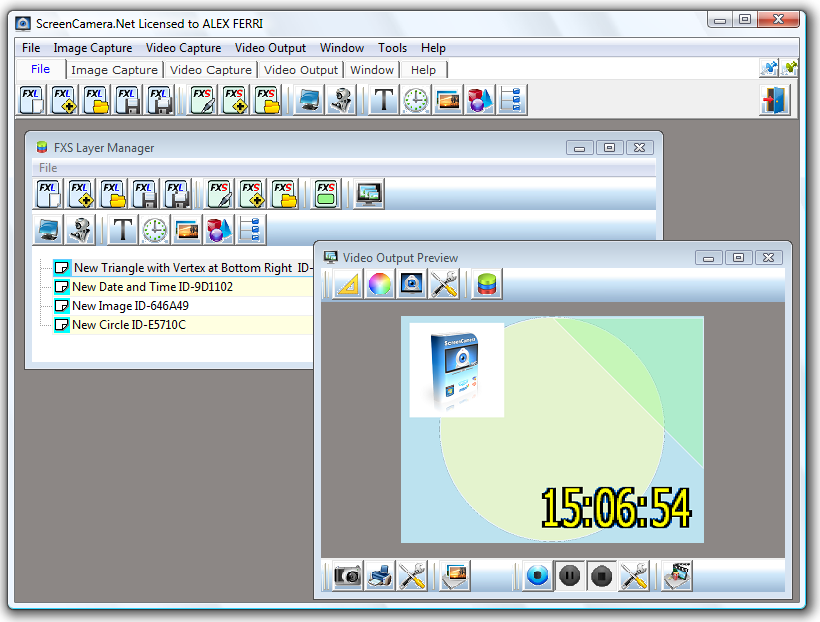 3. Animate Capabilities
With ScreenCamera.Net not only you can add objects but you can animate them by changing objects' position, color, rotation angle, and transparency level in a time-line. Similarly to Adobe Flash you can animate the objects: The architecture of the frame-by-frame technology works with key frames and automatic animation from key frame to key frame so from one key frame to another you can change an object's position, color, rotation angle, and transparency level and this goes to all objects ScreenCamera.Net supports.
ScreenCamera.Net has a bit of a learning curve that can be overcome naturally and actually having fun on the process of learning how to use it specially because you have immediate visual response to your adding, removing and alteration of objects. It gets even more fun when you start to get acquainted with the animation capabilities of ScreenCamera.Net. ScreenCamera.Net is a very powerful tool.
Benefits of ScreenCamera.Net
You can benefit from ScreenCamera.Net in a large number of ways:
The first that comes to mind is the ability to share your one or multiple monitors on a video conference call.
The second one that comes to mind is to have the ability to add your company logo and your name on top of a semi-transparent rectangle and show up on your video conference calls like a real pro showing up that you mean business and you're not kidding around.
The third one is that you can have all your monitors and video cameras and move files and audio track files all stacked up on your object list and you can switch from one to the other with the click of a button so you can be showing your monitor number one and then you can switch back to your face on your webcam then switch to your monitor number 2 and you can then jump to a movie file and play it, so overall ScreenCamera.Net has the ability to make your video conferencing skills jump to another level of professionalism.
Some Special Features:
Broadcast server:
With the click of one button you can start a broadcast right from your PC using the protocol HTTP which means you can open the broadcasted stream on any web browser and media players there are. Not only that but ScreenCamera.Net also makes available to you a code that you can simply drop on your website web page and instantly have live video on your website. How cool is that?
ScreenCamera.Net works with Skype, AIM, Google Chat, Yahoo! Messenger, MSN Messenger, UStream.tv, Blog.TV, LiveStream, UStream.TV, and any video conference application or website that accepts webcams. One more feature that might be of benefit to users: ScreenCamera.Net can be opened by multiple applications simultaneously so if you connect your webcam to ScreenCamera.Net then you can overcome the limitation of Windows of allowing only one webcam to be used by one program at a time, and you can then open your webcam on multiple applications.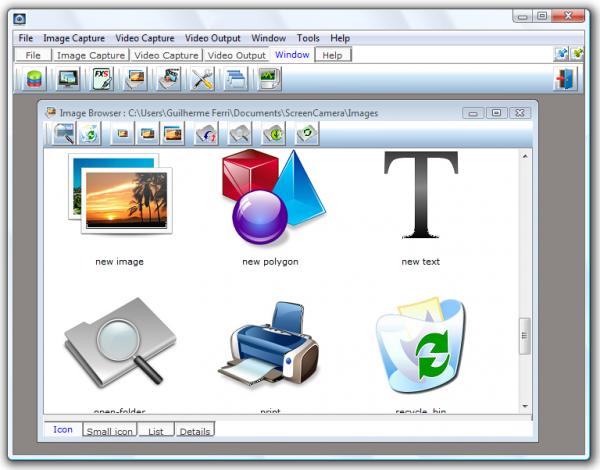 Powerful Scheduler:
ScreenCamera.Net comes equipped with a powerful scheduler where you can set ScreenCamera.Net to record and/or take pictures in any way timely possible like 2 days a week on different periods, only on Saturdays, up to 4 different periods a day, and you can have multiple scheduled tasks.
Printing option:
ScreenCamera.Net also comes equipped with an image browser, a video browser, a video player, an image viewer and finally an image printer: You can throw elements in the blank canvas and print the results.
System Requirements:
ScreenCamera.Net will run on 2000/XP/2003/Media Center/Vista/Windows 7/Windows 8 and requires at least a 1.3gHz processor and 256mb of memory.
ScreenCamera.Net Giveaway
To receive your free copy of ScreenCamera.Net simply register here: http://www.pcwinsoft.com/promotion/tipsOtricks/registration.asp