Best 5 Random Domain Name Generators and Suggestion Tools
Setting up a new website and still thinking for a unique domain for it? Usually you come up with some good names that you've thought of and go straight to domain registrar to register and find out that the name is already taken. Then you get two choices at that point; either consider the suggested and related names from the domain registrar or think again for some new and this time — some random names, that you feel sure of are not taken already.
With more then 192 Million active domain names registered, it becomes even harder to find a good domain name that matches a product, service, or website concept that is not already taken. People then go for some crazy random words and combine them to create a unique name for their websites. This random name thinking process becomes even more tiring when you go and check each name one by one.
This is where Domain Name Generators or Suggestion tools make your life much easier. They not only create and suggest random domain names but also tell you whether those name are taken. Recently when I was suggesting a domain for my friend's website I searched for these domain name generators and found so many of them while searching, I though to share some good ones that might help you in suggesting domain name for your next website.
So, here are the Top 5 Domain Name Generators, ranked on my personal usage experience. Leave your valuable comments and add the service you've used and like and you think should be included in the list as well.
1. BustAName
With Bustaname, you get a friendly clean interface that offers good customized results. You give some keywords that are in your mind and add them in the list and start playing with the suggestions that are very closely related to the keywords you entered. The next column shows the available domain with the keywords in the name. You can directly go to domain registrar's website of your choice after finalizing the name. Bustaname have a special deal with Godaddy and offer discounted prices.
2. NameStation
You choose the extension, characters starting and ending limit, enter the keyword, and hit the Go button. You get a long list of with full of random names to choose from. From then on you can refine the results, by choosing specific domain registrar, get the details and all available domain extension for your suggested name. There's a interesting "analyze" button in front of each suggested name, by clicking which you can see the availability status in a new window with the domain registrar website already opened and necessary information filled.
3. Dot-o-Mator
Use Dot-o-mator to create domain name suggestions. Just enter a word (or words) in the left box, and choose some endings (or enter your own). Click to combine them. If you see a name you like, you can check its availability or save it to your scratch board. There is a max of 15 words in the prefix and suffix boxes.
It also has "Web 2.0 name Generator" so that you can get more fancy suggestions. You don't have to provide your keywords to create 2.0'ish name — It just generates them randomly.
4. Suggest.Name
Suggest.name is a dedicated Web 2.0 name generator. You set a prefix and suffix for the name and choose from preset categories already filled with dozens of keywords. If you start seeing some really crazy random names then you can consider ignoring the categories and enter your own keywords in the column. There's a result column and finally a scratch board column to save the results. Select the name that you want to check the availability for and hit "check" button to get redirected to domain registrar's site.
5. DomainTools
Simplest generator of all. But still shows very close results matching your entered keywords. It shows a limited list but still lot better as it shows the availability for the suggested names as well. By default you can see availability of .com .net .org .info .biz and .us extensions. Click the "buy this" button in the column of respective extension of your choice in front of the name you chose.
---
Once you done with selecting the domain name, head over to find a good web hosting provider.

Smallest Antivirus to Automatically Remove Autorun.inf Virus from USB Flash Drives
Autorun.inf is not very harmful but still the most annoying virus of all which travels through flash drives. There's a nifty tool designed specifically for this purpose – to remove Autorun.inf Virus from USB drive!
This virus automatically executes itself as soon as the infected flash drive is inserted into a system. When user double clicks the infected drive, autorun.inf with associated (hidden) .bat files infects all the partition of the system and autorun.inf is copied to all the drives.
Although this can be prevented through standard antivirus software but there's a dedicated antivirus made specially to remove autorun viruses called Autorun Virus Remover.
Autorun Virus Remover provides protection against any malicious programs trying to attack via USB drive. When a USB device is inserted into your computer, Autorun Virus Remover will automatically scan it, block and delete autorun virus, trojans, and malicious code. Also, it can detect and remove USB virus such as autorun.inf virus in your computer.
Remove Autorun.inf Virus with Autorun Virus Remover can also remove the autorun virus due to which you can't open your hard disk and USB drive (Pen drive, Memory card) by double clicking. Autorun Virus Remover USB antivirus software to permanently protect offline computer against any USB virus without the need for signature updates. This light and easy to use solution is compatible with all version of Windows and doesn't slow down your computer at all.
Snappy: All in One Driver Installer For All Your System Drivers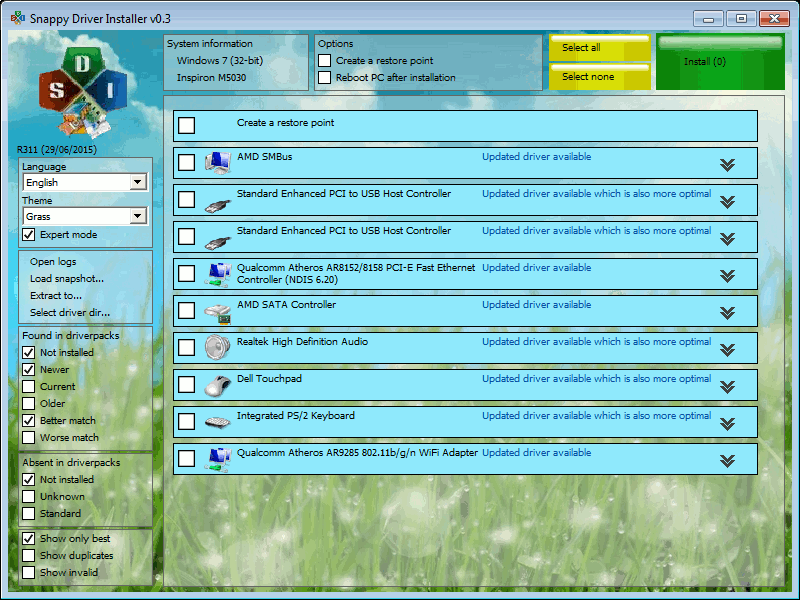 Snappy system driver installer is a freeware for Windows which is an All in One Driver Installer and can be used as a complete solution to install all types of drivers on your system. There are two main sources which are supported by the program namely driver packs and local folders. The program is capable enough to pick the drivers automatically from the folder where you kept them and bring it to use at any given time.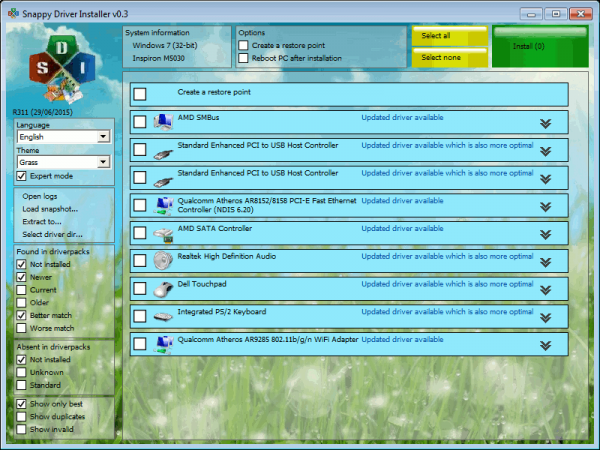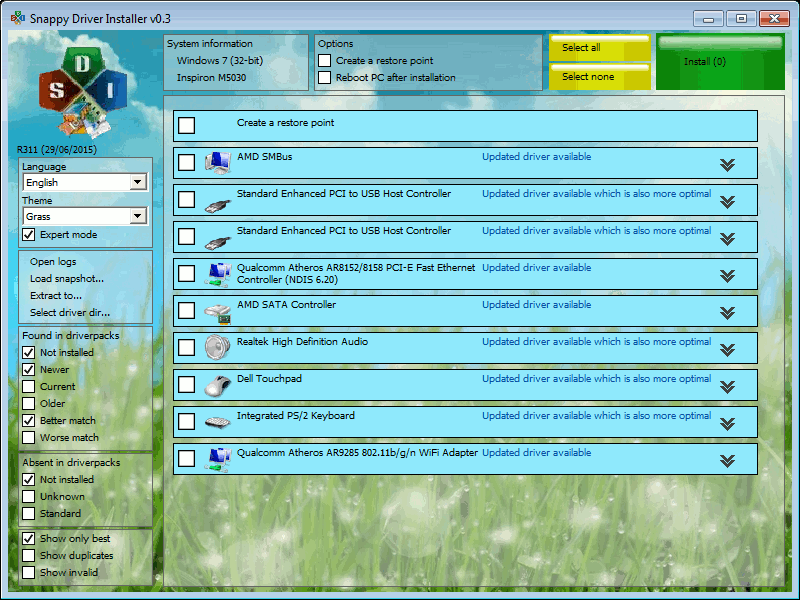 The computers who have a weak or unreliable internet connection can avail the services of this program as it can install all the drivers without it. To start installing drivers on your computer, go to the updates option which can be found on the top and download the index file by checking on the option 'Check only needed for this PC' and then click on accept. This index file will add all the relevant information to the software. The program then works by checking for all the missing drivers and updates for the already-installed programs on the system.
You are also free to download all the driver packs, however, which is not recommended by the experts. You only need to do this if you need to create a completely portable version of a particular program on the computer which, by default, includes all the drivers. There is one thing to note that you will have to download nearly 9 GB of data in that case.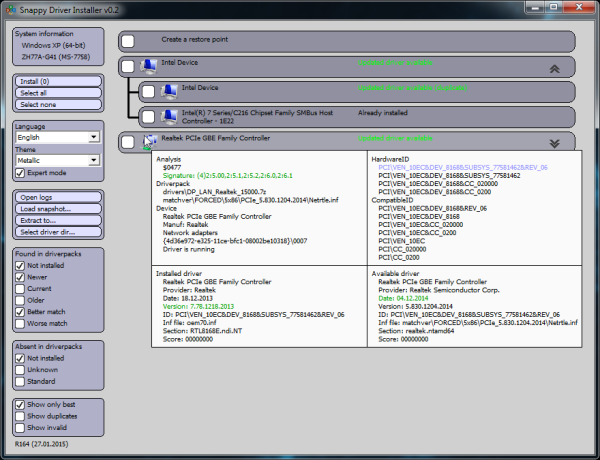 As soon as you are done downloading, the main interface of the program will show the updated driver information afterward. You can also enable the expert mode present on your left where you will be able to use filters to customize the selected option. You are also free to disable the updates which you think are, in no way, better than the ones already installed.
Before selecting the drivers which need to be updated, hover on each device to get information about each device's already installed driver and the update the program wants to install. The information may consist of the update's version, device's manufacturer's name, hardware IDs, etc. It is quite beneficial to give some time to these facts as there may be some updates which are not suitable for the device or are falsely identified. Once you are done with all these important steps, the Snappy Driver Installer will start downloading the selected driver updates for your system, installing afterward.
Easiest Way to Recover Deleted Photos and Text Messages From Phone For FREE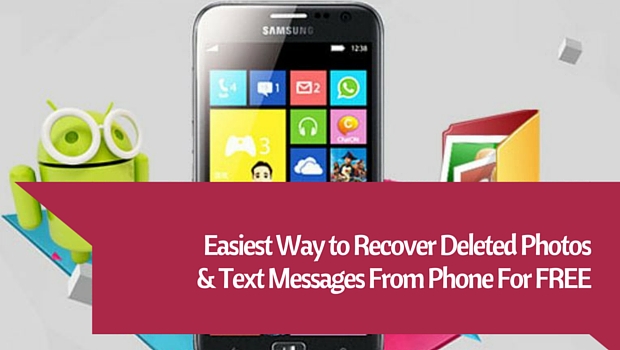 Recover deleted photos from phone easily with the world's number one android file recovery software named Wondershare Dr.Fone. It is a tool which is used worldwide for recovering files and data from android tablets and phones. The tool is capable of retrieving audio files, Whatsapp messages, videos, call history, contacts, photos, text messages and a lot more that you lost accidentally or due to the ROM flashing or OS crash. The tool supports about 200 android devices and many android versions.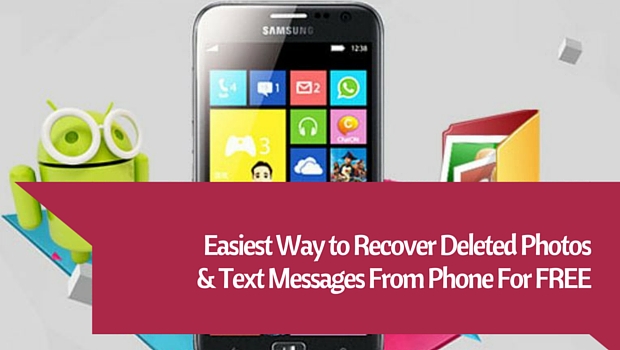 How To Recover Deleted Photos From Phone And Other Data
Dr. Fone is very beneficial in recovering files on android devices and can retrieve deleted text messages too. However, if the tool is not dealt properly, the software will not be able to recover all the files properly. Before beginning the process of recovery, the following tips should be considered to increase the success rate positively.
First of all, if you find out that some of the files have gone missing on the phone or a list of data is deleted accidentally from the phone, stop using the device instantly. In android or other OS, the data is actually not blown away but is kept in the phone to be rewritten by some other files. For this particular reason, if the device is kept working on, that data gets overwritten by the recent changes in the phone and ultimately, disappears forever.
Secondly, look for a computer as soon as possible and start the process of recovery. Don't forget, the sooner it is, the better it is. Download the recovery software by Wondershare i.e. Dr. Fone for android. For further information, follow the following downloading process.
How To Download
There are more than one way to download Wondershare on your phone. You can either go to the product page to find the app link or simply click the download option on the top of the page to get Dr.Fone on your phone. Once downloaded, your phone will offer an installation package. The download button is also featured in the bottom of the page.
How To Install
Once you have downloaded, search for the installation package on your system. Double tap on the .exe file to run the setup and click on the install option to start the recovery process. The installation process will take approximately a few minutes. Once there, the Start Now option should be clicked to launch the software.