15 Open-Source Applications You Need To Know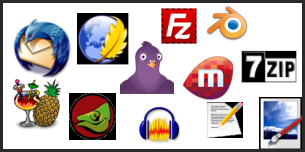 Open source programs are not only free to use, but most of the times are more efficient in terms of resources they require. They are much lighter than proprietary software that use high resources. Source code are available with open source software so that you can customize them according to your own needs and requirements if you know how to program. Almost every software has it's open source alternative present. But due to unawareness most of us just don't know those alternatives that are not only free but also much better in performance, like Open source Mozilla Firefox over Microsoft Internet Explorer.
So here are 15 FREE open-source alternatives of most common applications we use in daily PC usage, you might didn't know.
1. Mozilla Thunderbird
Powerful Email client with spam filtering, solid interface, built in RSS Reader, all-in-one inbox for all of your email addresses.Sets up email addresses automatically without any manual settings.
2. K-Meleon
K-Meleon is an extremely fast, customizable, lightweight web browser based on the Gecko layout engine developed by Mozilla which is also used by Firefox. K-Meleon is free, open source software released under the GNU General Public License and is designed specifically for Microsoft Windows (Win32) operating systems.
3. Pidgin
Pidgin is a chat program which lets you log in to accounts on multiple chat networks simultaneously. This means that you can be chatting with friends on MSN, talking to a friend on Google Talk, and sitting in a Yahoo chat room all at the same time.
Download Page
4. Blender
Powerful 3D Modeling software. Blender is the free open source 3D content creation suite, available for all major operating systems.
Download Page
5. Miro
It can play almost any video file and offers over 6,000 free internet TV shows and video podcasts. Plays any video type (much more than windows media player). Subscribe to video RSS, download, and watch all in one. Torrent support. Search and download from YouTube and others.
Download Page
6. VLC
Plays more video files than most players: Quicktime, AVI, DIVX, OGG, and more. Pretty good interface.
Download Page
7. Eraser
Eraser is an advanced security tool for Windows which allows you to completely remove sensitive data from your hard drive by overwriting it several times with carefully selected patterns.
Download Page
8. MP3 Book Helper
This program provides rapid Mp3 (ID3v1, ID3v2) and Ogg/Speex/Flac Vorbis tags editing and file renaming functions. Mass Tag editing is done using special variables and Regular Expressions.
Download Page
9. 7-Zip
Powerful File compressor and archiver. You can use 7-Zip on any computer, including a computer in a commercial organization. You don't need to register or pay for 7-Zip.
Download Page
10. KompoZer
KompoZer is a complete web authoring system that combines web file management and easy-to-use WYSIWYG web page editing.
KompoZer is designed to be extremely easy to use, making it ideal for non-technical computer users who want to create an attractive, professional-looking web site without needing to know HTML or web coding.
11. Handbrake
DVD to MPEG-4 ripper/converter. HandBrake is an open-source, GPL-licensed, multiplatform, multithreaded video transcoder, available for MacOS X, Linux and Windows.
Download Page
12. Notepad ++
Open Source programmers notepad for Windows. Notepad++ is a free source code editor and Notepad replacement that supports several languages.
Download Page
13. Paint.NET
Paint.NET is free image and photo editing software for computers that run Windows. It features an intuitive and innovative user interface with support for layers, unlimited undo, special effects, and a wide variety of useful and powerful tools.
Download Page
14. Audacity
Audacity is free, open source software for recording and editing sounds. It is available for Mac OS X, Microsoft Windows, GNU/Linux, and other operating systems
Download Page
15. Filezilla
Excellent and complete FTP program. FileZilla is open source software distributed free of charge.
Download Page
---
If you know other open source program(s) that you'd like add here in the list, please leave the name(s) in comments.

Smallest Antivirus to Automatically Remove Autorun.inf Virus from USB Flash Drives
Autorun.inf is not very harmful but still the most annoying virus of all which travels through flash drives. There's a nifty tool designed specifically for this purpose – to remove Autorun.inf Virus from USB drive!
This virus automatically executes itself as soon as the infected flash drive is inserted into a system. When user double clicks the infected drive, autorun.inf with associated (hidden) .bat files infects all the partition of the system and autorun.inf is copied to all the drives.
Although this can be prevented through standard antivirus software but there's a dedicated antivirus made specially to remove autorun viruses called Autorun Virus Remover.
Autorun Virus Remover provides protection against any malicious programs trying to attack via USB drive. When a USB device is inserted into your computer, Autorun Virus Remover will automatically scan it, block and delete autorun virus, trojans, and malicious code. Also, it can detect and remove USB virus such as autorun.inf virus in your computer.
Remove Autorun.inf Virus with Autorun Virus Remover can also remove the autorun virus due to which you can't open your hard disk and USB drive (Pen drive, Memory card) by double clicking. Autorun Virus Remover USB antivirus software to permanently protect offline computer against any USB virus without the need for signature updates. This light and easy to use solution is compatible with all version of Windows and doesn't slow down your computer at all.
Snappy: All in One Driver Installer For All Your System Drivers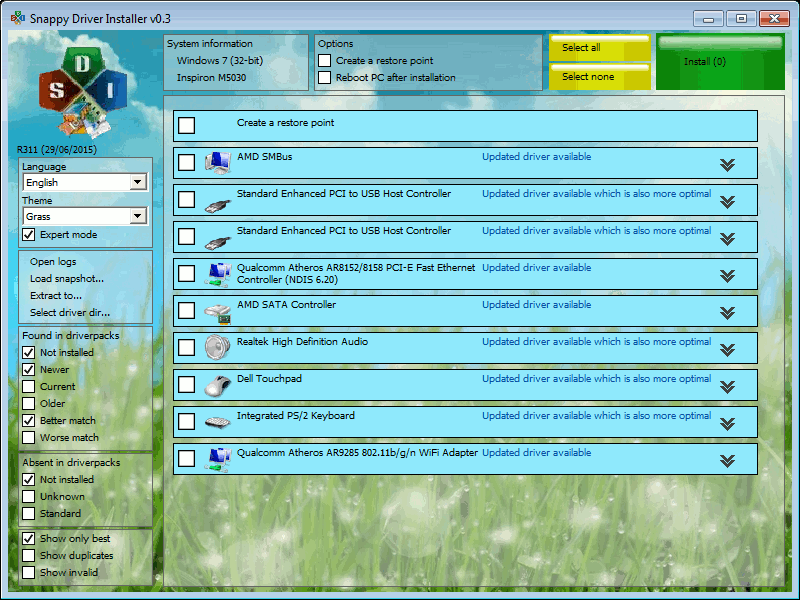 Snappy system driver installer is a freeware for Windows which is an All in One Driver Installer and can be used as a complete solution to install all types of drivers on your system. There are two main sources which are supported by the program namely driver packs and local folders. The program is capable enough to pick the drivers automatically from the folder where you kept them and bring it to use at any given time.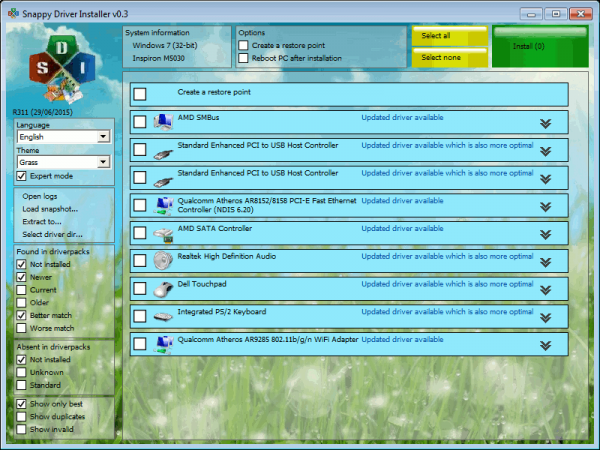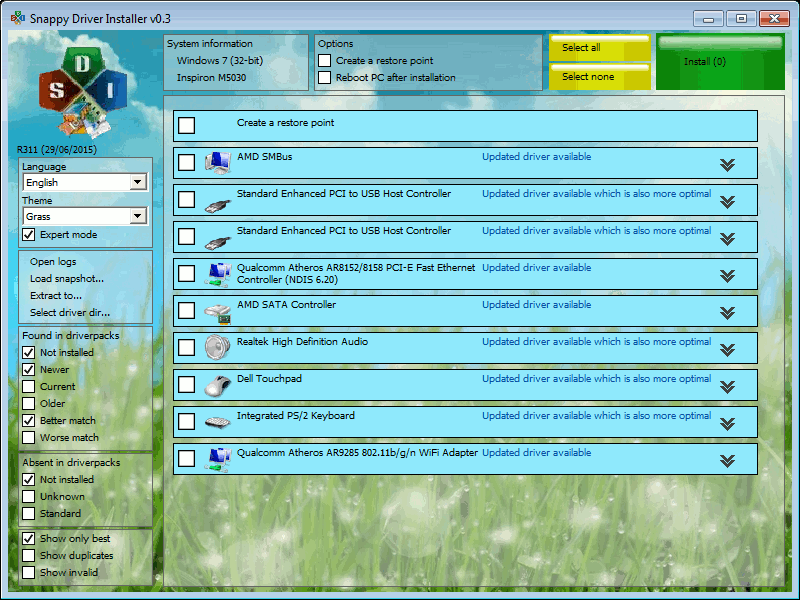 The computers who have a weak or unreliable internet connection can avail the services of this program as it can install all the drivers without it. To start installing drivers on your computer, go to the updates option which can be found on the top and download the index file by checking on the option 'Check only needed for this PC' and then click on accept. This index file will add all the relevant information to the software. The program then works by checking for all the missing drivers and updates for the already-installed programs on the system.
You are also free to download all the driver packs, however, which is not recommended by the experts. You only need to do this if you need to create a completely portable version of a particular program on the computer which, by default, includes all the drivers. There is one thing to note that you will have to download nearly 9 GB of data in that case.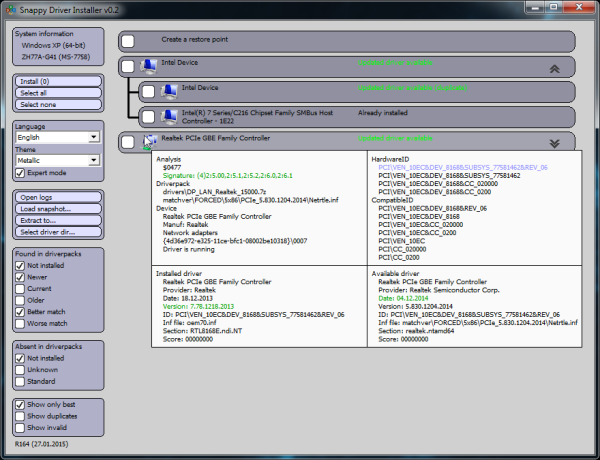 As soon as you are done downloading, the main interface of the program will show the updated driver information afterward. You can also enable the expert mode present on your left where you will be able to use filters to customize the selected option. You are also free to disable the updates which you think are, in no way, better than the ones already installed.
Before selecting the drivers which need to be updated, hover on each device to get information about each device's already installed driver and the update the program wants to install. The information may consist of the update's version, device's manufacturer's name, hardware IDs, etc. It is quite beneficial to give some time to these facts as there may be some updates which are not suitable for the device or are falsely identified. Once you are done with all these important steps, the Snappy Driver Installer will start downloading the selected driver updates for your system, installing afterward.
Easiest Way to Recover Deleted Photos and Text Messages From Phone For FREE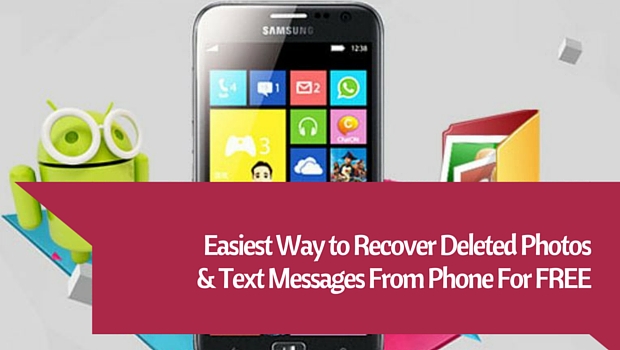 Recover deleted photos from phone easily with the world's number one android file recovery software named Wondershare Dr.Fone. It is a tool which is used worldwide for recovering files and data from android tablets and phones. The tool is capable of retrieving audio files, Whatsapp messages, videos, call history, contacts, photos, text messages and a lot more that you lost accidentally or due to the ROM flashing or OS crash. The tool supports about 200 android devices and many android versions.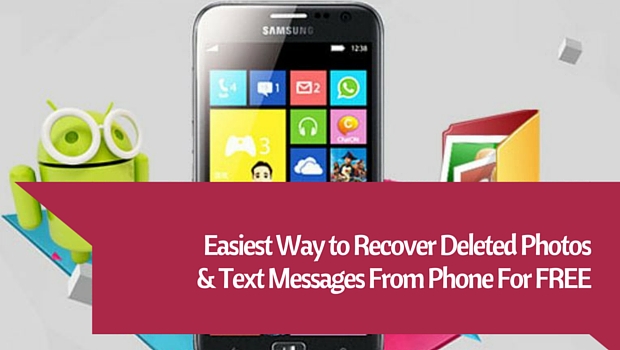 How To Recover Deleted Photos From Phone And Other Data
Dr. Fone is very beneficial in recovering files on android devices and can retrieve deleted text messages too. However, if the tool is not dealt properly, the software will not be able to recover all the files properly. Before beginning the process of recovery, the following tips should be considered to increase the success rate positively.
First of all, if you find out that some of the files have gone missing on the phone or a list of data is deleted accidentally from the phone, stop using the device instantly. In android or other OS, the data is actually not blown away but is kept in the phone to be rewritten by some other files. For this particular reason, if the device is kept working on, that data gets overwritten by the recent changes in the phone and ultimately, disappears forever.
Secondly, look for a computer as soon as possible and start the process of recovery. Don't forget, the sooner it is, the better it is. Download the recovery software by Wondershare i.e. Dr. Fone for android. For further information, follow the following downloading process.
How To Download
There are more than one way to download Wondershare on your phone. You can either go to the product page to find the app link or simply click the download option on the top of the page to get Dr.Fone on your phone. Once downloaded, your phone will offer an installation package. The download button is also featured in the bottom of the page.
How To Install
Once you have downloaded, search for the installation package on your system. Double tap on the .exe file to run the setup and click on the install option to start the recovery process. The installation process will take approximately a few minutes. Once there, the Start Now option should be clicked to launch the software.