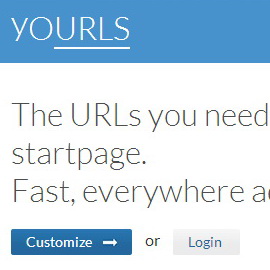 Bookmarks saved in your browsers are not omnipotent, so you really need a service that lets you save bookmarks online and collects all your favorite links in a single webpage which can be accessed on any device, at any place, and this is what Yourls can provide.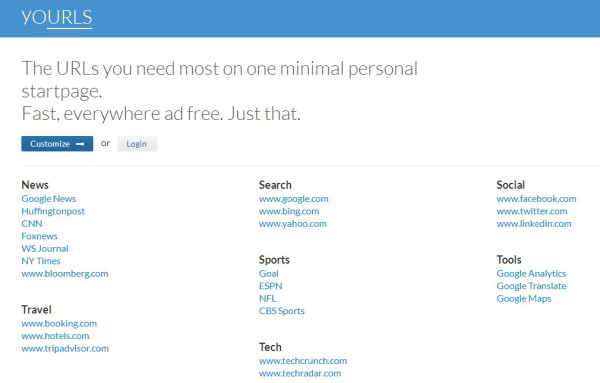 The bookmark synchronization feature of current leading browsers is not perfect enough, as you must sign in your account in every browser, especially when you do not have a bookmark backup. However, Yourls is a free website enables you to save bookmarks online and store your frequent visit sites without configuring any settings in the local computer. You will never need to synchronize the personal bookmarks saved in different browsers on different devices, since Yourls can save all of them in the cloud on your behalf.
Yourls is the best choice for those who:
Visit the same websites everyday and are tired of typing all the URLs they want to go.
Find it boring to synchronize the personal bookmarks saved in different browsers repeatedly.
Use various computers in different places and need to visit a particular group of webpages.
Need to test webpages on different computers, browsers or platforms.
Set your FREE Personal Startpage on Yourls.com
After accessing Yourls, you will see two buttons on its homepage: 'Customize' and 'Login'. Click the first one and you will be led to a whiteboard-like page displaying some top websites around the world.
Here you can:
Click to edit or delete existing links as you wish.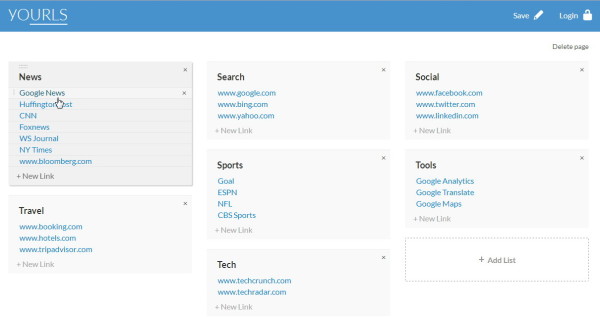 Adjust the position of links/lists according to your taste.
Add new links/list based on your needs.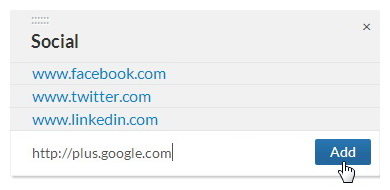 When all these steps are finished, click 'Save' button on the top of the webpage.
Now, type your email address and password to create a new account. Just wait for a second and your registration is finished.

Then a tutorial teaching you to set Yourls.com as your browser startpage will be shown, follow the instructions or click 'x' to close it.
OK, your personal startpage is done! You can access any of your favorite sites in a single click!
While using your Yourls startpage, remember to click 'Customize' to add link/list at any time. If you want more pages to place different URLs out of your working needs, feel free to click '+New Page' button.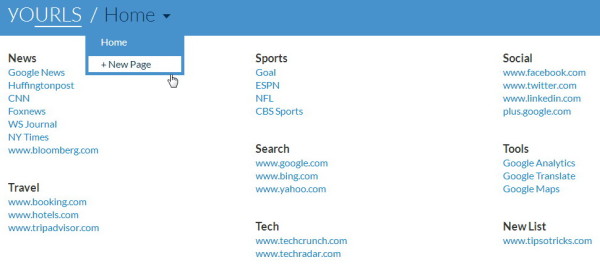 By clicking the gear beside the 'Customize' button, you can see three options: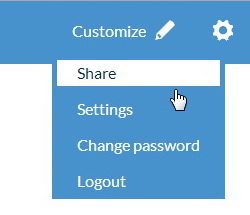 Share – let friends on your social networks enjoy this wonderful website.
Settings – choose whether to open the links in new window/tab or not.
Change password – see and alter account details.
Already learnt how useful this site is?
Visit Yourls to customize your personal startpage immediately or download Yourls extension for Chrome.