Ever wondered how to find similar faces on the web? If you don't know then let me tell you there are number of image search engines that offer the service to search for photos or people with similar faces. But a little problem with those search engines is that, you need to enter the name of the person you're looking for in the search query.
PicTrieve is the photos search engines that fetches the similar faces reversely. This means you can now upload your photos on Pictrieve and let it search for similar faces on the web. The results can vary on the resolution or quality of the photo. But for best result, upload a photo of a frontal face, with the gap between the eyes more than 80 pixels wide.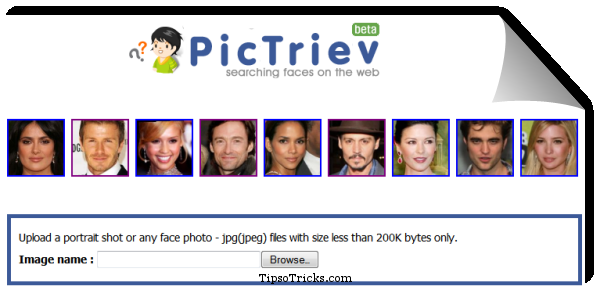 Pictrieve works on smart face recognition algorithm and displays the results arranged in most closely matched photos. Results are displayed for each detected face in the photo. You can click the rectangular area to select a face. References of photos with similar faces will be shown in thumbnails.
You can also check out TinEye. Another very popular reverse image search engines which can find any type of image matched with uploaded image.