We recently shared the news about the release of Chrome version 8 and just within a week, Google has updated it's previous version of Chrome 8 (developer channel) to latest version 9 in the Developer Channel for Windows, Mac OS X and Linux platforms.
The latest Chrome 9 is still being developed for its developer channel and no date has been reported of this version being released in the stable channel. Many reported bugs have been fixed with this release. Google Chrome 9 is released with some security fixes and several minor changes to make it run smoother and more faster. In terms of visual interface nothing new is added so far.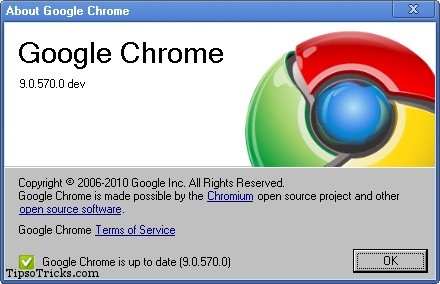 It is said that Google will release the final release of Google Chrome 9 (developer edition) by the end of November, 2010.
Like always we share the direct download links of offline installers of Google Chrome.
Version: 9.0.576.0 (developer edition)
File size: 24 MB approx
Release date: Nov 9, 2010
After downloading if you're sure that the link above is of an older version, tell us in the comments below. So that we can update the link with the latest version.