As we all know that sending big files through emails are not allowed by email servers. You send an email with a large attachment and an automated reply is returned by e-mail server saying that the message you sent exceeded the maximum size allowed. Or perhaps your message was rejected due to the file type that's not allowed by the server. So the limitations to both file type and size are always there when sending emails through traditional method.
There are many web services that offer to send large files via email but you have to open their site first, create and account, upload the file and then email it to the recipient. No record saved whatsoever of sent files, No history at all. You can't view what, when and to whom you sent which file.
I've personally tested almost all of them and found that very few of those offer a desktop client through which you can send files just like you create emails in any desktop email client like MSOutlook or Thunderbird.
But YouSendIt has many advantages as a large file transfer service, especially with YouSendit Express- its desktop client which offers convenience, better transfer speed and more features just like a standard email client.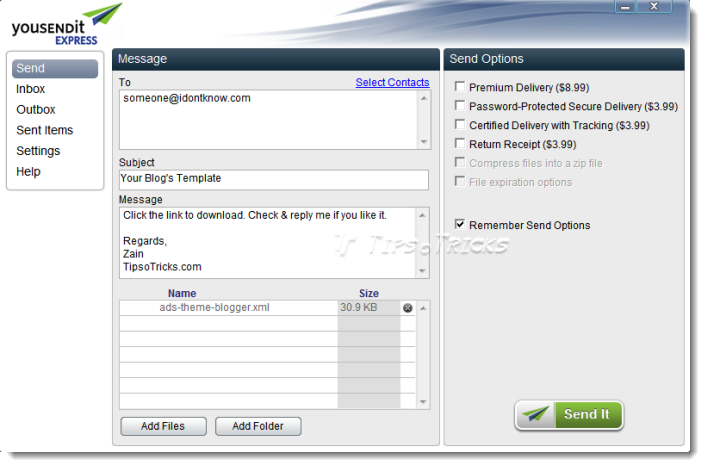 It's similar to writing a typical e-mail message. Simply double-click the icon to quickly launch the program, select your recipients, type in a subject line, add an optional memo (upto 100 characters in FREE account) and select the file(s) or folder you want to send. The recipients will receive an e-mail from you with a link to a private folder, to download the files to their computer.
The link to the uploaded files are kept active for 7 days. You can view your sent items anytime and can download the files back to your PC (within 7 days).
Remember, with free account there are some limitations:
– You can send one file at a time.
– File size limit is 100 MB.
– You can send to 20 recipients at a time.
– Cannot password protect files.
– Message Body size is limited to 100 characters only.
Despite these limitations, YouSendIt Express offers ease of use with speed and convenience. The best part is you can right click any file or folder and Select "Send by YouSendIt" to send the large files in the fastest way possible.
Try YouSendIt Express for Desktop now.
If you plan to try it out, don't forget to come back and leave your opinions and comments here.