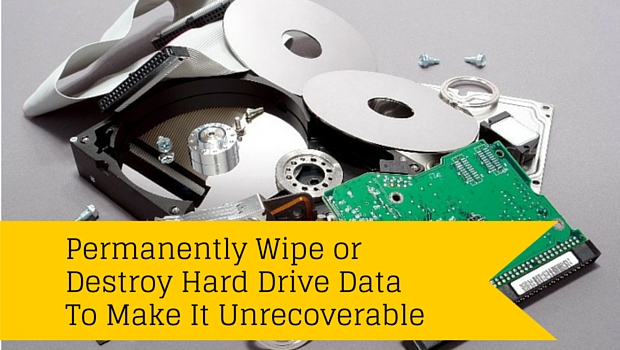 When a new hard disk drive is installed in a system, the previous one is wasted by formatting several times and after ensuring that everything was deleted successfully. However, it does not happen exactly how everyone sees it. There are tools and resources that provide services to recover data from any hard drive. This results in data theft and ignites many criminal activities as well. To avoid letting any unwanted person to get hands on your personal and professional data, wipe hard drive data with the tools.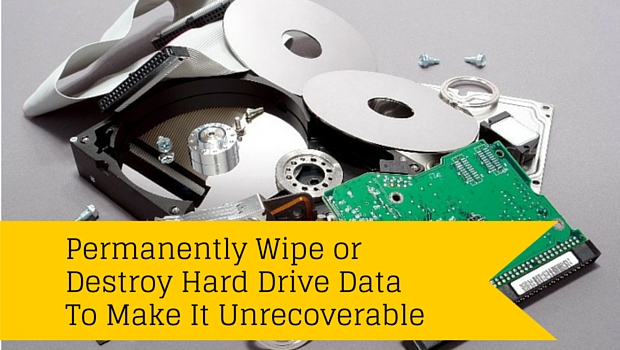 DBAN is one of the most trustable and free erasing software which is primarily designed for home users, as it is not so tech savvy. It detects a hard disk drive in a system and automatically deletes all the contents from it. This is a way to prevent the identity theft before someone recycles a computer. The same software can also be used as a spyware and virus remover and supports all Microsoft Windows systems.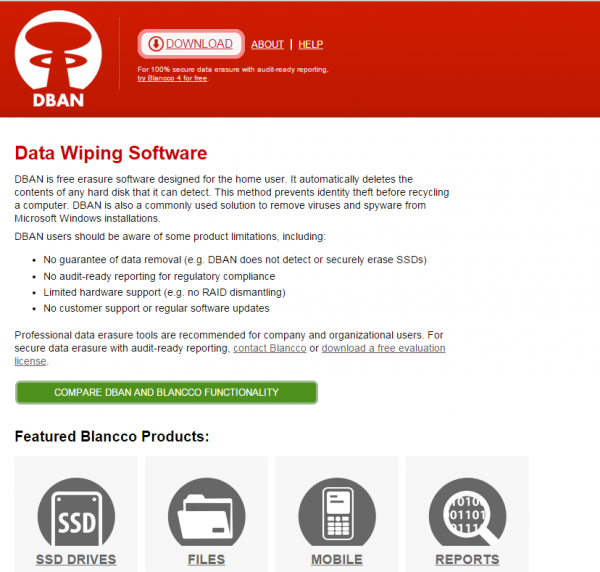 There are some product limitations that must be considered before using,
Limited hardware support
Data removal is not guaranteed i.e. the software does not securely detect and erase SSDs at all times
For regulatory compliance, there are no audit-ready reports
No regular software updates or customer support
Eraser is another hard drive wipe software for Windows that helps in completely removing the sensitive content from a hard disk drive by the method of overwriting several times after selecting patterns carefully. The software is absolutely free to use. The following Windows systems can support the product:
Windows XP with Service Pack 3
Windows Vista
Windows Server 2003 (Server Pack 2)
Windows 2008
Windows 7
Windows 8
Windows Server 2012
Minitool is known as the best hard drive eraser and is completely free. It works for all the hard disks that are recognized by Windows like Fire wire disks, USB external disks, SCSI, SATA, IDE and so on. The software is very easy to use and can be used to partition or wipe data easily. Once you have chosen the disk drive, Mini Tool permanently and completely destroys all the data from it. This software ensures all the private data to be secured and prevents anyone from stealing the unwanted data or recovering it. As soon as the data is erased using this software, no recovery software will be able to recover it.
CCleaner's built in Drive Wiper Feature is pretty impressive which can easily erase hard drive completely. When you remove a file, Windows deletes the reference to the file, however, does not remove the actual data which was inside that file on the hard disk drive. As the time passes, that data will be overwritten by some other files as Windows uses the new files to write on that area of the drive.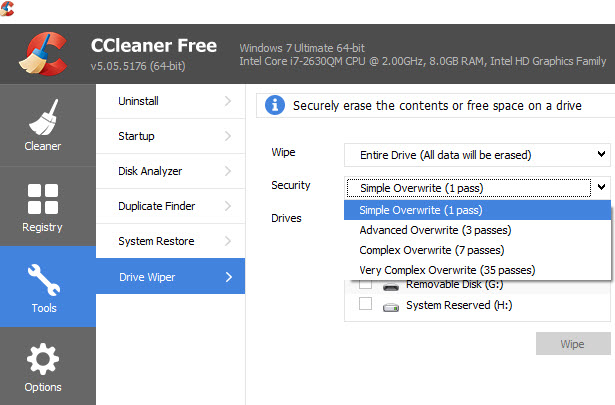 This ultimately means that someone with little efforts can reconstruct or recover that file that was actually deleted if the right software is being used. This software can be used to wipe complete hard drive data or free areas of any hard disk in order to prevent recovery of the file. Interestingly this free tools offers removal security of multiple passes to make sure the data wiping is done more securely.
Disk Wipe is a portable and free Windows software which can be used for the permanent destruction of volume data in any hard drive. Disk Wipe helps in removing all the disk data and prevent reconstruction of that data. Formatting leaves a possibility of recovering the data if regular methods were being used. Many people and companies simply wipe the data through formatting, but it gets stolen and end up being used by someone else. Disk Wipe can solve this problem quite efficiently as it uses some of the most powerful algorithms that can fill the volume with rubbish and useless binary data more than one time. The possibility to recover any information then comes next to zero.
Wipe Hard Drive Data With Paid Tool
Paragon gives the following services to its users:
Makes the data secure by data wiping and successfully destroys all the information present on the hard disk.
Performs wiping on the SSDs without messing with their operating file.
Frees space on the hard disk by destroying any remnants of the removed directories or files.
Support all Windows systems including Windows 10.