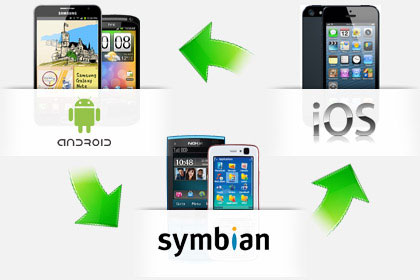 Mobile phones are one of those devices which we always want to have the latest model of all tech gadgets around us.  Nowadays there are dozens of mobile platforms powering millions of cellphones worldwide. These mobile platforms sometimes limit us to run applications built for one platform on other one.
The same situation occurs when one decides to upgrade or buy a new mobile phone of some other platform to try out new things. But the main problem occurs when a non technical user wants to move all of the important data, contacts, messages and other files from old phone to new one with completely new operating system. Some of the cellular companies might help you in moving your saved contacts to your new phone, but they do not help in transferring text messages, your photos, saved musics and videos, text messages and even your call logs. This is where Wondershare MobileTrans helps out for all non technical users.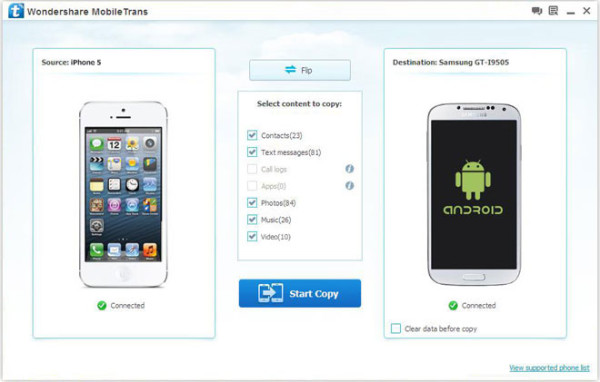 After testing this wonderful and super easy tool, we can undoubtedly announce Wondershare MobileTrans is the most efficient and effective solution to transfer data between top most used mobile platforms, that are, Symbian, iOS and Android.
Wondershare MobileTrans transfer not only your contacts but it also moves your photos, videos, call logs, text messages and even your installed apps (if copied from Android to Android).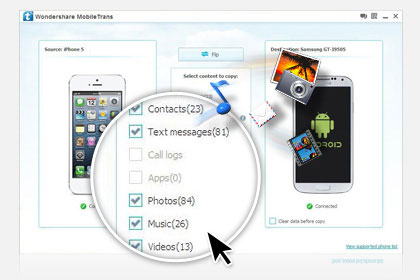 It supports over 2000 mobile phones, including, Android, Symbian (Nokia) and all versions of iPhones. See list of all supported mobile phone here. Wondershare MobileTrans assures risk-free and zero data loss copy of every chunk of saved data to other phone.
You don't have to worry even if you are moving data of some specific carrier to some other, including, T-mobile, Verizon, Sprint and AT&T.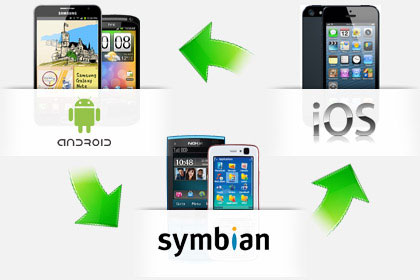 So don't risk your data transfer by using any other unreliable utility or app and try Wondershare MobileTrans and see yourself how easy it has become to change your mobile phone without losing your old data.
Supported Devices OS
Symbian: Symbian 40 and above
Android: Version 2.1 and above
iOS: iOS 5 and above.