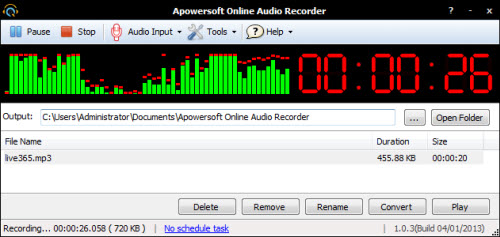 Music feeds one's soul, this is a common definition that many people tend to use. Moreover, music has become part of people's lives as it gives a different pleasure to them and allow them to relax after long hours of work. Or going on bars will never be complete without rocking on the dance floor while dancing music is playing. Apart from that, it is best for emotional people. There are people who cannot say what they feel for others and listening to music is their way to release everything that they feel.
These are some of the reasons why a lot of people love to download or record music whether in the internet or somewhere else. This post will give you a review of an outstanding audio recorder named Apowersoft Free Online Audio Recorder, its functions and overall performance.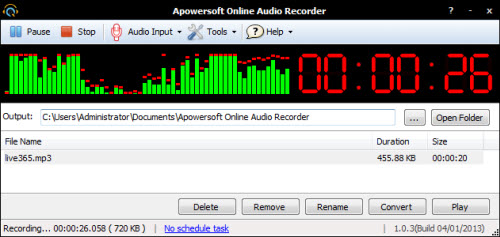 Free Rip Audio Directly from Online Stream
Most audio stream sites do not allow any audio downloads from its users and their service is purely for online music streaming. This is where Apowersoft Free Online Audio Recorder comes on the line, for it can rip streaming audio online by means of recording it. Some think the quality of a recorded audio file is far different from the original audio stream , but this thing is all hoaxes. I started using this recorder for myself and it wowed me the first time I used it. I was surprised that it performs at a very high level where no other recorder can ever make through. All I do is press the Start recording button, play the stream that I need, then it is processed in just a matter of seconds.
What Makes it Outstanding in Ripping Audio?
Unlike other recording programs, Apowersoft Free Online Audio Recorder has a user friendly platform that can be used even those first time users. What makes it a top of the line recorder is that it can rip audio stream from Internet and even other sources. The feature that I like the most regarding this tool is that I can record an audio clip without any file size limitations which is fantastic.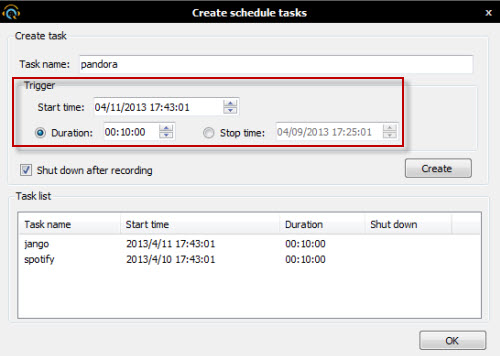 Moreover, it also has a converting function that is useful for those that are fond of transferring audio files into portable gadgets such as MP3 players, iPod, iPhone, etc. And for all of those that are always on the go, you can take advantage of a unique feature from this program that will allow you to set a specific date and time to record some audio. By doing this the program will automatically record anything that plays during the time that you want.
System Compatibility
When we talk about compatibility issues Apowersoft Free Online Audio Recorder works perfectly with any type of computer processors and browsers. This program is basically made for everyone to use regardless of which system that they use. I like the idea of coming up with a program that can perform well in spite of some complicated computer systems. So in does not matter if you are a Windows or Mac user because Apowersoft Free Online Audio Recorder will do its job at whatever cost.
Overall Verdict
Obivously, Apowersoft Free Online Audio Recorder is a wonderful tool to rip audio online. Instead of waiting long hours or couple of minutes downloading songs, it can minimize your wasted time as it allows a person to record directly from the stream. Moreover, you don't have to search the whole web for a free music downloader. Once the music is found, the simplest thing to do is to play the song and record while listening at the same time. It is indeed a one of a kind recorder that is worth trying.