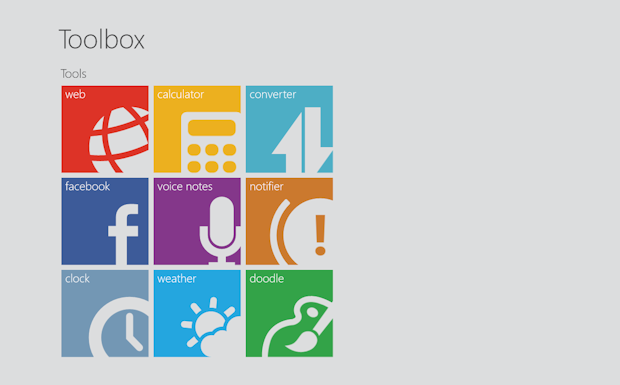 Any Windows 8 user will tell you that Windows 8 offers very limited multitasking functions as far as power-users are concerned. And we, long-time Windows users really love bumped up productivity, don't we?
Don't fret if you feel Windows 8's Modern UI lacks somewhere in multitasking abilities. Toolbox for Windows 8, brings you a rich multitasking experience on your Windows 8 PC or tablet. The app has a very uncluttered and a simple yet beautifully designed interface. Animated transitions have been used to use the tools the first time you start the app.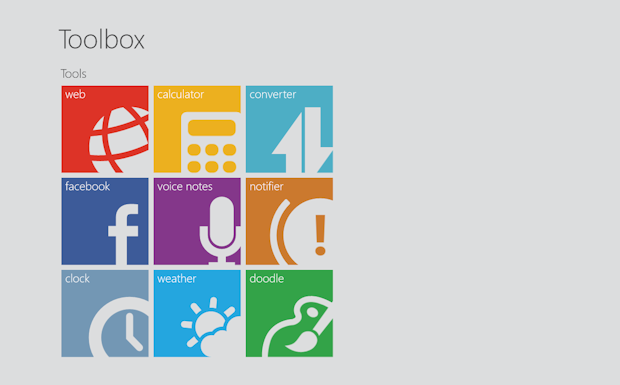 Toolbox for Windows 8
Toolbox for Windows 8 is split into 9 unique tools, namely Calculator, Converter, Web Browser, Facebook, Voice Notes, Notifier, Clock, Weather and Doodle. Let us explore them in brief one by one.
Calculator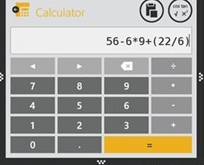 The Calculator tool is quite straightforward. All basic functions of a calculator are available. Nothing fancy here; there's no scientific calculator. Still, a very handy tool for getting tasks done speedily. Neat little tool indeed.
Converter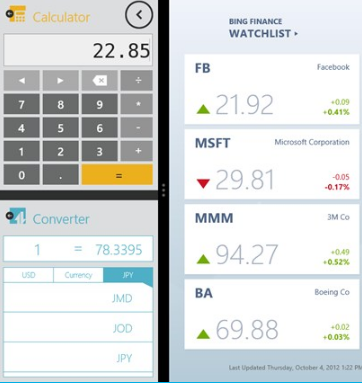 Need to perform quick conversions on Windows 8 system? This Tool could well be your helper. You can easily convert units for recipes or any task under the sun and expect accurate results. The units directory is pretty comprehensive indeed.
Web Browser
The apps' built-in browser is a welcome addition to the Tools collection. Although it can't be compared to today's best browsers, it is a quite capable browser. Websites are loaded super-quick and it is very zippy to use. Zooming, scrolling, bookmarking and favoring support works seamlessly. Playing videos might be a bit of an issue though.
This tool is great for multitasking and keeping browser windows side by side, especially if you're in the Modern UI.
Facebook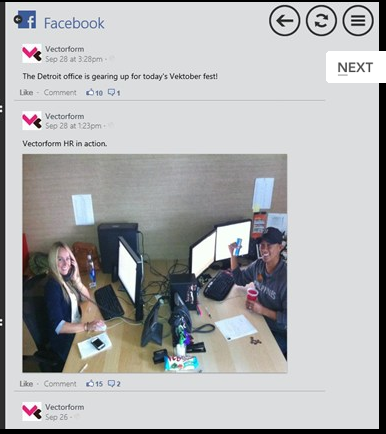 This tool is again very simple and lives up to its name, helping you get your job done. This Tool is very clean and whether it is viewing your timeline or notifications, you can do it all right under this tool. Plus, you also have the option of keeping other Tools open simultaneously while you browse your Facebook. You can view multiple profiles at a time, and Web browsing plus Facebook is a sweet deal.
Voice Notes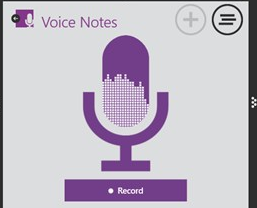 This tool allows you to record audio notes which can then be sent to contacts via Email or even saved to your SkyDrive. A nifty-tool if you wish to record important meetings and lectures. What a utility for your system!
Notifier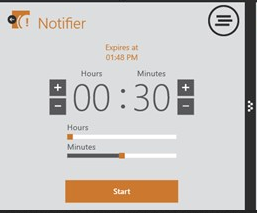 The Notifier Tool lets you set and configure an alarm at a specific time which will then notify you of the particular task or message. Very useful for people who are on their PC almost every time and need to organize themselves.
Clock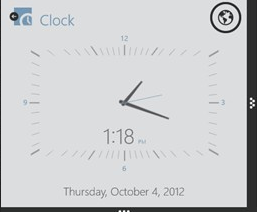 The Clock Tool helps you keep track of time easily through a minimalistically designed-clock for your desktop. There's a ton of time zones, so there's no reason to worry about compatibility in your region.
Weather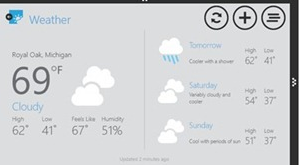 Information such as temperature, forecasts, etc. is provided in a detailed way. Must-have tool for your system.
Doodle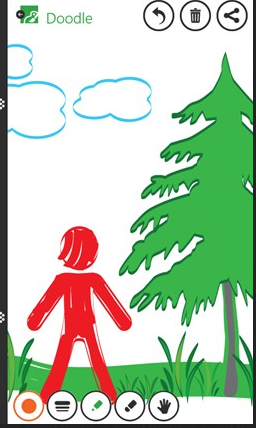 A great tool for taking notes and scribbling your thoughts and words for reference. Notes and sketches can be sent to Email, Twitter, SkyDrive, etc. An eraser and Pan tool is available. Doodle also gives various sizes and colors for pens and paintbrushes.
A FINAL WORD
Toolbox for Windows 8 provides you various useful tools which would otherwise require you to switch between different apps. Windows 8 users will find this tool very convenient to boost their productivity. The app also allows you to take multitasking a step ahead by letting you create tool sets to use various tools at once. Indeed, this app is really versatile in its offering.
Download Toolbox for Windows 8
Do share with us in the comments section below if you've got other Windows 8 tools and productivity-related apps.