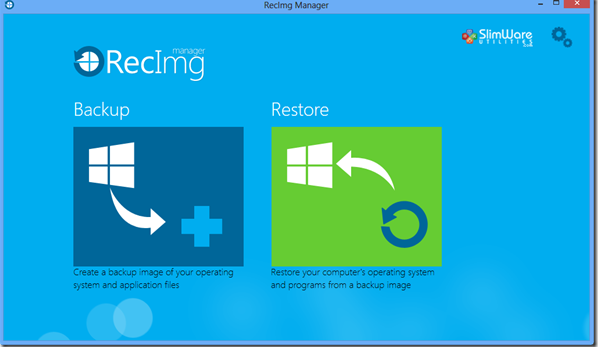 Backup of apps and files in Windows 8 can prove useful as you get the ability to obtain a factory reset of your OS as well as retain the apps, files and custom-made settings. There is a built-in feature in Windows 8 known as 'Refresh and Reset' which can be genuinely useful to users when bombarded with a virus attack or a faulty registry installation but sometimes a free third party application offers the same feature with much more ease and convenience.
RecImg is such type backup application designed specially for Windows 8 that lets you backup all your apps, files and data as well as make a factory reset of your Windows 8 PC. The perfect and user-friendly answer to "how to backup complete windows 8 installation?" And best of all, you get this all for free.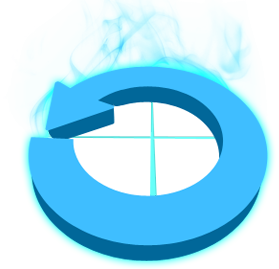 How To Backup Complete Windows 8 Installation
Installing RecImg is a very simple task, thanks to the developers who've done a great job with the User Interface.
Step1: Download RecImg
Make sure you are connected to the Internet during the installation, as the installer will also download files from the web.
Step 2: After completing the installation procedure, launch the program from the Start Screen.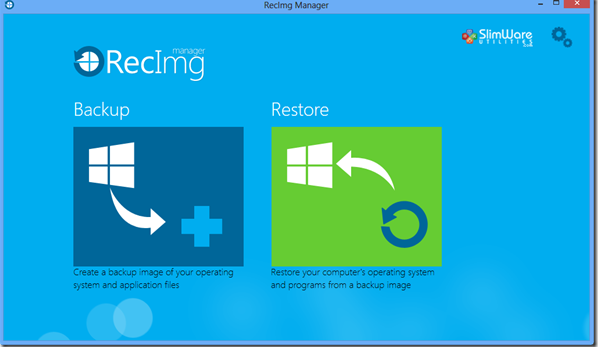 Step 3: You will be greeted by a very simple to use and minimalistic interface. Just click on the 'Backup' icon to begin with the actual process. The software will then analyze your system and ask you to specify the drive, where you wish to save the backup. You will also have to provide details of the Snapshot name, description, etc.
Step 4: Just click on the 'Start Backup' button. The time for backup will depend purely on the amount and size of data and on the speed of your hard drive.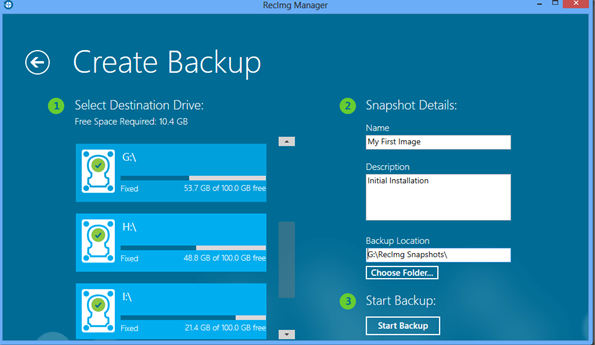 Whenever you want to do a system restore, just head over to the app's home screen and click on the 'Restore' button.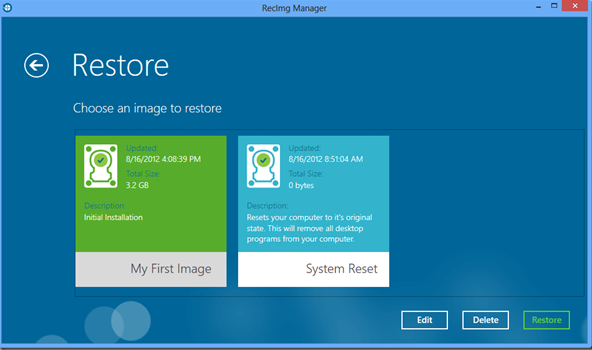 Step 6: You will view a list of available backups to be restored. You can easily restore any of the backup as per your specifications. Select 'Restore Image.'
RecImg still now restore your Windows 8 installation with all your apps, documents, music and other files intact.
In order to prove more efficient in creating backups, a user can also configure backups to be scheduled. The limit to the number if backups at a particular time can also be set.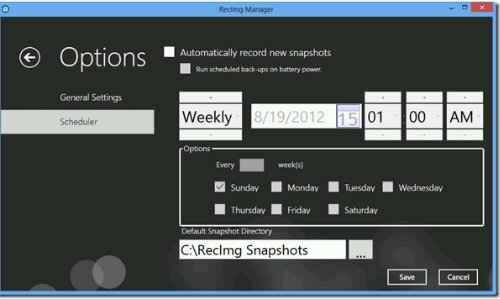 RecImg combines Windows 8's system reset feature with the function to maintain backups of all apps and files to deliver a very compelling solution to backup complete windows 8 installation.
Do share with us in the comments section whether you're going to use the app in your Windows 8 system.