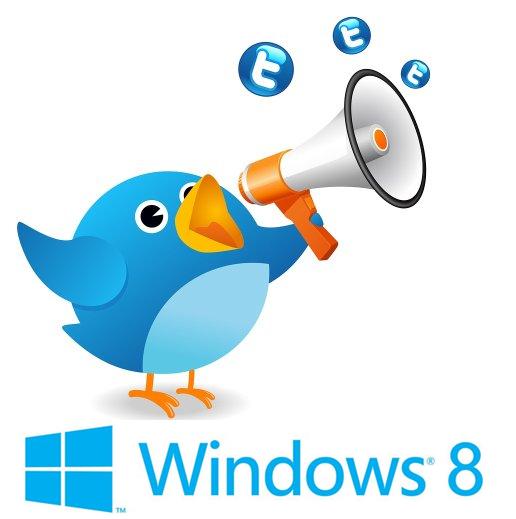 All versions of Windows 8 come with the built-in People app which lets you post on Facebook and Tweet. All updates can be read and even your address book is synced from your various social networking accounts, such as Facebook, Twitter and Skype.
All this is great and you can instantly see what's going on through Live Tiles too. But what if you want a dedicated app for Facebook or Twitter that lets you manage your account like a ninja. By that, we mean that dedicated clients let you do pretty much everything and are more versatile in features than default apps, such as the 'People' app. You most definitely need a dedicated client for social networking if you're a Facebook or Twitter junkie as well. You also have the ability to post things directly from browsers or within other apps.
So let us explore some of the Best Facebook and Twitter Apps For Windows 8 available so far in the Windows Store one by one.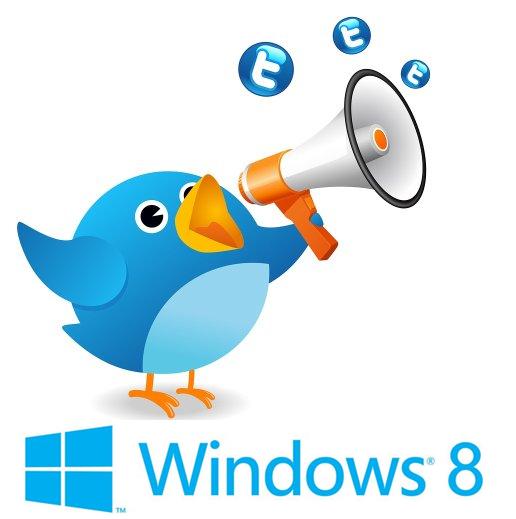 Best Facebook Apps For Windows 8
There's no official Facebook app for Windows 8 yet but third-party developers are doing a great job in creating feature-rich Facebook clients for Windows 8 users.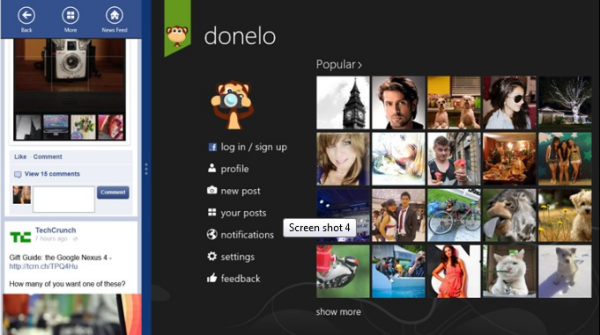 This app has been particularly designed for touch-screen enabled devices, but it works well with mouse and keyboard too. The interface is very beautiful. You can view your Newsfeed, comment and like on posts, post your Facebook status, chat with friends, managing Facebook pages and groups, visiting groups, and photos.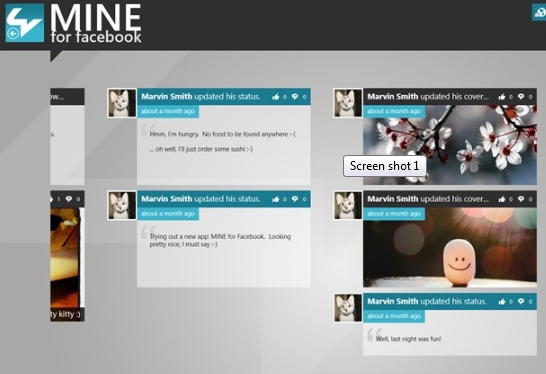 Mine for Facebook is another Great Facebook client in the Windows Store. Newsfeed and notifications are shown on the front page of the app. You can also create customized Newsfeeds through which you can easily track updates of few particular friends. Others are the standard features like posting status and photos, commenting and liking on friends' posts, etc. On the downside, this app does not support Facebook Groups.
Best Twitter Apps For Windows 8
For you Twitter addicts, the limited Windows Store does contain good third-party Twitter clients as far as features are concerned. So following are the best Twitter apps for Windows 8 users in our opinion.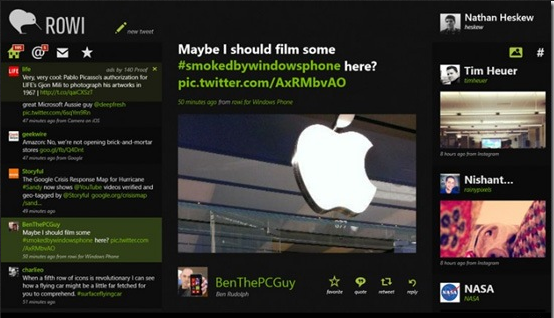 Rowi has a beautiful interface and is well suited for Windows 8's Metro UI. Posting and retweeting tweets is very simple. Peforming basic as well as advanced tasks are dead simple. There are separate columns for replies, timeline and even lists. You can filter the tweets as per your wish and even share links to Twitter through Rowi from other apps. Auto-refresh of tweets can be set at a particular time interval. You can also track hashtags and keywords in this Twitter app.
Overall, Rowi for Windows 8 is a very capable client and we're expecting more features soon.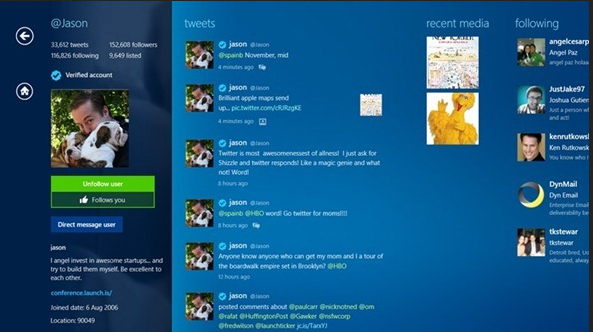 The feature that sets MetroTwit apart from the rest is it supports interactive tiles, thereby multiplying your productivity in the Modern UI. There's support for multiple columns here as well, the only difference being that you can also pin specific columns to your homescreen for easily following all Twitter updates. Of course, the basic functions like posting tweets, Retweets and replying to mentions is easy indeed. The search tool for tracking hashtags and keywords is useful too.
MetroTwit for Windows 8 a blend of functionality and easy-to-use interface. A very good Twitter app for Windows 8 users.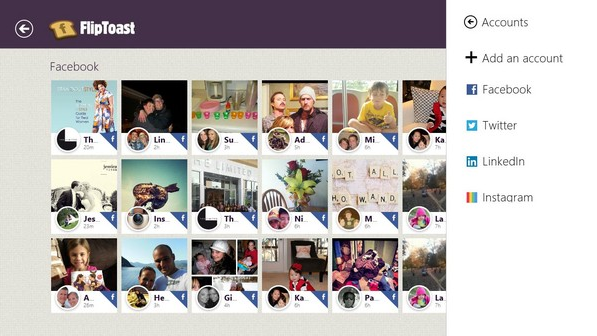 FlipToast is one must-have social networking app on your Windows 8 system. You ask why? Just because it lets you update Twitter, Facebook, Instagram and LinkedIn-all rolled into one app. You can easily search and keep track of content from multiple sites. The usual juice includes basic Facebook functions such as like, comment on posts, viewing one's Newsfeed and the same goes for the other social sites as well.
So these were the best Facebook and Twitter apps for Windows 8 users available in the Store. Do tell us if you use any other app for Windows 8.