Another to-do list service is released but this time we believe it's somewhat extraordinary. This time ThunderTask is the latest to-do-list service to become available. There are so many to-do-list services for both mobile and PC. So what's there so unlike and new in this online service? Well will see this in this review and learn how ThunderTask helps you manage your to do lists more efficiently.
Task Management Made Easy


Helpful in Online Task Management
Basically thunder task is an online service for managing your daily work efficiently by connecting you with your list anytime, anywhere you want. You can access your lists from your smartphone and edit or enter news tasks directly from your mobile device.
No matter, whether you're a school child or a professional serviceman, ThunderTask has included all the basic to advance functionality in its mechanism. It lets you to enter a task, assign a due date to it along with its priority. It does supports customizable work spaces that will help you to organize your tasks separately. Apart from that it will always backup your all existing tasks and syncs them with cloud automatically. We personally found the web interface pretty easy to operate and smart list seems to be an effective feature for a hectic geek like me.
The great feature of ThunderTask is collaboration of lists or specific tasks with your friends or family. As soon as you assign any task to your friend, he/she will be able to see the task to his/her list and you both can see the update whoever edits or closes the tasks.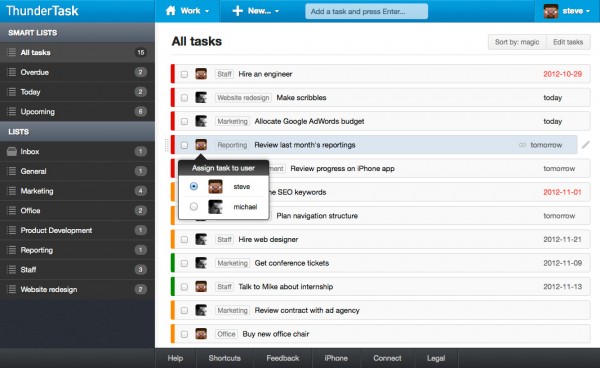 You can repeat any task whenever you want and sort them easily to discover the uncompleted tasks much easily. The Thunder Task also provides an online tutorial to quickly learn the basic operating features and they do run a blog for providing upcoming features related news to their users. These are some of the features of Thunder Task that they are providing.
Prominent Features
Work spaces
 Smart lists
Repeating tasks
Task sorting
Security and Hourly backup
Simplicity  and Cloud sync
Interactive web interface and Mobile web app
iPhone App and coming soon for Android
Supports Mobile Web Interface
Thunder Task do support a beautiful mobile web interface too which loads swiftly and easy to operate. Apart from mobile web interface, Thunder Task has a to-do list application for iPhone. Click here to download the mobile app directly.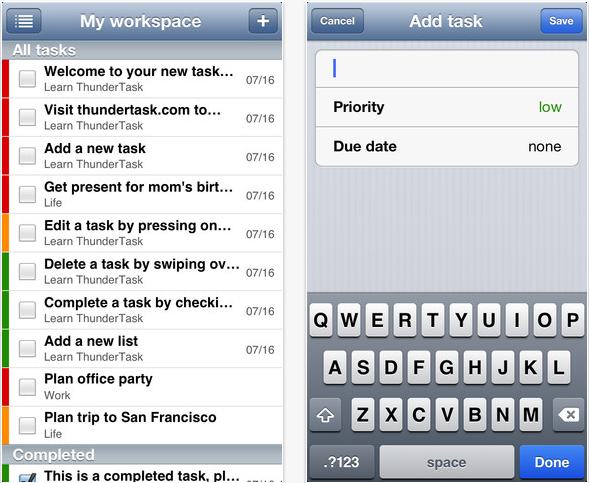 Conclusion
Although ThunderTask has a basic interface, but it looks beautiful and powerful too which will surely help you to manage all your basic or professional tasks, lists and even projects. Personally I admire a service that is promising and simple to use and Thunder task fulfills my both needs.
Anyways, ThunderTask is completely free. All you need to create an account before managing your tasks on their dashboard. 🙂