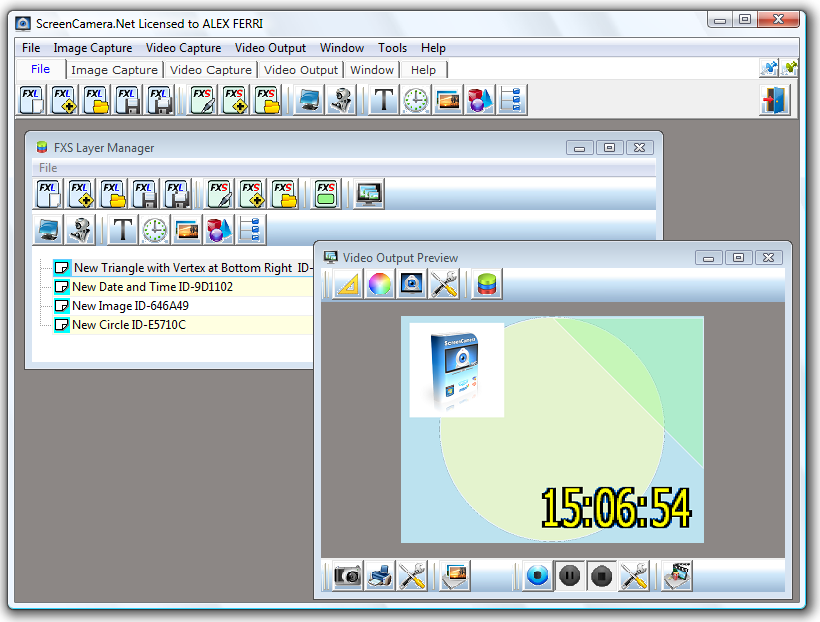 PCWinSoft is giving out free copies of ScreenCamera.Net, the real-time video studio and virtual camera software. ScreenCamera.Net costs $99.95 but in here you grab it for FREE, no gimmicks. Don't miss out on this opportunity of having the pleasure to save $99.95 and simultaneously win a fun to play virtual camera.
Features of ScreenCamera.Net
1. Object-oriented Cam
ScreenCamera.Net is a video studio in real-time built upon a layer-by-layer object-oriented frame-by-frame technology proprietary of PCWinSoft.It works similarly to Adobe Photoshop when it comes to the layer-by-layer architecture and it works similarly to Adobe Flash when it comes to frame-by-frame animation architecture.
2. Act Like Canvas
The first thing you gain when you install ScreenCamera.Net is a new video camera on your system: You can think of this virtual camera to be like a blank canvas for you to play with by adding and removing objects that sit on top of each other on layers.
The objects supported by ScreenCamera.Net are: Desktop capture from any available monitor, webcam capture, one or many, movie files of any extension, audio tracks of any extension, IP cameras, TV tuner card video, video device attached to TV tuner video via S-Video, Composite or HDMI, image files of any extension including PNG, text stamps, date-and-time stamps, ellipses, rectangles and triangles.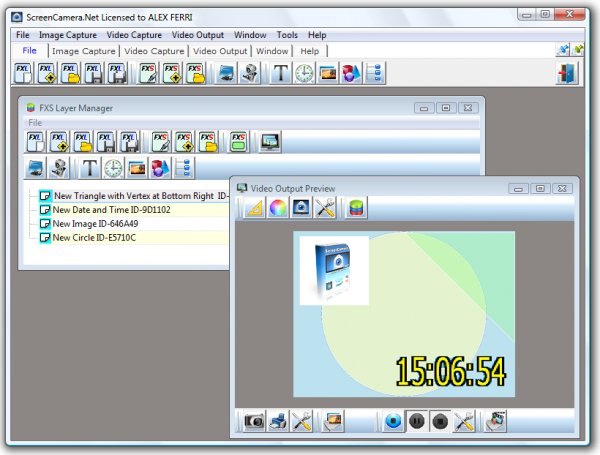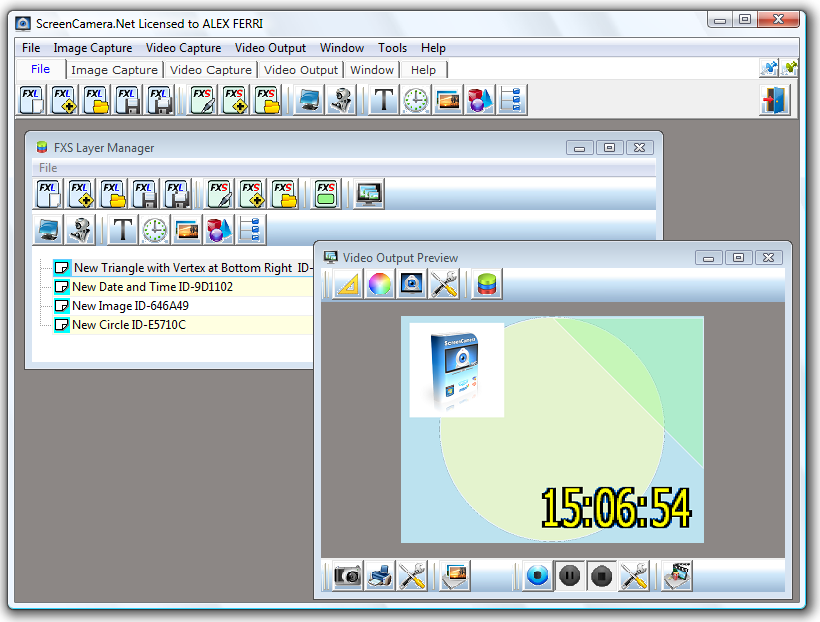 3. Animate Capabilities
With ScreenCamera.Net not only you can add objects but you can animate them by changing objects' position, color, rotation angle, and transparency level in a time-line. Similarly to Adobe Flash you can animate the objects: The architecture of the frame-by-frame technology works with key frames and automatic animation from key frame to key frame so from one key frame to another you can change an object's position, color, rotation angle, and transparency level and this goes to all objects ScreenCamera.Net supports.
ScreenCamera.Net has a bit of a learning curve that can be overcome naturally and actually having fun on the process of learning how to use it specially because you have immediate visual response to your adding, removing and alteration of objects. It gets even more fun when you start to get acquainted with the animation capabilities of ScreenCamera.Net. ScreenCamera.Net is a very powerful tool.
Benefits of ScreenCamera.Net
You can benefit from ScreenCamera.Net in a large number of ways:
The first that comes to mind is the ability to share your one or multiple monitors on a video conference call.
The second one that comes to mind is to have the ability to add your company logo and your name on top of a semi-transparent rectangle and show up on your video conference calls like a real pro showing up that you mean business and you're not kidding around.
The third one is that you can have all your monitors and video cameras and move files and audio track files all stacked up on your object list and you can switch from one to the other with the click of a button so you can be showing your monitor number one and then you can switch back to your face on your webcam then switch to your monitor number 2 and you can then jump to a movie file and play it, so overall ScreenCamera.Net has the ability to make your video conferencing skills jump to another level of professionalism.
Some Special Features:
Broadcast server:
With the click of one button you can start a broadcast right from your PC using the protocol HTTP which means you can open the broadcasted stream on any web browser and media players there are. Not only that but ScreenCamera.Net also makes available to you a code that you can simply drop on your website web page and instantly have live video on your website. How cool is that?
ScreenCamera.Net works with Skype, AIM, Google Chat, Yahoo! Messenger, MSN Messenger, UStream.tv, Blog.TV, LiveStream, UStream.TV, and any video conference application or website that accepts webcams. One more feature that might be of benefit to users: ScreenCamera.Net can be opened by multiple applications simultaneously so if you connect your webcam to ScreenCamera.Net then you can overcome the limitation of Windows of allowing only one webcam to be used by one program at a time, and you can then open your webcam on multiple applications.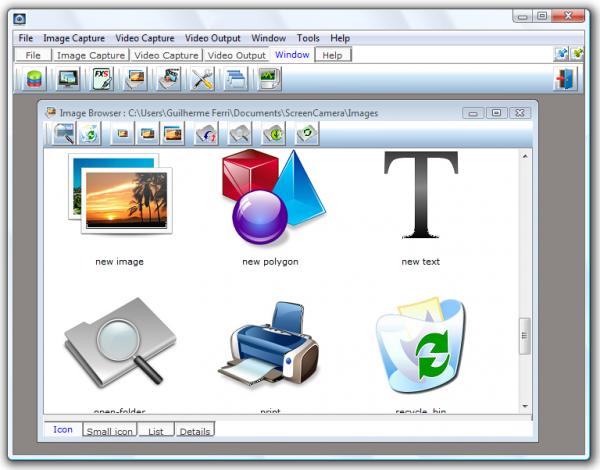 Powerful Scheduler:
ScreenCamera.Net comes equipped with a powerful scheduler where you can set ScreenCamera.Net to record and/or take pictures in any way timely possible like 2 days a week on different periods, only on Saturdays, up to 4 different periods a day, and you can have multiple scheduled tasks.
Printing option:
ScreenCamera.Net also comes equipped with an image browser, a video browser, a video player, an image viewer and finally an image printer: You can throw elements in the blank canvas and print the results.
System Requirements:
ScreenCamera.Net will run on 2000/XP/2003/Media Center/Vista/Windows 7/Windows 8 and requires at least a 1.3gHz processor and 256mb of memory.
ScreenCamera.Net Giveaway
To receive your free copy of ScreenCamera.Net simply register here: http://www.pcwinsoft.com/promotion/tipsOtricks/registration.asp