5 Best FREE Software To Control And Manage Remote PC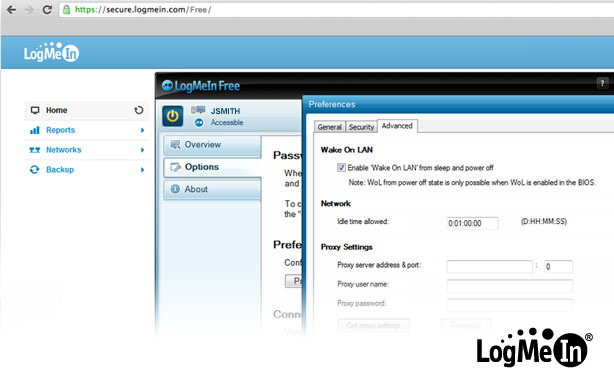 Our ancestors once dreamed of staying here and dominating there. Today, we finally achieved their dream. Not the Force of Jedi, not the magic of witch, but the Remote Control & Manage Software – that is the fascination of technology. Remote PC Management software are very useful when network administrators have to take control of client systems to perform system administration tasks or for troubleshooting. Remote Control software are just like Online Collaboration Tools where multiple users are connected remotely via internet on any one or multiple systems to share single screen or worksheet to work on a project.
Following are some of the top FREE Remote PC Management Utilities we have listed down for you. Have a look of the following introductions and find out what you need.
Free Remote Control & Manage Software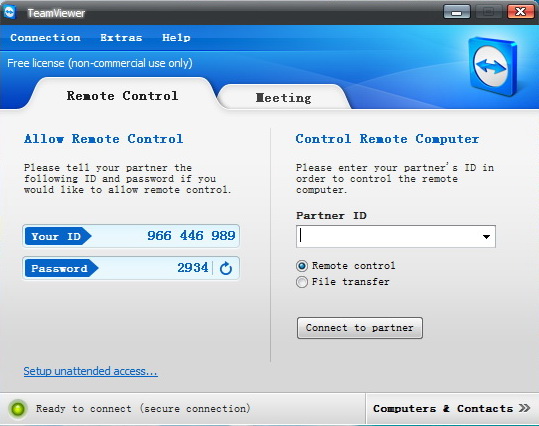 Having over 100 million users all over the world, TeamViewer is one of the most famous Remote PC controller. It enables you to remote control computers and hold online meetings(up to 25 participants) & presentations.
With the ID and password generated by TeamViewer, the distance between your office and home is no longer a problem. You can easily manage your computer anytime, anywhere.
Free download for Windows(including Win8), Mac, Linux, Android and iOS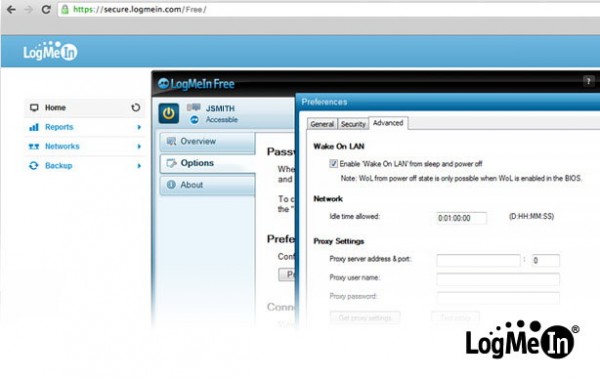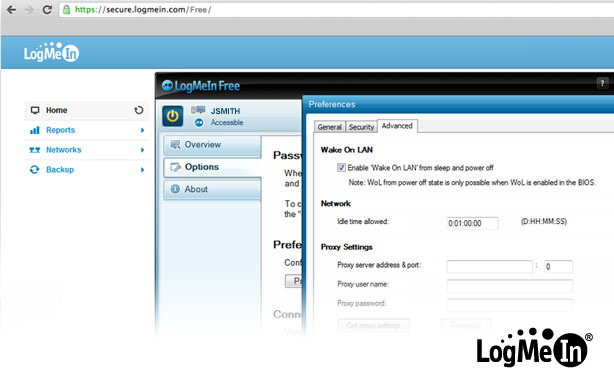 Over 125 million worldwide devices have been connecting with each other through LogMeIn, a helpful program lets you to sit in your company and manage the computer of your abode, whatever running applications, editing documents or viewing photos, simply with few clicks.
Free download for Windows, Mac and iOS
It is also available on Android but unfortunately not free.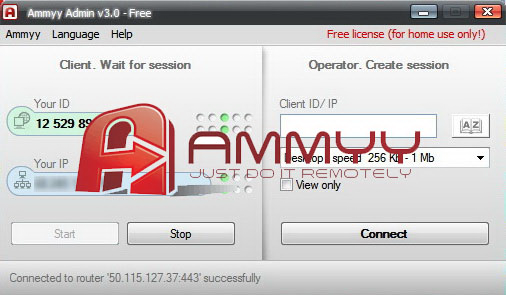 With more than 11 million global users, Ammyy Admin provides a reliable way to securely manage a remote desktop in seconds.
Possessing all the functions of similar programs, Ammyy Admin has another useful design: it does not require admin rights and installation. Just run it and nothing more. It also prepared an online Guide for beginners.
Free download for Windows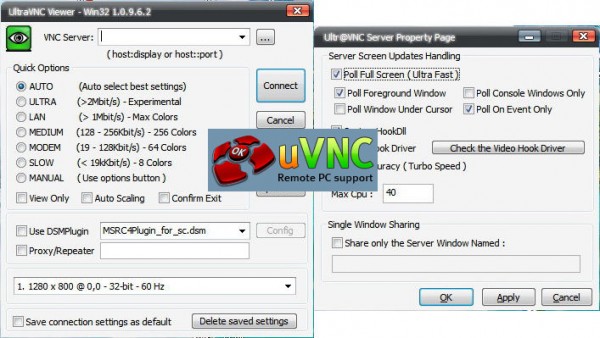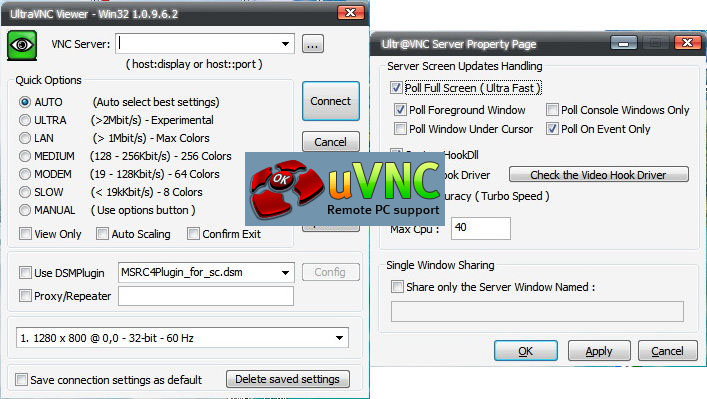 Yet another Remote controlling program. Unlike the others, UltraVNC separates the whole program into two clients: Viewer and Server. By UltraVNC, you can manage and transfer files on the PC of you partner, customer, or friend if any of them run into a problem, etc.
Besides, it owns an optional feature: encrypting the remote communications so you can get away from hacker as far as possible.
Free download for Windows (including Windows 8)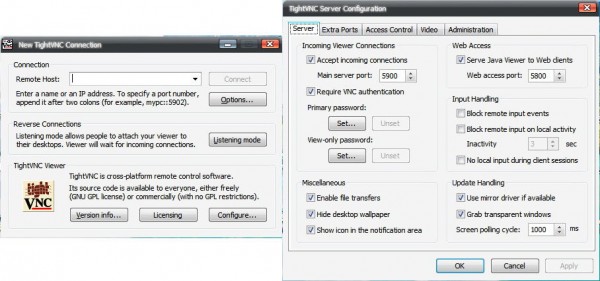 This is the last one but do not belittle it. It has a viewer and a server program, too. Apart from Windows, you can run it on many computers supporting Java to control any of them remotely. The major reason to choose TightVNC is that it is free for both personal and commercial uses. If you are a businessperson, it might be an economical choice.
Snappy: All in One Driver Installer For All Your System Drivers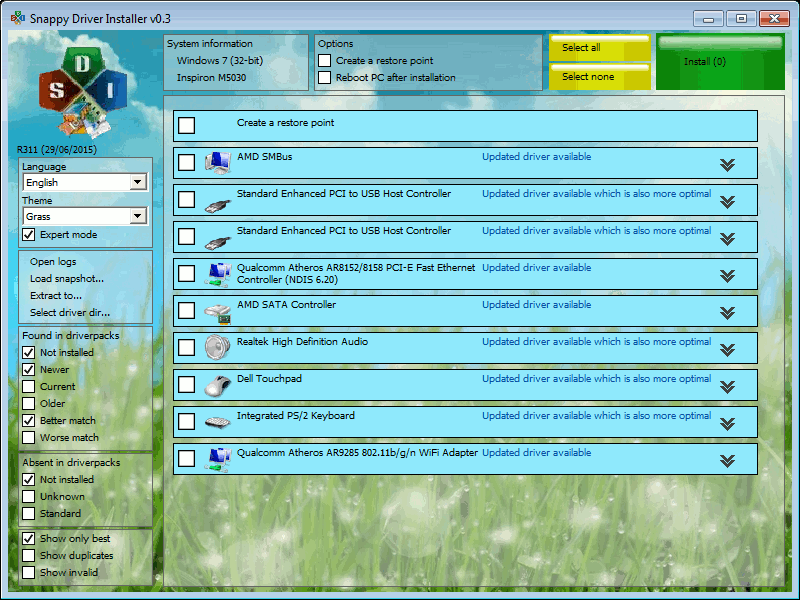 Snappy system driver installer is a freeware for Windows which is an All in One Driver Installer and can be used as a complete solution to install all types of drivers on your system. There are two main sources which are supported by the program namely driver packs and local folders. The program is capable enough to pick the drivers automatically from the folder where you kept them and bring it to use at any given time.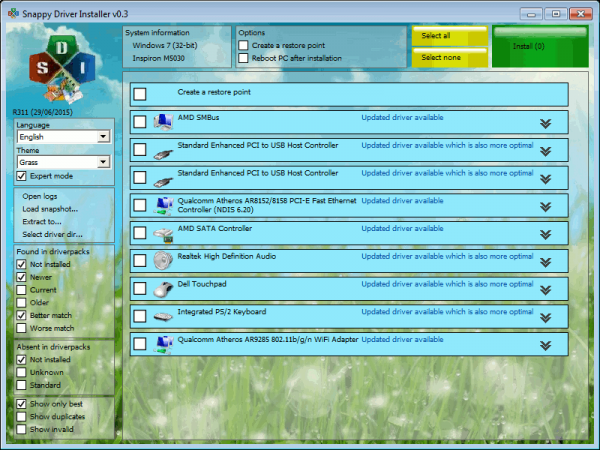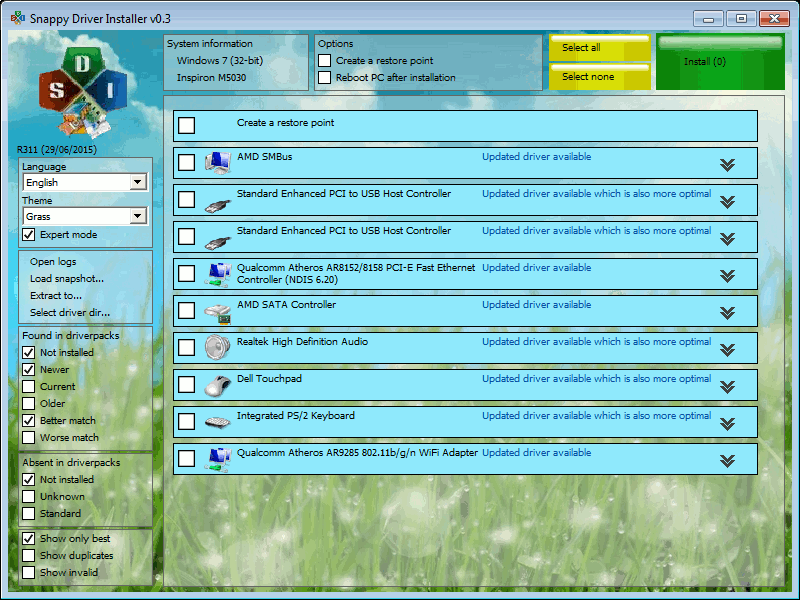 The computers who have a weak or unreliable internet connection can avail the services of this program as it can install all the drivers without it. To start installing drivers on your computer, go to the updates option which can be found on the top and download the index file by checking on the option 'Check only needed for this PC' and then click on accept. This index file will add all the relevant information to the software. The program then works by checking for all the missing drivers and updates for the already-installed programs on the system.
You are also free to download all the driver packs, however, which is not recommended by the experts. You only need to do this if you need to create a completely portable version of a particular program on the computer which, by default, includes all the drivers. There is one thing to note that you will have to download nearly 9 GB of data in that case.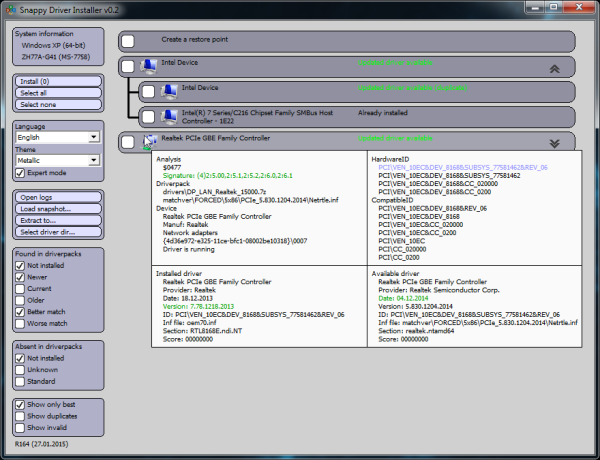 As soon as you are done downloading, the main interface of the program will show the updated driver information afterward. You can also enable the expert mode present on your left where you will be able to use filters to customize the selected option. You are also free to disable the updates which you think are, in no way, better than the ones already installed.
Before selecting the drivers which need to be updated, hover on each device to get information about each device's already installed driver and the update the program wants to install. The information may consist of the update's version, device's manufacturer's name, hardware IDs, etc. It is quite beneficial to give some time to these facts as there may be some updates which are not suitable for the device or are falsely identified. Once you are done with all these important steps, the Snappy Driver Installer will start downloading the selected driver updates for your system, installing afterward.
Easiest Way to Recover Deleted Photos and Text Messages From Phone For FREE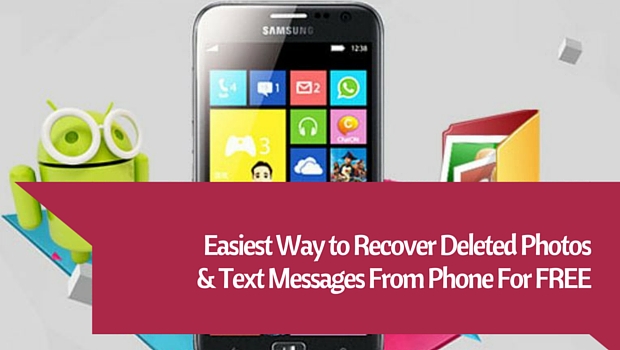 Recover deleted photos from phone easily with the world's number one android file recovery software named Wondershare Dr.Fone. It is a tool which is used worldwide for recovering files and data from android tablets and phones. The tool is capable of retrieving audio files, Whatsapp messages, videos, call history, contacts, photos, text messages and a lot more that you lost accidentally or due to the ROM flashing or OS crash. The tool supports about 200 android devices and many android versions.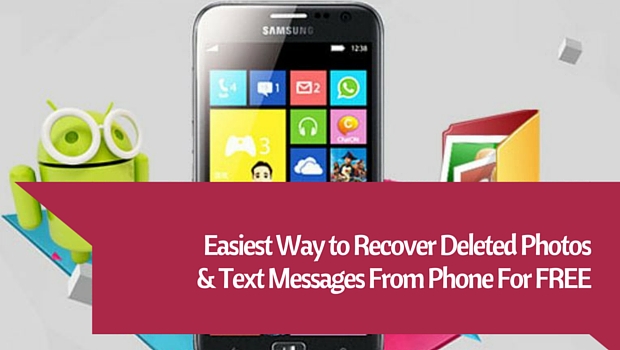 How To Recover Deleted Photos From Phone And Other Data
Dr. Fone is very beneficial in recovering files on android devices and can retrieve deleted text messages too. However, if the tool is not dealt properly, the software will not be able to recover all the files properly. Before beginning the process of recovery, the following tips should be considered to increase the success rate positively.
First of all, if you find out that some of the files have gone missing on the phone or a list of data is deleted accidentally from the phone, stop using the device instantly. In android or other OS, the data is actually not blown away but is kept in the phone to be rewritten by some other files. For this particular reason, if the device is kept working on, that data gets overwritten by the recent changes in the phone and ultimately, disappears forever.
Secondly, look for a computer as soon as possible and start the process of recovery. Don't forget, the sooner it is, the better it is. Download the recovery software by Wondershare i.e. Dr. Fone for android. For further information, follow the following downloading process.
How To Download
There are more than one way to download Wondershare on your phone. You can either go to the product page to find the app link or simply click the download option on the top of the page to get Dr.Fone on your phone. Once downloaded, your phone will offer an installation package. The download button is also featured in the bottom of the page.
How To Install
Once you have downloaded, search for the installation package on your system. Double tap on the .exe file to run the setup and click on the install option to start the recovery process. The installation process will take approximately a few minutes. Once there, the Start Now option should be clicked to launch the software.
5 Best Intranet Messengers For Chat & File Sharing on LAN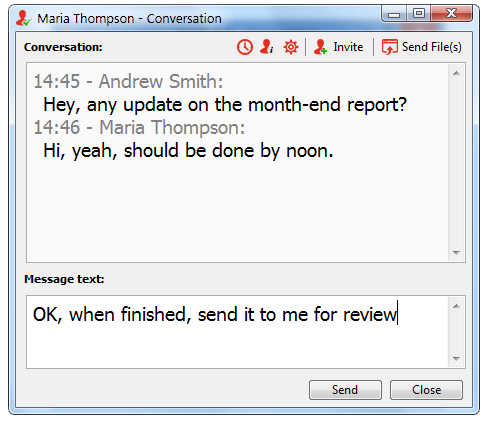 One of the main reason for the success of a business is effective communication. That does not at all means face to face to communication, because of the latest communication tools and software like LAN and Intranet messenger services which are now available and are as efficient as face to face communication.
With this technology, you become efficient not only in communication but in time, cost and management as well. But a question always arose that which of them are best. To help you get best for your business, we have listed down the Best Intranet Messengers to be used on Local area network.
Realpopup messenger is one of the best known LAN messengers available. It can be defined in a single word "Simplicity", because of its interface which is user friendly and simple. Your employees become adaptive to it very quickly as there is no any rocket science involved in using it. It can be used by employees from top hierarchy to lower hierarchy.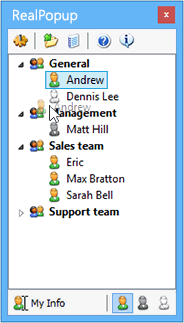 Available on both Windows and Mac OS, it provides all type of communication, written communication through chat feature and verbal through both audio and video call. File sharing is as simple as drag and drop.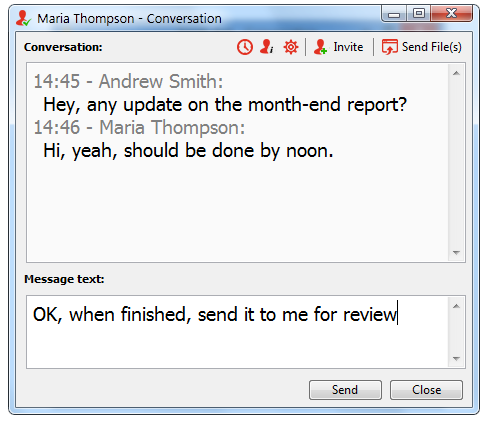 A new feature is also available which makes you categorize your employees, like creating a department wise groups or in form of hierarchy. Remote assistant feature is also available which enables one user to control computer of the other user to help him without any need to move physically. It is also equipped with administrative controls to limit what your employees do.
Output messenger is another cool LAN and Intranet messenger software which is not as simple as RealPopup but full of features and controls. Apart from instant messaging and file transfers, it provides a chat room feature which allow multiple employees to join and share their comments on any events unlike group messaging in which only members of groups are allowed to chat.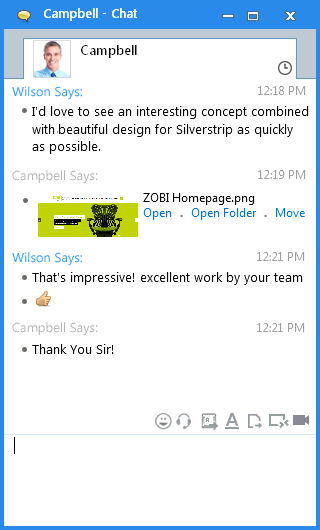 Remote desktop sharing is also available along with Audio and Video call and conferencing. One of the most liked feature is Reminder. You can set a reminder for yourself or for the other user to remind him or her of any task given. It also allows user to set preset messages which will be delivered automatically when anyone tries to contact you when you are in a meeting or other busy activity to avoid nuisance.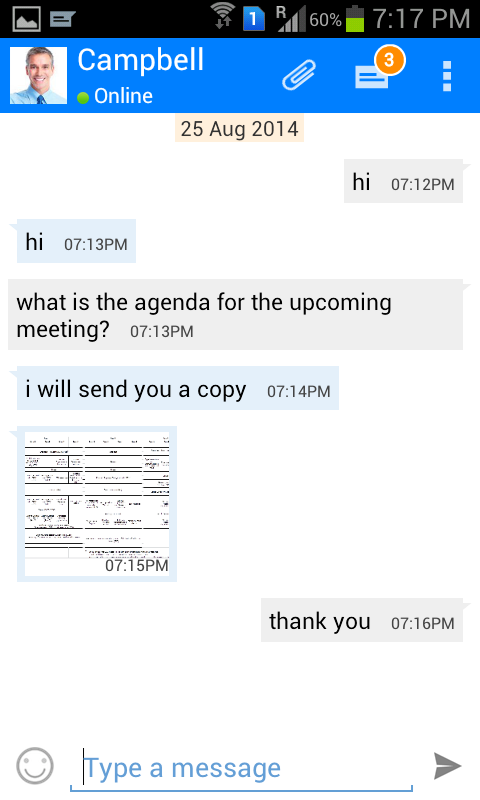 Users can also install it on their smartphone so that they can also communicate through their phone when they are not at their place and that too without internet.
Squiggle is an open source LAN messenger service, which means you can also edit it to match your requirements without any permission from the developer. It is a powerful yet very simple tool for instant messaging on  LAN or Intranet.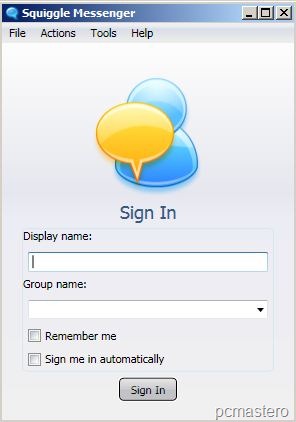 It does not even requires installation. Just copy the file and start using it. Private chat feature is also available along with group chat, conferencing and broadcast chat. Moreover, it is also available in your local language, not only tool in your local language but you can also chat in your local language. Some extra files will be needed to download for your local language.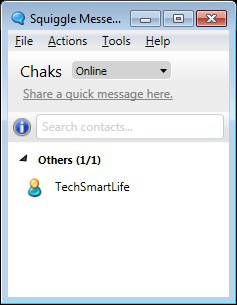 Chat feature is further equipped with other features like emoticons, flash alerts, Buzz and spell check.
LanTalk has the simplest interface of all Best Intranet Messengers. It is the combination of both simplicity and features. Available only on Windows, it is a multi-level software, means it can be used in small offices to huge organisations. The privacy of conversations is also guaranteed through proper encryption.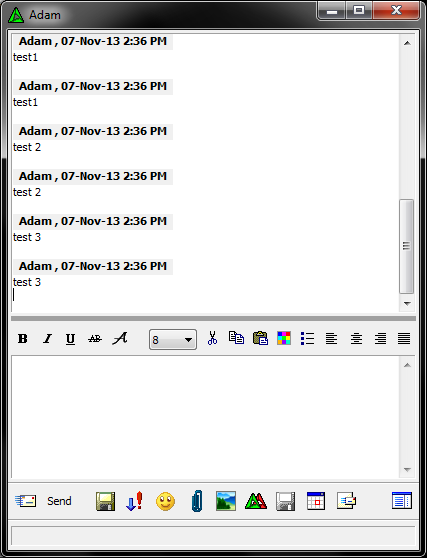 Surround by so many features, yet it manages to provide real instant messaging through quick reply, quick broadcasting and fast messages. Sending an email in LanTalk is as quick and easy as sending a message. Custom presets are also available so that you do not need to reply to every messages yourself, instead these presets will be sent automatically. Apart from being easy to use, it is also easy to install. Just copy the program on the PC and run it. It will automatically connect you to other users.
Winpopup is one of the widely used LAN messengers in large business organisations. It provides two modes of operation, one with the server and other without server. The operation with server requires any PC of your LAN to be established as server, mainly the PC of the manager.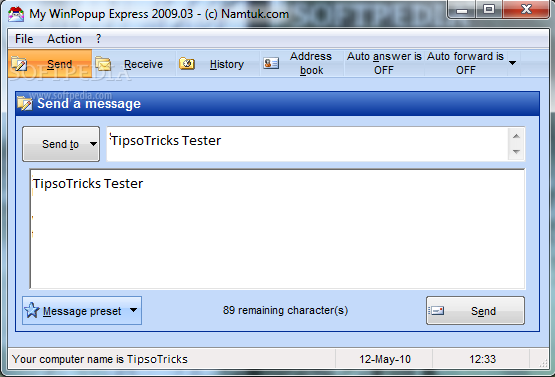 No server is allowed to be made out of your LAN to keep your privacy. Further, it is equipped with RC4 encryption which makes sure that no information is leaked outside your network. The latter mode of operation is like rest of messengers. To make any announcement urgently, there is an option named as "Group Announce" which sends your announcement and alerts instantly to all employees or group of employees.