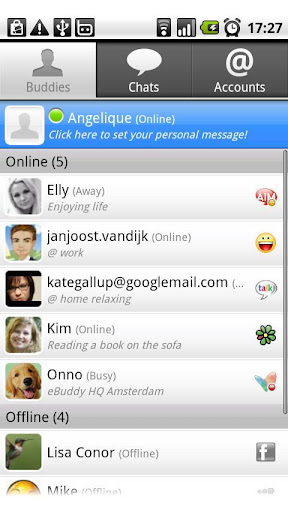 Instant Messaging, abbreviated IM, is a form of communication through text messaging between two or more people over the internet. IM is commonly used in a work environment to enable employees to communicate with each other in a private chat room. IM is based on clients that facilitate connections between specified people in a contact list or buddy list. In order to use an instant messaging, you need to sign up with an instant messenger service. There are many instant messaging networks available. It is better to choose the network that your friends use.
Today there are so many instant messengers and social networking websites that people use. Logging into each of these accounts and using them seems a variety to be managed. Also installing more than one messenger poses a space constraint on the mobile phone. To overcome the difficulty, multi-messenger software for various platforms are available. The software will help you maintain all your IM accounts on a single application. By simply logging into the application, you will be signed into all the common messenger services.
As Android is the preferred choice for many mobile users, this article identifies the top five Multi Messengers for Android.
Multi Messengers for Android Phones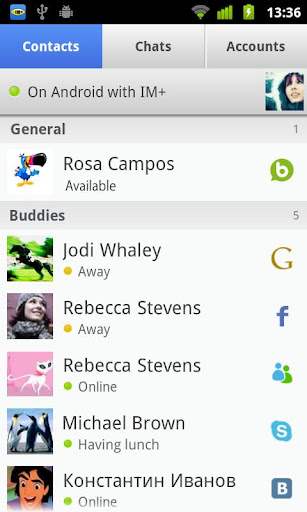 DIM+ for Android has a simple user interface and performs similar to any desktop chat client. You can find all your contacts made into a single list in the Contacts tab. If you want to chat, you need not switch between accounts as everybody is found in one place. To start a chat, you just need to tap the desired contact from the list. When you continue to press any contact, you will able to view the chat history, edit a contact and see contact details.
You can use the emoticons offered to you while chatting. You can also create and make use of the templates when you are required to give the same response many times. IM+ allows you to send file attachments in the form of photo images and audio files to your chat friend. A link will be generated and you can send it through your chat messages. You can customize the font size of the text message, avatars, notifications and also use the push mode which will help you remain signedin once you have closed the application.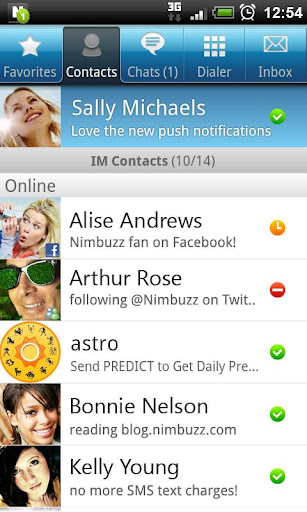 With Nimbuzz installed, you can chat with your social networking friends right from the App. It is rated one among the top Multi Messengers for Android using which you can call for free, send messages, chat and share files. You can access Twitter, Google Talk, Yahoo and MySpace accounts simultaneously using a single login. Nimbuzz for Android serves the Nimbuzz users in non-English speaking countries with the access to their national networks.
Trillian is a free, fast and allows you to connect to IM and other social networking services at the same time. Trillian supports Google Talk, MySpace, AOL, Jabber, Yahoo and more. You can update Facebook, Twitter, Foursquare and LinkedIn at one time and receive notifications from Facebook and Twitter. This client ensures security to your data as it is stored using AES encryption.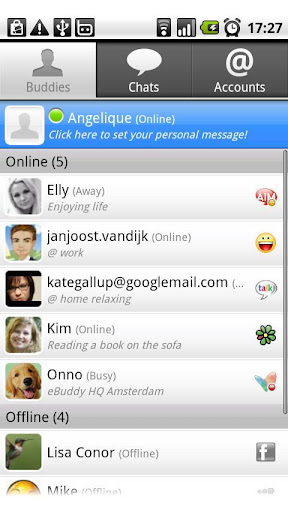 One of the oldest and best Multi Messengers for Android. With eBuddy, you can chat on multiple MSN, Facebook, Yahoo, AIM, ICQ, GTalk, MySpace & Hyves accounts at the same time. The easy to use interface, makes the eBuddy top choice for android users.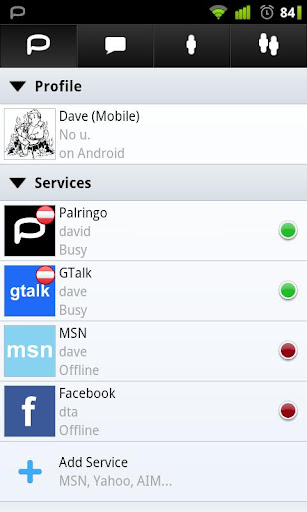 Palringo is a mutli platform IM App for Android. It is a group messaging service community. With Palringo installed you can stay connected, socialize and send text/voice messages and share photo images with your chat buddies. You can stay connected on Google Talk, Windows Live Messenger, Yahoo, Jabber, Apple iChat and Facebook at one time.