We all are accustomed to few websites, without which we cannot imagine our lives. And going through them or lurking around them all day long has become the essential part of our life. What if such websites are pinned to your taskbar in a compact HTML5-based framework which can be accessed without even firing up your web browser. Isn't that a great idea? So let's get started to use it.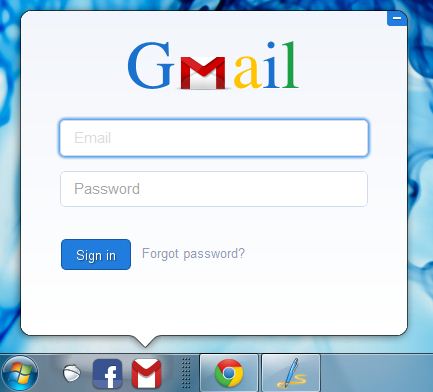 Pokki is one such HTML5-based framework which provides the commonly used websites as a pop-up, providing the users the comfort and easiness to use them without paying any heed to the web browser. It get pinned to taskbar, once the application is downloaded. Click on Pokki icon, pinned to your taskbar and a list of Pokki applications will pop-up, from where the favorite Pokki web apps can be downloaded, which can be used right through the taskbar.
Pokki includes web apps of some popular websites like Facebook, RSS readers, Gmail, Living Social, and Twitter, Groove shark, Rdio Wall Street Journal and much more. The User Interface is so intuitive and eye candy, that made me to use this tool and that too without paying any heed to my web browser.
Experiencing Pokki web apps is just similar to that of experiencing web on Smartphones. Just hit your favorite Pokki web apps which instantly allows you to get started with it.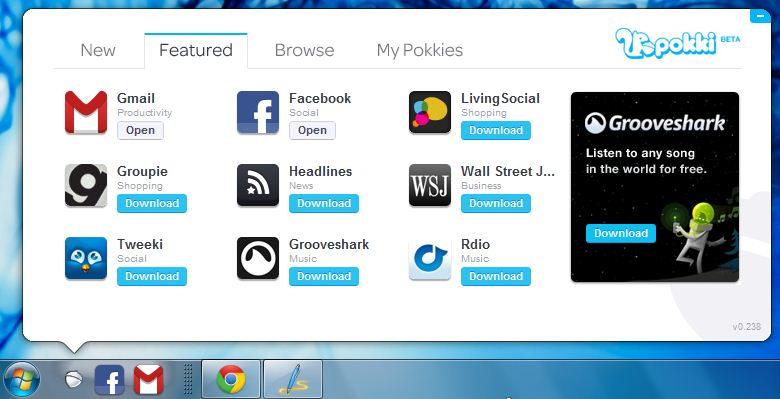 With Pokki, one thing is sure, now we can get rid of opening few extra tabs on our web browser. In other words, a great alternative to a web browser in near future. And now with some recent development by Sweet Labs, Pokki is more secured and bug-free to use along with the addition of some more Pokki web apps to their over-growing list. Works only on Windows 7 and Windows Vista only, interested users can download this tool from their website.
Download – Pokki