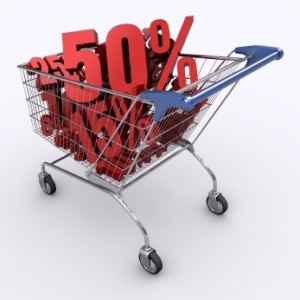 Who doesn't appreciate a price cut when making purchase? A 10% or 20% discount in the price can make a huge difference, so much so that many consumers will go ahead and make a purchase even if they weren't in need of that particular product at the moment. That's precisely why businesses are more than happy to offer some discount or price cuts to attract more and more customers.
So, if you are about to make a purchase and you'd like to pay a bargain-basement price, all you need to do is to search at the right places and you will find a discount for just about any product.
Deal of the Day Websites:
Deal-a-day-websites have been there for quite some time but recently Groupon.com and some other websites have taken it to a new level. Now, with the giants like Google or Facebook launching their own special offer websites, you can be sure that we will be getting an ample supply of discounts and deals in coming days. Therefore, one of the best ways of keeping track of the promotional sales and discounts in your locality is to visit the deal of the day websites.
There are a number of coupon code directories on web and each have a variety of coupon codes for all types of online stores or businesses. The coupon codes are listed in different categories, so you will find the discounts on the product that you're looking for in a matter of minutes. Some coupon codes listed on these directories might not work but then you're not paying anything for these coupons, so you don't have anything to lose, and you can always try another one.
No talk of searching for anything online can be completed without mentioning the unassailable "Google". So, when you're in need of a discount coupon for a particular product, you can simply go to Google and search. Suppose you're looking for a domain name or hosting service from 1and1 or Network Solutions. Now, all you need to do is to set the search filter at "past month" and search for 1and1 coupon codes or Network Solutions discounts, and you will get hundreds of results in a matter of seconds. Even though, you will have to sift through some spam but eventually you'll find some valid coupon codes.
So far, we have discussed just online resources but coupon codes were there even before the advent of Internet. Businesses have been using Newspapers or magazines to give discount coupons or vouchers to attract new customers that you can cut and use in your purchases. Therefore, whenever you come across a coupon code in a recent newspaper or magazine, you should cut and save that coupon, even if you are not interested in that particular product. You never know if you or your friends might need that particular product in near future.
Mobile marketing is evolving at an amazing speed and with the technologies like Quick Response Code or Geo-targeting, you can be sure that you will be getting special offers and discount vouchers on your mobile phones in near future. Similarly, many deal-a-day website or coupon code websites offer the option of getting SMS alerts. If you don't want to miss on a discount or price cut, you can subscribe and get these discount offers on your mobile phones.