---
UPDATE: Google Chrome is updated to version 15.0.861.0

Click here to see updated version
Google upgraded the (dev channel) of Google Chrome browser. The Dev channel has been updated to 12.0.712.0 for Windows, Mac, Linux, Chrome Frame.
This release contains lots of behind the scenes work (code cleanup and refactorings) in addition to numerous crash and regression fixes which were reported in previous release.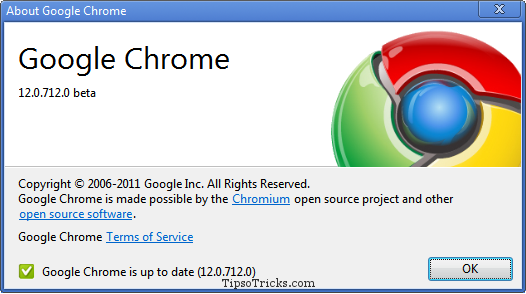 Several new bugs have been fixed in this latest version. These include:
* Updated V8 – 3.1.4.0
* New feature of Tab Multi-Select – The ability to select multiple tabs, using the ctrl key, and applying actions (e.g. reload) to them all (Windows only)
* New and improved bookmark bar animations (Mac)
*Mac Confirm to Quit feature has been moved to the Chrome menu –> Warn Before Quitting
More details about additional changes are available in the log of all revision.
Remember! this is not the stable version of Google Chrome. This is developer preview channel is where ideas get tested (and sometimes fail). The Dev channel can be very unstable at times, and new features usually require some manual configuration to be enabled. Still, simply using Dev channel releases is an easy (practically zero-effort) way for anyone to help improve Google Chrome.
If you find new issues, please let Google know by filing a bug at this form
To download stable release of Google Chrome click here
Version: 12.0.712.0 (developer edition)
File size: 26.29 MB approx
Release date: March 24, 2011
After downloading if you're sure that the link above is of an older version, tell us in the comments below. So that we can update the link with the latest version.