---
UPDATE: Google Chrome is updated to version 15.0.861.0

Click here to see updated version
Google recently upgraded the (dev channel) of Google Chrome browser. The latest release is given version 11.0.672.2 for all platforms including Windows, MAC and Linux.
Several new bugs have been fixed in this latest version. These include:
* Updated V8 – 3.1.4.0
* Fixed the crash when loading tabbed options in some cases.
* Fixed a crash triggered when canceling a download.
* Fixed a crash triggered by form resubmissions.
* FTP: fixed a compatibility issue.
* XSS Auditor re-designed and enabled by default. It's still experimental (and there are known bypasses).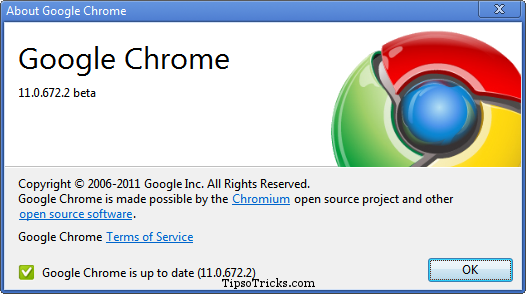 Except performance upgrades no visual upgrade has been noticed in the release.
Remember! this is not the stable version of Google Chrome. This is developer preview channel is where ideas get tested (and sometimes fail). The Dev channel can be very unstable at times, and new features usually require some manual configuration to be enabled. Still, simply using Dev channel releases is an easy (practically zero-effort) way for anyone to help improve Google Chrome.
If you find new issues, please let Google know by filing a bug at this form
To download stable release of Google Chrome click here
Version: 11.0.696.3 (developer edition)
File size: 24.39 MB approx
Release date: March 10, 2011
After downloading if you're sure that the link above is of an older version, tell us in the comments below. So that we can update the link with the latest version.