For the past few months I've been thinking about having such a thing that could let multiple visitors of my web page to communicate with each other. Well I've finally came up with something that can make it possible.
The name is Visitorscafe and it's a web page widget that lets different visitors on a web page to get in a chatting type of environment and communicate with each other.  By the way it doesn't only lets you do text conversation infact you can do video chats over it also, which ultimately increases the traffic on your page.
All you need to do is to get yourself registered on it and then you wait for an invitation along with a tiny source code that you need to paste in your page and that's it. You can either embed the widget on your page or have a new window popped up for the conversation.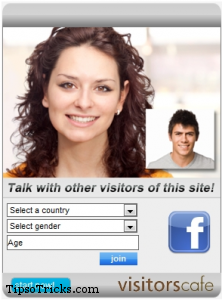 You can also put advertisement between or during the conversations, which can result in increased revenue. They claim to have a 24/7 monitoring team which I haven't tested yet, but it monitors the behaviors of visitors who are communicating with each others.
Lets say if someone is being abusive then they have an IP Block security system to prevent that chat box from such users. Anyways above all I think it's a pretty good widget that can increase a little fun to your page since it attracts new visitors, as well as it increases your over all revenue, cause visitors spend more time on your page and they come back to your page often.
Visit VistorsCafe