By default there is no shortcut created to directly access printer's or scanner's properties in Windows unless you install the associated software that comes with the device. The dedicated software may create shortcuts in both desktop and start menu for your device. But if you are using default drivers that Windows installs to run the device, you are never given any shortcut on desktop or in start menu to access the device's properties quickly.
For example you have a scanner connected and you want to scan a document then you have to open the Start menu >Control Panel > Devices & Printers and select the device and then open "Scan Document" option to see the final scanning window.
Last days I was wondering to find a way to create a quick shortcut to access scanner and it's properties and I found a little trick that you may also apply if you frequently use your scanner like me.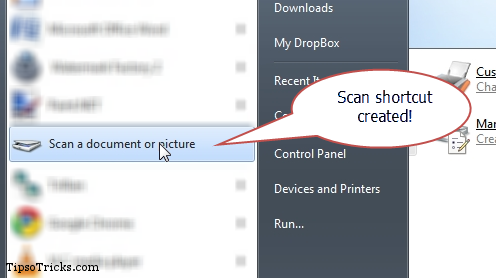 The trick is dead simple and all you have to do is to drag n drop the scanner shortcut from "Devices and Printers" on to your start menu button!
1. Open Start menu > Devices & Printers
2. Click the Scanner (it should be connected and turned on)
3. Drag the Link of  "Scan a Document & Picture" and drop it on start menu.
That's it!
Now open start menu and see the the shortcut pinned there.
You can also create the shortcut on desktop also by doing the same drag and drop. FYI, this way you can create shortcut in start menu of any feature or sub feature present in control panel.  I did this on Windows 7 and hope this works on all previous versions as well.
See the screen cast that I created for quick reference: