After facing so many difficulties and damaging my site, I had a very tough time at initial stages after moving to WordPress. At one stage I thought I took the wrong decision but soon I realized that the mistakes I did are pretty much recoverable – and see It's working perfectly now. I wasted days in setting new WP blog and was continuously noticing… actually missing the things which were so easy to do back at blogger.com. And as the experimenting went on, I realized the simplicity of blogger and thought of many things which were extremely easy to do.

Seriously if you compare WordPress with blogger, WordPress wins with too many advanced features. But if you talk about Blogger.com it's way too simpler than WordPress in many terms. There are no complexities in setting and maintaining a blog at blogger.com and that's the reason that beginners choose blogger when they start blogging.
Since now I've a experience of both platforms, I compared the features of both. And thought it would be helpful if I write about it for many out there, who're still at the planning stage of choosing which blogging platform to start with.
If you're just a casual blogger, who blogs not so frequently, there are no expectation of thousands of people visiting and commenting your blog, then I'd straight forwardly suggest Blogger.com for you. But if you have plans to grow your blog in the future or taking blogging professionally or as a full time job, then there's no better option than a self hosted WordPress Blog.
I'd suggest to read this too : 11 Reasons why a self hosted WordPress blog is better than a blogger blog
So based on my experience, here are the 8 reasons that makes Blogger.com better than self hosted WordPress Blog.
1. FREE to use and Simple Maintenance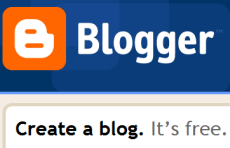 Blogger.com is free to use, while self hosted WordPress may cost you upto several hundred dollars. You need to buy hosting space to host a WP blog, while Blogger is maintained by Google and hosting is given free of any cost. You can host as many articles as you want, plus the unlimited bandwidth is another feature that attracts beginners. There's no FTP account to manage, No databases to maintain and offcourse unlimited bandwidth so never have to worry even if millions of visitors read your blog at a time.
2. No Complex Database to Manage
Unlike WordPress, there's no advance option for managing databases at blogger, it makes it much easier to concentrate on your writing rather than installing plugins and backing up whole database every time you make any big change in your blog and thus no risk of loosing your data.
3. No additional Code files
A Blogger blog has an all-in-one XML file to take care of. This file holds each and everything of your blog (except posts). You scripts, meta tags, css, all the settings, widgets etc is saved in this one file. While at WP, there are multiple files to manage, if you need to install something at header, you have to open file that contains header's code. Similarly to put something below posts title, you need to open some other file. This becomes much easier when you're at blogger because of the single file that contains all types of code.
4. No fear of Site's Breakdown
Since there is a database behind every self hosted WordPress blog, there's always a risk involved of getting hacked by intruders. Each and everything (including blog posts) are stored in tables of this database. These tables can be altered, emptied or dropped easily if one gets the access to your database. Your site can be damaged if something is deleted deliberately from any table. At Blogger, there's no such database at all so you get more time to concentrate on your writings rather than doing this database management job.
5. Easy Backup & Restore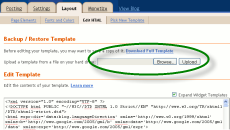 At Blogger, backing up your blog is a one button click job. And Backup button is given at the main settings page. You can save complete XML file locally in your system. To Restore, same page is accessed and by uploading the file you can restore your blog easily. But at WordPress there's no such option given for backup or restore. You either have to install some plugins to do this or go to phpmyadmin panel separately to access your database to download it locally.
6. Convenient Page Layout and Settings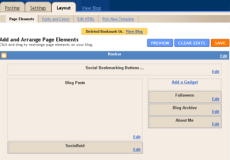 Making any change at blogger is so easy that you never have to read any help to start your blog. Setting your site's complete look and feel has been made very easy through the Layout Page where you can simply drag and drop widgets at the place where you want it to appear. At WP this layout page IS present with drag n drop ease, but you can't view the layout of your actual blog right from the settings page.
7. No buggy codes in Plugins
WordPress supports plugins. These plugins are developed to achieve many features for your blog. But since almost all the plugins are made by freelancers or developers and no official support is given by WordPress to monitor these plugins for any possible buggy code. If an incompatible plugin or a plugin with corrupt code is installed, it can cause severe damages to your site in many ways. This was one of the lessons I learned while setting up my WordPress Blog.
At blogger, there are widgets which do not make your site look bad by any means if they're corrupted or not properly configured. If a widget is corrupted or not working you'll immediately get an error while saving the changes whereas WP never warns you in this case.
8. No themes or Plugins Incompatibility Issue
As I said in above point, that plugins of wordpress must be compatible with the WP's version you're using. If an older or incompatible plugin is installed you'll face so many errors that are most of the time are hard to detect. Same is the case with the themes of WordPress. Developers have to upgrade their plugins and themes whenever a new version of WP is released.
In blogger there's no such thing at all. All the themes are 100% compatible no matter how old it is. Same goes for the widgets. Blogger.com is extremely stable blogging platform and rarely needs upgrades by development team. Even if you install any corrupt widget you'll get an error to resolve it first before saving the changes.
So these are the 8 big reasons that in my point of view makes blogger.com better and easier to maintain than self hosted WordPress Blogs.
Hope this would help, if you're new to blogosphere and deciding which one to choose to start you blogging experience. To compare these feature with WordPress in detail I'd again recommend you to read : 11 Reasons why a self hosted WordPress blog is better than a blogger blog.
Feel free to add something that I missed in above list. If you have the experience of both the platforms, I'd like to read your experiences as well.