The use of any non-certified visual style is disallowed by Microsoft's certificate protection. To keep the Microsoft Windows branding intact, Microsoft added digital signatures to their themes, which are validated at theme installation.
Due to this limitation, third party visual styles and themes cannot be installed. All this information is stored in a system file named "uxtheme.dll" in system32 folder of Windows installation.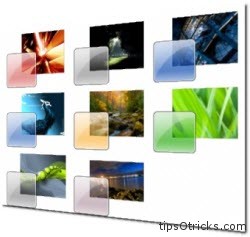 Although there are dozens of Theme Installers/Managers are available to apply the themes which after installing automatically patches this system file to allow the installation of third party themes but why install those huge programs in your system just to apply a tiny theme/visual style of your choice.
So if you want to apply third party themes you need to bypass the certification verification (of uxtheme.dll) by patching this system file.
UXTheme Patcher removes this check to provide the Microsoft Windows users a free and easy way to enable third-party customization of Microsoft Windows user interface.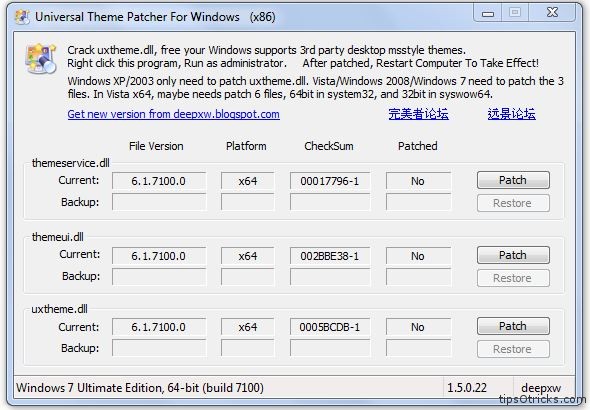 This program will install modified uxtheme.dll in order to use 3rd-party visual styles in XP/2003/Vista/Windows 7. It works on both 32 and 64 bit of Windows.
Download UXTheme Patcher
How to do Patching?
1. Run the tool directly from zip file or may also extract it.
2. It'll detect the OS and show you the information and will ask you for confirmation.
3. Click on Yes button. You'll see the main interface.
4. Just press all the 'Patch' button you see.
4.Once you patch a file, the "Restore" button gets activated so that you can restore the default file in future.
5. Restart your system and you'll be able to use 3rd party themes in Windows without any problem.
To install any theme or visual style, just double click to apply the theme. This method works on all windows once patched by this tool.